Exclusive Bonus and Promotions Ignition Casino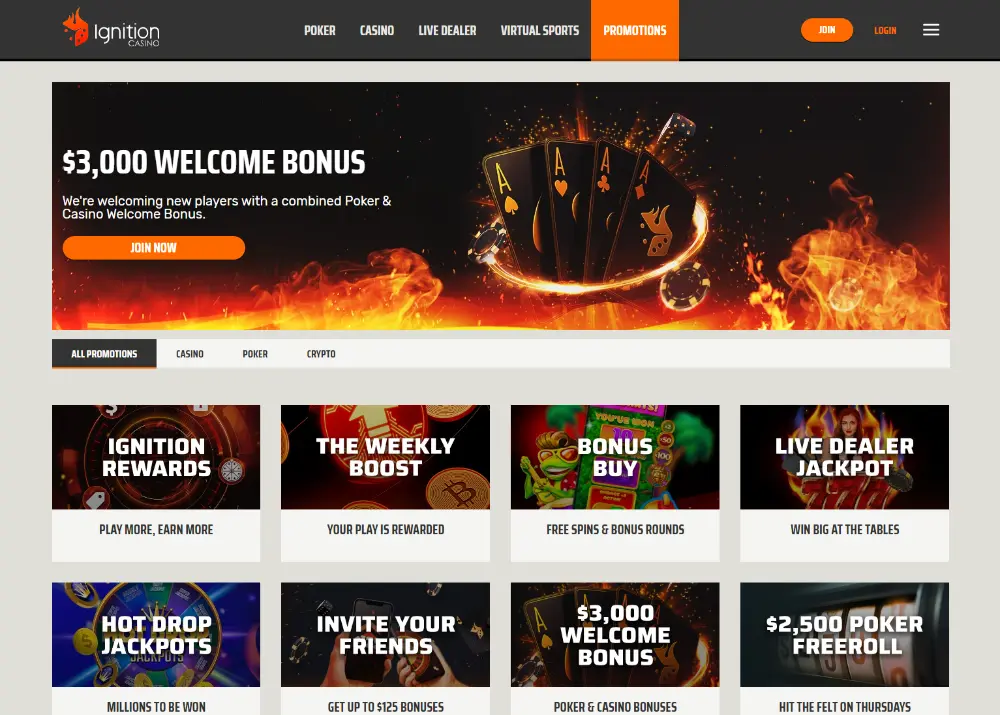 If you're already playing at Ignition Casino, the rewards don't stop at the welcome mat. Every week, the site offers you Reload Bonuses, Cashback, and Free Play bonuses.
For the VIP folks, things get even better. We're talking enhanced cashback rates and sizable bonuses that'll make your eyes pop.
Plus, they run tournaments all the time with huge prize pools, along with limited-time events and one-off promotions. Regular depositors can score big with special prizes like swanky vacations and even cars. Yep, cars.
Welcome Bonus 100% up to $2,000 and $3,000 Crypto Bonus
It's safe to say that it's raining bonuses at Ignition Casino. Whether you play with fiat currency or crypto there is a bonus for you.
If you're new to the game, Ignition rolls out the welcome mat in a big way. How big? A 150% welcome bonus of up to $3,000. You get $1,500 for casino games and another $1,500 for poker. Yeah, that's a lot of chips to play with!
If credit cards are more your speed. Ignition's got a deal for you, a 100% welcome bonus of up to $2,000. You'll get $1,000 for the casino and $1,000 for poker.
To qualify for a bonus you need to deposit $10 or more. Do keep in mind the wagering requirement of 25x attached to the bonus. Look, when it comes to wagering requirements, we've all seen some real doozies out there.
Deposit $1,000, and you're looking at a $50,000 stake. Might sound like a chunk of change, but in the grand scheme of things, it's pretty reasonable.
Weekly Boost Crypto of 100% up to $1,000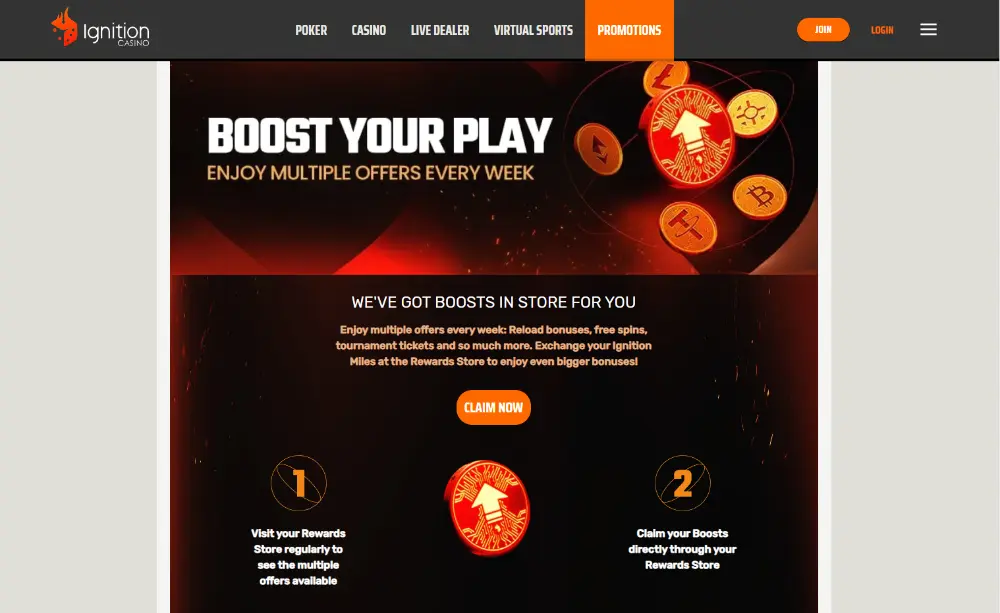 Ignition Casino offers a Weekly Boost Crypto bonus that's too good to pass up. You can get a solid 100% match up to $1,000 every week. And what's the catch? Well, there isn't one. Just use Bitcoin and you're good to go.
Want to use that bonus on the latest slot games and specialty types? Absolutely, it's all fair game.
When it comes to cashing out, the wagering requirement sits at 25x for both the deposit and bonus amount. Once you clear that, Ignition opens the withdrawal gates.
Bonus Buy Slots

Looking to amp up your gaming experience and secure those big wins without the wait? Jump  into the heart of the action with the Bonus Buy feature. This game-changer offers immediate access to free spins and rewarding bonus rounds. Take the reins and supercharge your play with Bonus Buy!
Hot Drop Jackpots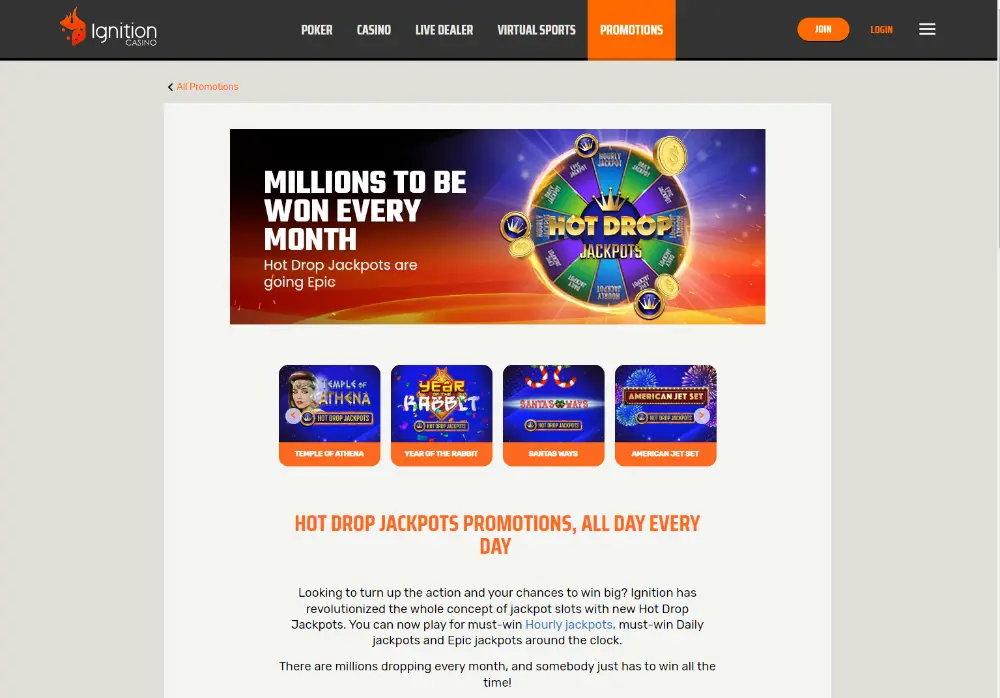 Hot Drop Jackpots are the real deal if you're looking for quick, big wins. These progressive jackpots don't make you wait; they pay out the same day.
What sets them apart is the guaranteed jackpot. Here's how it works. You spin a prize wheel, and you're in the running for one of three jackpots—Hourly, Daily, or Super.
Each comes with a countdown clock, and when time's up, someone hits the jackpot. No more endless spinning; just a high chance of snagging that big prize before the clock hits zero.
$2,500 Poker Freerolls Weekly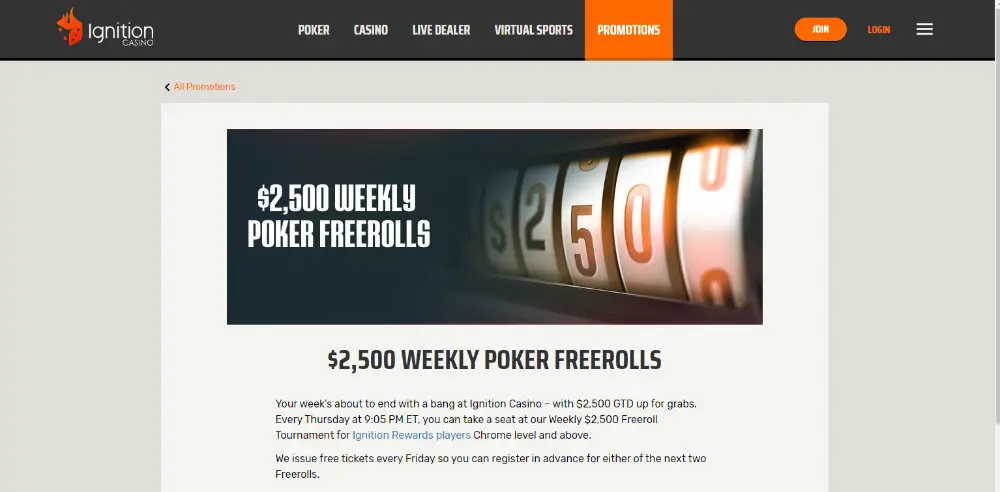 WEEKLY POKER FREEROLLS: WIN A SHARE OF $2,500!
Ignition Casino is turning up the heat every week! With a whopping $2,500 GTD on the line, mark your calendars for every Thursday at 9:05 PM ET. If you're an Ignition Rewards player at Chrome level or higher, you're invited to our Weekly $2,500 Freeroll Tournament.
Stay alert! We hand out free tickets every Friday, allowing you to pre-register for any of the upcoming two Freerolls. Dive in and aim for that win!
Live Dealer Jackpot

HIT THE PROGRESSIVE JACKPOT!
Ready to test your skills and luck? Start playing Ignition casino's live Blackjack sessions and aim for that progressive jackpot. The prize? If you score three 7 diamonds, the entire jackpot is yours! Remember, this is exclusively available at our live dealer Blackjack tables.
But wait, there's more! Spice up the game with our mini jackpots:
Mini Jackpot 1: Bag $1,000 with any trio of RED 7s – be it hearts or diamonds.
Mini Jackpot 2: Secure $100 with any three 7s.
How to get started?
Launch the Live Dealer section and pick a Blackjack table.
Spot the 'J' in the center of the betting area? Click on it to place your side bet for the Live Dealer 777 Progressive Jackpot.
Note: This feature is reserved for our standard Live Dealer Blackjack tables. Those seeking Early Payout tables won't find this jackpot there.
Referral Bonus 200% up to $100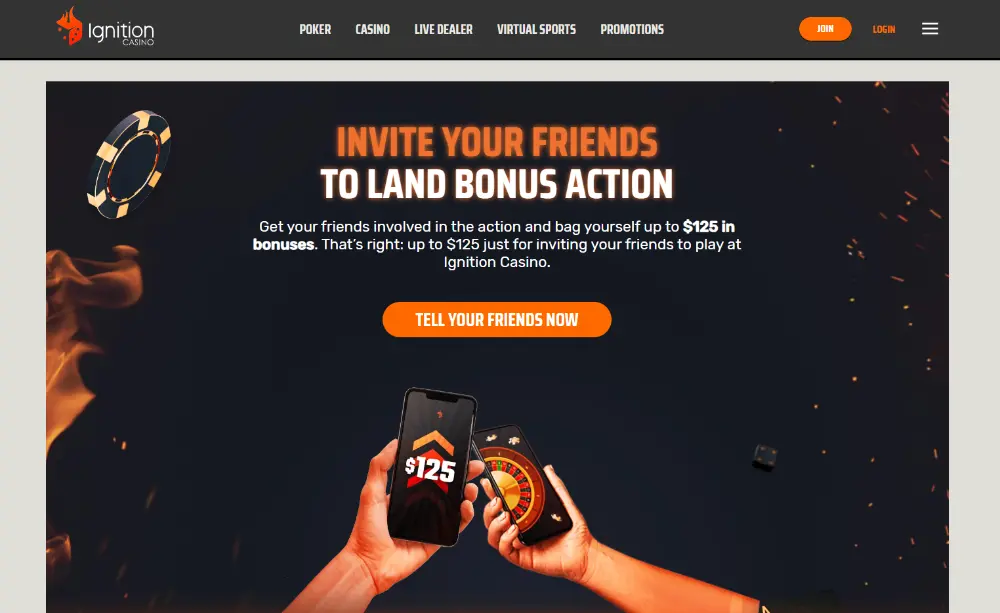 Do you have friends who love to game as much as you do? Ignition Casino has a deal that fits your pocket. Refer a friend for a 200% bonus up to $100 when they make a deposit.
There's a 25x wagering requirement on this bonus, but once you meet that, the cash is yours to keep.
Royal Flush Bonus
Imagine hitting a royal flush and getting an added bonus on top? That's the deal when you play Texas Hold'em cash games at Ignition Casino. Secure that magic hand, and we'll treat you to a bonus that's 50X the game's big blind. You could pocket up to $200, and the best part? No rollover requirements! It's a win-win at Ignition. Play on and aim for the royal!
Bad Beat Bonus
Had your aces full of kings overthrown by a four of a kind or better? Don't fret. Ignition Casino have a consolation prize for you: a Bad Beat Bonus of 100X the big blind, allowing you to snag up to $1,000. Get back on the saddle and keep playing!
To pocket this bonus, here's what you need to know:
Both pocket cards should be in play for both the loser and the winner of the hand.
A minimum of three players must have been dealt into the hand.
Both the top and losing hands need to go to showdown.
Each hand must be played out without interference. Revealing your hand or guiding others on their play will make you ineligible.
This bonus is exclusive to Texas Hold'em cash games. Sorry, tournament players.
Think you qualify? Send your hand and table number to customer support at Ignition Casino within 48 hours.
The best part? No rollover requirements. Your bonus will be processed in as little as 48 hours.
Ignition No Deposit Casino Bonus
Sorry to burst your bubble, but Ignition Casino doesn't offer a no-deposit bonus. Don't pack up your chips and walk away just yet.
You can always shoot them a message and ask for a free chip to test out their games. You never know, they might just toss you a little something to get the ball rolling.
Ignition Casino VIP Rewards Program

Ignition Casino's VIP program has 8 levels, and each one comes with its own set of goodies. From special bonuses to better redemption rates.
The moment you start playing for real money, you're in the VIP club. No forms, no hassle. The higher you climb, the better the perks.
Let's break down how you earn those comp points or "miles." Slots give you 3 miles for every buck you wager. Games like Thundercrash, Reels, and Wheels XL, along with video poker, offer a straight-up 1 mile per dollar.
Now, table games like blackjack and roulette are a bit stingy—just 0.5 miles per dollar. But here's the kicker, specialty games rake in a whopping 10 miles per dollar!
Compared to Cafe Casino, which also has a focus on specialty games, Ignition holds its own pretty well.
Ready for the cherry on top? Cash in those miles for real money anytime you want. Don't worry about losing your miles due to inactivity. They're yours for life!