What Are Megaways™ Slots?
Let's start with the basic component of the Megaways™ slot machines, its reel structure. Unlike the other slots online, the Megaways™ reel set up is unique and innovative at best. Make no mistake, you'll still see symbols on the reels. But, from where we sit, the days of the 4,096 ways from Microgaming could be a thing of the past. Suffice to say they were the pioneers, sadly not anymore. We're seeing Megaways™ slots now with a jaw-dropping 60,466,176 ways to win! That's pretty much the future right there.
The playing field on which the symbols appear is so much larger. The Megaways™ slot machines contain 6 reels. Furthermore, some of them sport an additional horizontal reel with 4 to 7 symbols. If we turn our slots gaze towards the number of possible Megaways™, it's equally impressive. There are Megaways™ slots with a mammoth 117,649 ways to win. They range from 15,625 lines to an incredible 46,656 paylines.
It's All In The Math
Even after more than 20 years we still consider ourselves students of the online slots. Just when we think we mastered all the features of the simple slot game. Out pops another. This section is slightly more technical. Just like any free slots the outcome of each slot machine is random. Or, to be more precise, the random number generator determines it. The standard slots have fixed pay lines but not the Megaways™ slots. Simply put, they can go up and up to blistering levels.
We'll try and explain the math model behind the Megaways™ mechanic to the best of our ability. Please bear with us. Big Timing is the brainchild of the Megaways™ system. Just above the reels, The Megaways™ slots displays a Golden Box. The purpose of the box is that it multiplies the number of symbols on the reels. Let's say 6 symbols pitch on reel 1. On reel 2 another 6 symbols and on reel 3, 4 symbols pop up. Note, this is not a detailed explanation. We'll just explain to you how the concept of the Megaways™ system works.
Catch The Megaways™ Formula
The formula looks like this: 6x6x4=144. This is the amount of Megaways™ you'll see in the box. The number of Megaways™ is never the same on every spin because it changes all the time. Therefore, it is possible to see Megaways™ slots that can reach an impressive number of 531,431 ways to win. So, how do they calculate winning combinations? They calculate winning combinations on reel 1, and from there on end, they calculate it from left to right. It's not only Big Time Gaming that crafts Megaways™ slots but Blueprint Gaming too. As a matter of Blueprint Gaming acquired the license from Big Time Gaming. All we can say is, smart move!
Megaways™ Buy Option
Another top feature about the Megaways™ slots is that they "cut" out the bonus game. Okay, not really because the base game is still there. What the Buy Feature does is that it allows the big spenders to skip the base game entirely. If you don't have the patience. You can click on the buy option and jump straight into the Free Spins but it will cost you. The buy feature costs anything from 71x your stake up to a gargantuan 7,500x your stake. We're talking to you Deadwood.
Bets Per Spin and Jackpots
Is It Expensive To Play Megaways™ slots? The beauty of it all, no. If you have a bankroll, no matter the size, you can play it. The minimum bet per spin of the majority of the Megaways™ real money slots start with £$0.20 up to £$20. As you can see the entry-level to play them is dirt cheap! Whether you're a penny pincher or a high roller VIP casino player, it doesn't matter. Believe it or not, the slots developers cap the jackpots of Megaways™ slots at €£$250,000. Note, not all, some of them offer jackpots of more than one million quid! You also get progressive jackpots although we haven't reviewed any yet. If you want to give Blueprint Gaming's progressive jackpots slots a go. Mighty Griffin and Slots o Gold is a sublime start.
Megaways™ Slots Bonus Rounds
If you played a Megaways™ slots you'll know that it is teeming with a host of features. Since the Megaways™ slots is the next 'Big' thing. Online slots vendors can't get them off their production line fast enough. Long story short. The Megaways™ slots is the new battleground where software providers flex their muscles.
Now that you have an idea about the Megaways™ slots' reel structure. What about its bonus rounds? Each Megaways slots offers you free spins with progressive multipliers. Followed by jackpots of up to 80,000x your stake, mystery symbols, a buy feature, re-spins, and a variety of wilds. Let's circle back to the Free Spins feature. You can trigger the free spins with the conventional 3, or matter scatters. Or, you can use the Buy Feature we talked about earlier. The number of free spins you receive can be 10, 15, up to 25 with the possibility of re-triggers. Each free spins feature is different. Some boast progressive win multipliers and others have an expanding or sticky wild to juice up play.
The Cascading or Tumble reels need no introduction. When you hit a winning combination of 3 or more of a kind symbols. The magic happens! The winning symbols disappear from the reels and new ones that drop in from above replace them. It's possible to score multiple wins on the same spin. Moreover, if you're in the Free Spins. Each cascade contains progressive multipliers that increase the multiplier by 1+. The multipliers can also combine to give you a top multiplier of 60x!
Megaways™ Slots Mystery Symbols
Initially, Big Time Gaming has the patent of the Mystery Symbol down right to a 'T'. Upon closer inspection, it looks like it's no longer holds this coveted title. Because Blueprint Gaming is now the official Mystery Symbols 'champion', and rightfully so. When a Mystery Symbol appears it can transform into any symbol. We also like it that the Mystery Symbol can be a low-value symbol too. So, if you have a bunch of them on the reels; the payout can be amazing. Megaways™ slots with Mystery Slots are in vogue and they offer spectacular cash prizes. Especially when Blueprint Gaming tags an unlimited Multiplier to it. Next time you play a Megaways™ slot machine make sure it has a Mystery Symbol feature.
Best Megaways™ Real Money Slots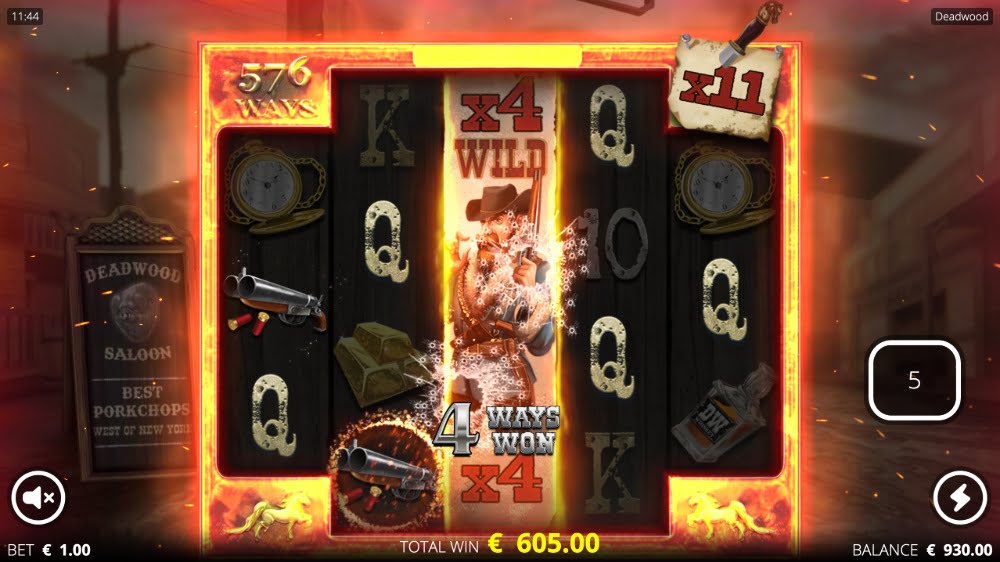 Deadwood
Deadwood from NoLimit City deserves a shout out from us simply because it's a great slots. Yes, it's also a Megaways™ slot! In case you didn't get it. Anyhow, it has the usual toppings such as a phenomenal game engine, free spins, progressive multipliers, and Buy Option. The theme of the game tees of in the Wild West. The symbols that pitch on the reels complement the Western theme and they pay well. The game gives you a choice between two Free Spins options. The first option is the Gunslinger Spins which is the ultra-volatile free spins. If you fancy your chances you can sink your teeth into the big wins. Or, you can go home straddling your horse into the nearest saloon. The other free spins option is the Hunter Spins. It is the less volatile option of the two free spins.

Beetlejuice Megaways™
Beetlejuice Megaways derives its title from the cult 1988 Hollywood film of the same name. Think it's the first time Microgaming pitches a ride on the Megaways bandwagon. The slot for real money is chockablock with progressive multipliers. What's more, it has 248,832 ways, an RTP of 96%, and its jackpot is £$250,000. We like the free spins feature not only because of its unlimited multipliers. But, you can gain extra free spins when a bunch of scatters re-appear. If you want to play a game that has a high visual fidelity, Beetlejuice Megaways hits the spot.

Legacy of The Gods
Legacy of The Gods is one Relax Gaming's finest slot releases. It has all the ingredients of a top-notch slots for real cash. The Greek mythology theme resonates well with players. Yet, it's the Megaways mechanic that draws slots enthusiasts like ourselves like bees to honey. Players also benefit from the Cascading System where successive wins occur on one spin. If you're a high roller that wants to cut to the chase, you can flick on the Buy Option switch. The Buy Feature triggers the Free Spins at a hefty cost of 100x your stake. Once you're in, you have a choice between 4 Free Spins options. Each Free Spins feature has its own level of volatility namely, medium, high, ultra-high variance, and varying volatility. In addition, each free spins bonus round has progressive win multipliers.

TNT Tumble
Looking for some explosive fun? Then look no further than TNT Tumble. It's just one of those Megaways™ slot machines that grabs you from the first spin. It's beautiful to look at and to play. Once again the Cascading or the Tumble mechanic leads the charge. TNT Tumble's main selling point is that it offers a jackpot of 12,278x your stake (£$1,227,800). Well, it's huge! To date, it's the biggest jackpot of any Megaways™. There's so much going on in the Free Spins feature let's just leave it to your imagination. All we can say that on every free spin the top multiplier is 3x. To conclude matters here. TNT Tumble has a Buy Option that allows you to dive right into the free spins feature. We tip our hats to Relax Gaming although the volatility is sharp!

Megaways Joker
The moment you fire up Megaways Joker you'll note that it is different from the other Megaways slots. The distinguishing feature about it is the gorgeous graphics. They're bright, colourful and they just about punch you in the face. However, unlike the other Megaways slots, it does not have a Cascading System. Megaways Joker will mesmerize you with its distinct fruity theme and reel mechanic. Even though it is sparse by way of its features. It offers a massive jackpot of 10,000x your stake (£$1 million), and a very interesting Free Spins feature. By the way, there is a Buy Option that costs 100x your stake.
Final Word
The Megaways™ slots is our go-to slots because there's just so much going on with them it boggles our minds. Without sounding forward, or harping on how good they are. They're not just the slots of today, but of tomorrow too. We compare the Megaways™ slot machine to a mall because it has everything you can possibly find in a slot. That is to say, all the amenities such as cascades, jackpots of up to 13,000x your stake, Buy Options, RTPs that clock 97%, and plenty more.