Rival Gaming has been busy these past few months releasing one new slot after the other. With that in mind, CasinoWhizz brings you another Rival slot, Kaboom. 
The slot machine does not have any reels or paylines. Instead, it presents you with a screen with different tiles and hidden bombs.
The RTP of Kaboom is 97% and for once Rival released an online slot with an RTP that's above 95%. Now, the theme of the slots is an interesting one to boot.
Sonar readings picked up huge stores of diamonds deep below the ocean waves. Your job is to find them without triggering those pesky sea bombs.
In search of riches, Rival gives you a choice between 25 mystery tiles. As you flip those tiles you might strike it rich or trigger an explosion. The more bombs you choose the bigger the risks but so are the rewards.
If you click on 8 Diamond symbols in a row you'll win the jackpot of 744x your stake. That's if you play for the maximum bet per spin of $24.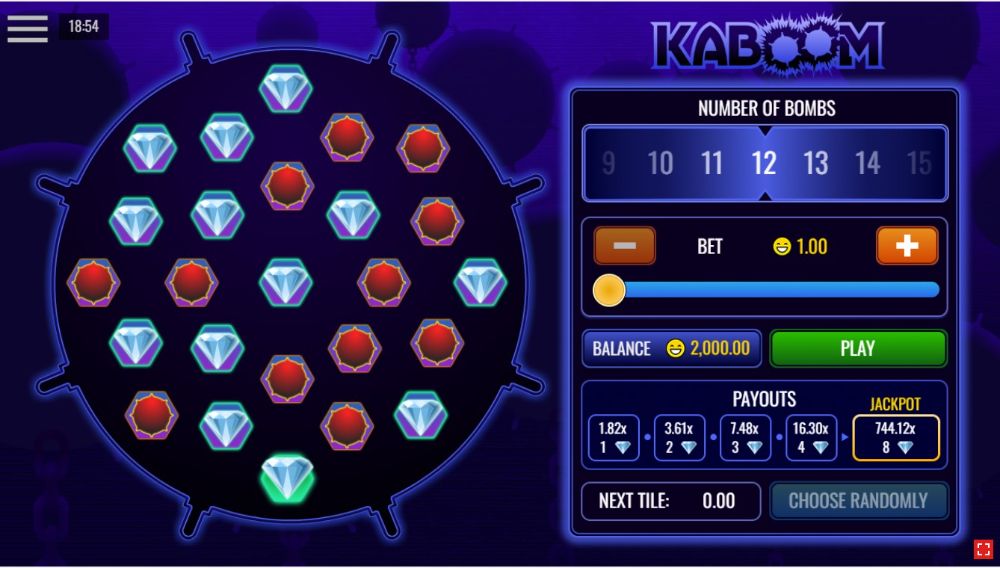 Features and Gameplay
The premise of the Kaboom slot is really simple. The coin betting range of the slot is $1 to $24 for high rollers. Once you fire up the slot at any trustworthy online casino in the USA.
You'll see that play revolves around a screen with bombs on them. Select your betting range, and click on the screen for Diamonds. For every diamond symbol you pick, you'll win a cash prize.
Click on a bomb, the screen will explode, and you'll lose the money you've won. Keep in mind, you can cash out your winnings at any time by clicking on "Cash Out".
At the top end of your screen, you can choose the number of bombs you want to play with. We tried the slot with 12 bombs and the most diamond symbols we uncovered were 5.
That's without blowing up of course. There is a "Choose Randomly" option too. The game randomly selects a symbol for you which we also tried with little success.
At which online casino can I play the Kaboom slots for real money? We recommend Cafe Casino, it's a great online casino where players from the United States can play legally.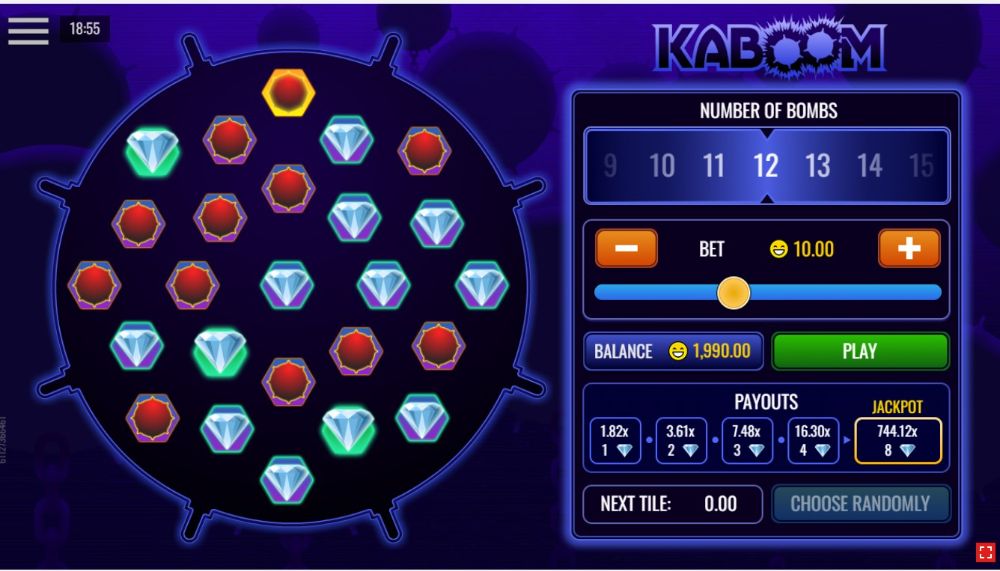 Graphics, Sound, Symbols
The slot does have graphics but unlike anything you've seen before. The audio track sounds like underwater bubbles that explode. There are two types of symbols on the grid; diamonds and bombs.
What Are the Pros and Cons of Kaboom Slot?
The most obvious pro of the real money slot online is its RTP of 97%. It's an interesting one because you can decide which RTP you want to play with.
The more bombs you play with the lower the RTP. If you play with 24 Bombs the RTP practically drops off a clip. The best way to play it safe is with an RTP of 97%, or to select 1 bomb.
The biggest problem with Kaboom is that it started to bore us after two sessions. The audio track is enough to drive one insane too. Granted, it's an interesting slot that will appeal to niche slot players.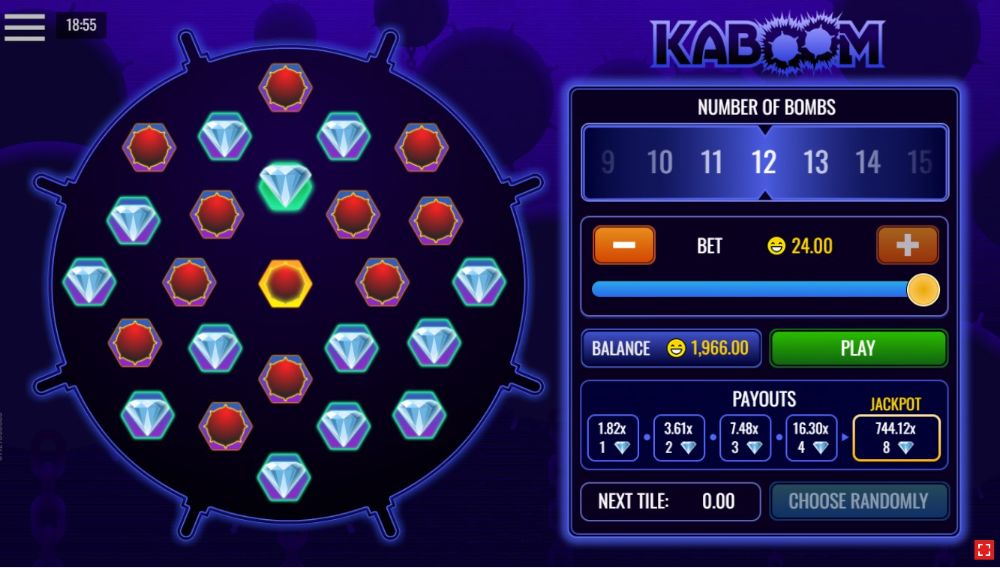 Final Verdict: Kaboom Slot
We came, we saw, but we failed to conquer the Kaboom slot. We're the first to admit that it's almost a "one-of-a-kind slot but it's a slog, and it becomes monotonous fast.
What we like about it is that it gives you a choice to decide your own RTP, so to speak. The Number of Bombs you select determines the RTP.
The more bombs you pick the bigger the cash prizes but so are the risks of hitting a bomb. The best way to describe Kaboom is that it's a sloppy game from Rival.
We won't play it again not even with free credits, no sir. It is a niche-online slot and there will be players that will enjoy it, no doubt. A Night With Cleo has more punch than those bombs in Kaboom will ever have.
It's one of the very few online slot games strictly for blokes. It offers you 15 Free Spins with Cleo Wilds and a Gamble Option. Without letting the cat out of the bag, try it and see for yourself.