Nitropolis 3 is a video slot from Elk Studios with 6 reels, 4 rows, and 4,096 ways to win.
We're back to the dystopian world where a nuclear war destroyed everything. Instead of humans ruling the roost; 4 animal clans scurry around searching for Nitro fuel.
Nitropolis 3 is the sequel to Nitroplois 2. The scene of the slot plays out on a tropical island with a slew of bonus rounds.
We can safely say that the scene is not as macabre. Most importantly, Nitropolis 3 offers a staggering top cash prize of 50,000x your stake.
If you play the maximum wager of $50 you can win as much as $2.5 million.
That's epic! Yet, it will be interesting to see whether Elk Studio caps the jackpot or not. Either way, it's massive.
Moreover, the volatility is extreme. To such an extent the Whizz team rates it a 10'er.
If you wish, you can play with the X-iter mode which gives you a choice between 5 options. You can test the slots with real money cheaply from $0.20 per spin at our top real money online casinos.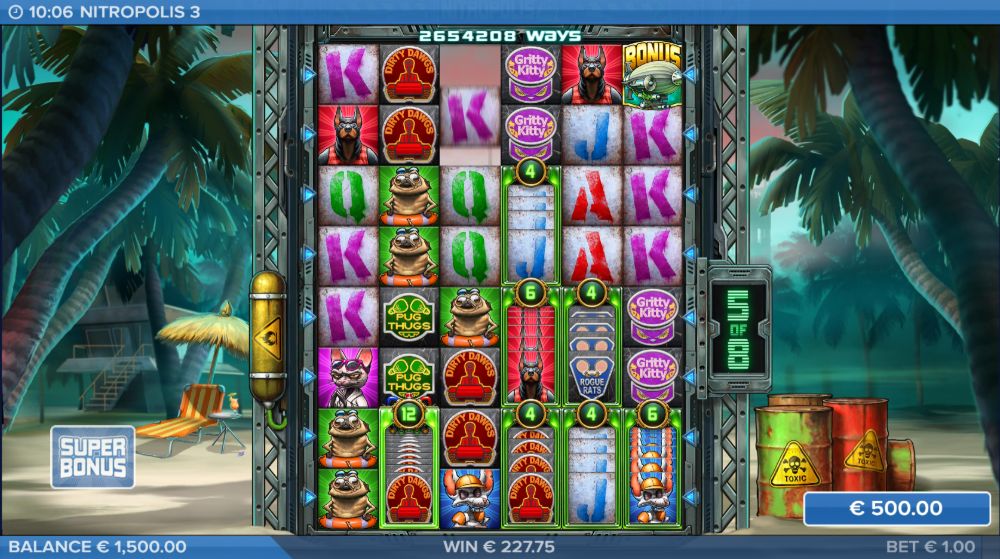 RTP
The RTP or average return to player percentage of Nitropolis 3 is 95%.
For a slot game that has a jackpot of 50,000x, we think the RTP is good. In fact, we'll even recommend it to players with small bankrolls.
Wins are infrequent, yet, when they pitch, they can be huge. Looking for an online pokie with a higher RTP?
Wild Duel with its Wild West theme awaits you at the best legal online casinos in Australia.
Symbols
A tropical beach serves as the backdrop for the reel set. Before a payout occurs, you need 3 to 6 matching symbols at any position on the grid.
The low-value symbols are the J to A card suits. Six of them pay up to 0.3x. The high-value symbols are clan logos and animal symbols. When 6 of them appear you'll win up to 5x your stake.
We'd like to draw your attention to the wilds and the pay symbols. When they appear their sizes range from 1×1, Super 2×2, Mega 3×3 to Mega 4×4.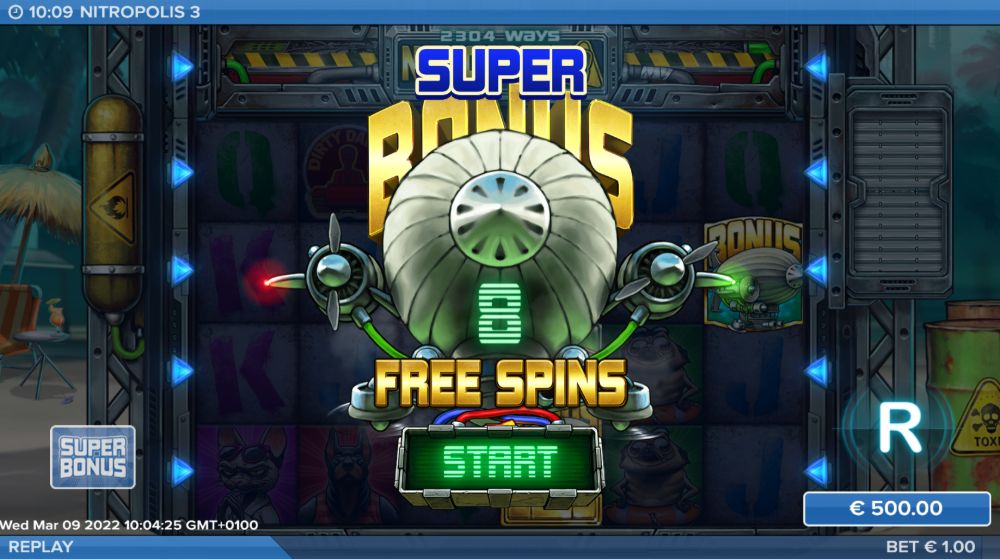 Nitropolis 3 Bonus Rounds
Avalanche
Nitropolis 3 won't be the same without its Avalanche feature. Winning symbols drop off or disappear from the grid whilst new ones replace them. In short, repeat wins are possible.
Nitro Reels
The Nitro Reels spreads out across two symbol positions up to a maximum of 12 instances with a single symbol.
What makes Nitropolis 3 special is that the Nitro Reels are huge. Their sizes can be anything from 2, 3, 4, 5, or 6 with 2×2 symbols.
When the Nitro Reels for part of a winning sequence, they'll stick to the reels.
Special Symbols
During the feature the Special Symbols can trigger one of the following:
Redrop, the Nitro Reels offer a respin while the bonus symbols and Nitro feature symbols stay for the redrop.
Both Ways, pays from all positions on the grid.
Nitro Match, pay symbols on one reel to match symbols on adjacent reels.
Nitro Upgrade, gives you symbol upgrades.
Nitro Wild, the wilds substitute symbols in the Nitro Reels.
Free Spins
To trigger the free spins feature of Nitropolis 3, you need 3, 4, 5, or 6 Zeppelin scatters. Moreover, the scatters award you anything from 8, 12, 16, or 20 free spins.
There's a lot going on here so please bear with us. The Nitro Reels stick to the reels during the free spins.
When new Nitro Reels appear on the grid they pile on top of one another. Every time a free spin offers a payout the level goes up.
For the record, it can be up to 8 rows high. When you trigger the free spins with a Super Bonus symbol; you'll initiate the Super Bonus Game.
Play commences on a grid with 8 rows and it pays both ways. You can trigger both free spins feature.
X-iter
If you decide to play with the X-iter feature it gives you a choice between 5 options:
Boosted Bonus Chance, a single spin doubles your odds of triggering the bonus. However, you'll have to fork out 2x your stake.
Big Nitro Reel, you'll pay 10x for one spin with a big Nitro Reel.
Nitro Match, for 25x the stake you'll play with a Nitro Match and Both Ways.
Bonus, enables you to trigger the free spins but for a price of 100x.
Super Bonus, which costs 500x gives you entry to the Super Free Spins.
Tips & Strategy Nitropolis 3
In all honesty, Nitropolis 3 is a tough slot to plow through. We flicked on the X-iter option and played it for the max bet.
We didn't accomplish much since the extreme volatility nailed our free credit bankroll.
Think we only managed 10 spins for a top payout of $50. Crazy we know. Anyhow, that payout and the number of spins demonstrate how volatile the game is.
Verdict
Nitropolis 3 allows you to step outside of your comfort zone. The slot epitomizes everything that online slots play should be.
Without sounding biased, Elk Studios did a marvelous job. Usually, it takes quite an effort for a sequel to be better than its predecessor.
Nitropilic 3 trumps Nitropolis 2 in more ways than one. Elk Studio bunches in special symbols, increasing ways to win, growing reels, and 5 X-iter options.
More importantly, the jackpot of $2.5 million rivals that of most progressive jackpots! Incidentally, it's also ELK Studios' biggest-ever jackpot.
Regrettably, you'll have to make tens of millions of spins to win it. But, you can also win it on any random spin.
It's wonderful to explore thanks to its generous in-game features. Nitropolis 3 is an overly complex slot that's a love letter to its own source material.