Candy Factory is the best slot that came off Dragon Gaming's production line in 2023. The CasinoWhizz team won $14,065 playing it.
We can hardly contain our excitement and apologies for that. It's our biggest win playing slots for real money for the year so far!
To make the win sweeter, we never had any luck with the slots from Dragon Gaming. Well, all that changed, and we'll be reviewing more of their games in the future.
Move on over Candy Crush a new kid Candy Factory is in town. The online slot has 7 rows with 5 reels and uses a Cascading engine.
The RTP is 95% which means it's quite volatile. To go with that it offers Free Spins, a Buy Feature, Multipliers, and Extra Spins.
The volatility ranges from medium variance to high which makes it perfect for high rollers. Long story short, there are still marvelous slots out there to play. If you want to know how we managed that big win, hop on board.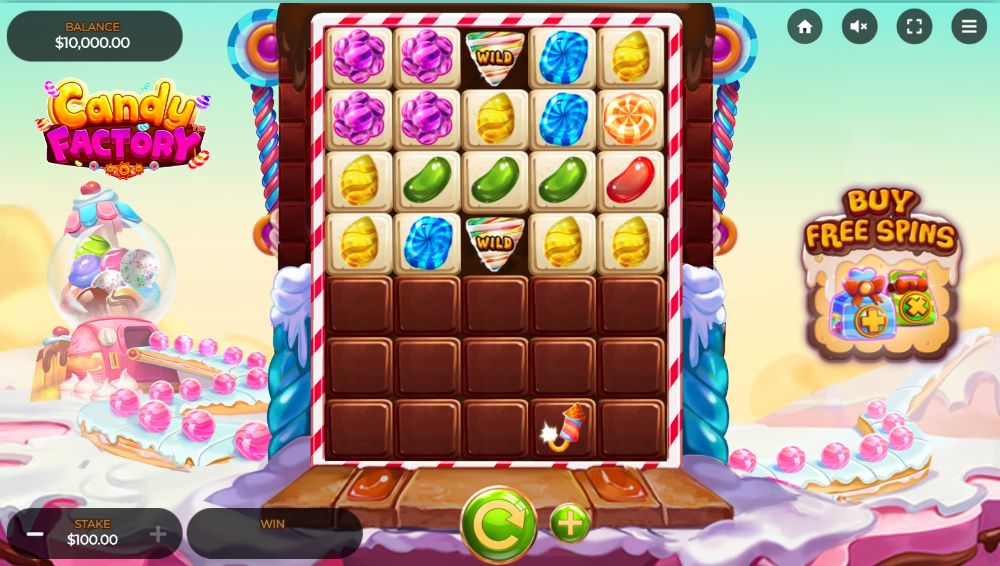 Features and Gameplay
Have you ever played a slot and thought to yourself this is it? We have and we had a good feeling about the game before we even played it. After all, we are big fans of Candy Crush.
Dragon Gaming packs it in with plenty of bonus rounds including that elusive buy option. A feature that's been lacking from their previous slot releases.
We have no idea how many spins it takes to trigger the free spins feature. To trigger it you need to destroy all the chocolate blocks. The Cascading engine guarantees you repeat wins.
You need 3 or more matching symbols for the Cascades to kick in. There are three free spin options:
Multiplier Free Spins, special blocks contain multiplier values of 1x, 2x, to 3x. The multiplier powers up to 6 free spins.
Multiplier & Extra Free Spins, this is our favorite free spin option. The value of the multiplier keeps on growing and you can snag extra free spins. The Wild symbol is prominent throughout the bonus, keep an eye on it.
Extra Spins, the special stone blocks contain 1, 2, 3, 5, or 10 extra free spins. The extra spins feature powers up to 12 free spins.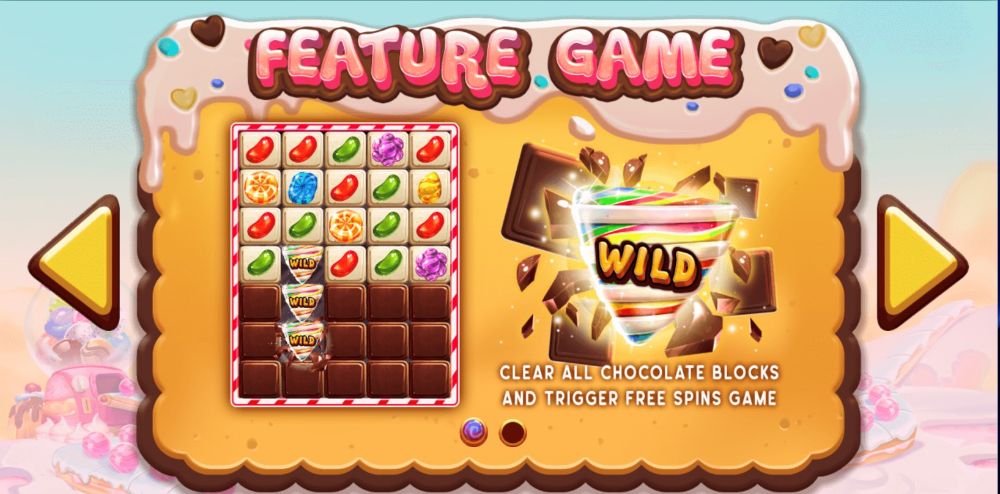 Special Exploding Block
Unlike the other symbols on the grid, the Wild symbol does not explode when it appears. However, it only explodes for a win once it reaches the bottom of the grid.
The wild also substitutes other symbols when it forms a winning combination.
Buy Option
There are times when the buy option in slots doesn't work, but in this case, it does. We must point out that it's costly and risky but it can be very rewarding.
How did we manage that big win? To the right of your screen, you'll see the "Buy Free Spins" logo. When you click on it, it gives you a choice between 3x free spins options.
The option we chose was the Multiplier Extra Spins at a max wager of $100 per spin. At that betting range, we paid $8,500. As the feature progressed, we ended up playing with a 10x multiplier and gained 12 more spins.
Moreover, we landed plenty of extra wilds which was responsible for a few $3,000 plus wins. Super Slots Casino is one of our favorite online casinos for Americans.
They welcome you with a bonus of $6,000 and you can withdraw as much as $100,000 in casino wins. That makes it the perfect casino to play Candy Factory slot.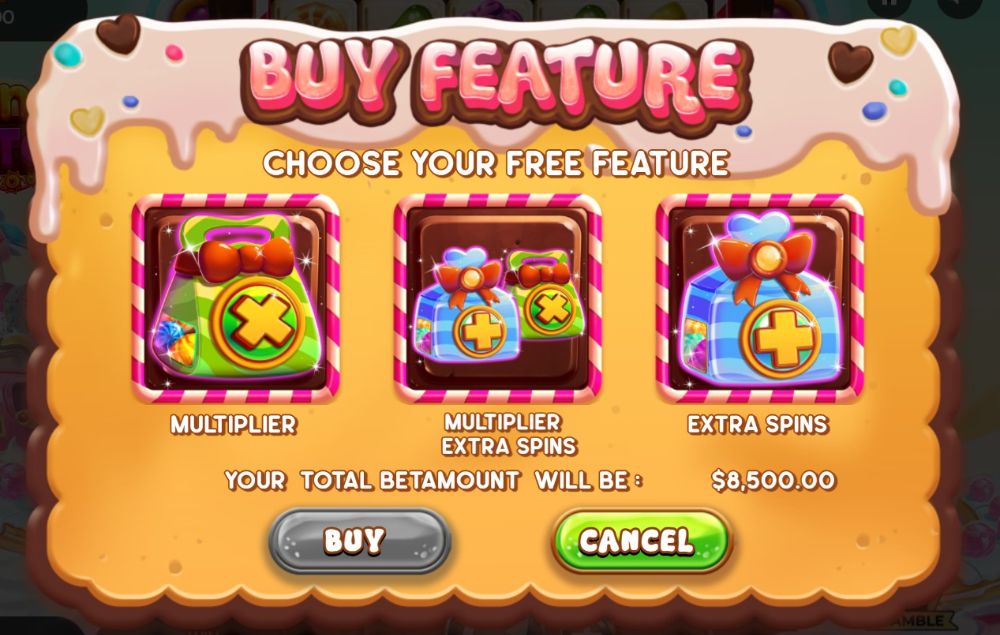 Graphics and Sound
The soundtrack is upbeat and easy on the ear. We'll even say it's one of the game's endearing qualities while the game art is simply gorgeous.
Payouts, Betting Range and Jackpots
The hit frequency of the Candy Factory slot is around 25%, which means a winner on every 4th spin. Bets per spin start at $1 to $100 per spin. The smallest wager won't suit low rollers, it is what it is, unfortunately.
We don't know the size of the jackpot because Dragon Gaming did not include it in the game's stat sheet.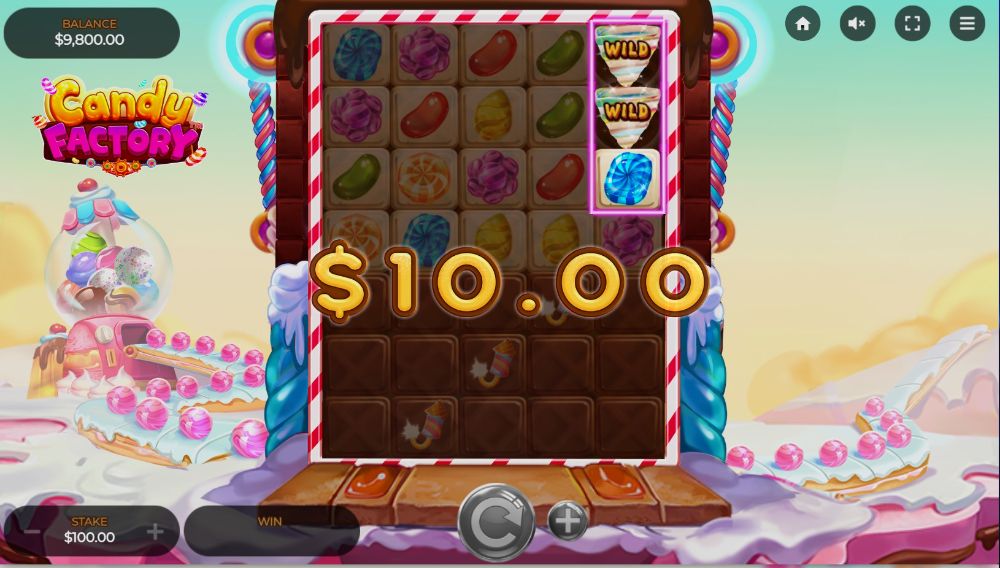 Final Verdict: Candy Factory Slot
When you play any slot it's not always long walks and movie nights. The same principle applies to Candy Factory slot.
Just because we had that marvelous win doesn't mean you'll win money. And neither does it guarantee us that we'll have a big win like that again.
The RTP of 95% throws a spanner in the works but it's not a biggie. The volatility though high is perfect. That means the chances of snagging those big wins are good.
The progressive multipliers and the wild work in perfect unison. We don't see that often in a slot.
All the elements pop. It's a sublime mix of the fresh and familiar and they pull together for an entertaining romp. The buy option is most probably the slot's most underrated feature.
Let's hope Dragon Gaming doesn't realize "Wait, hang on we've been too generous with this slot", and cull the payouts. Nah, that won't happen.
Wrath of Thor is a worthy alternative with a top jackpot of 5,000x. It has a Nudging Reel feature with multiplier wins up to 10x.