Trollpot 5000 is NetEnt's version of the land-casino slot machine. While there are a few subtle differences here and there it remains true to the original. Besides, we did a bit of digging with regard to the newest real money slots and their pays. Suffice it to say, the majority of the players aren't happy with the payouts lately. Hopefully, Trollpot 5000 will be a huge earner for them. Just remember when you play slots for real money; the house always wins over the long run. The game has a 3×3 format with just 1 payline.
If you love online slots with gorgeous game art, Trollpot 5000 is an ugly face. Some players might find the grind worthwhile because the volatility is sharp. It offers a jackpot of 5,000x (£$1 million) your stake. Moreover, it crams in a Nudge Mechanic, as well as a Mini. Midi and Mega Jackpots. Slots players for real cash can play Trollpot 5000 from £$0.20 to £200 per spin. We recommend you play it at our top UK casinos. And, if you are from the States have a look at our best USA online casinos. More importantly, they offer you a kaleidoscope of Betsoft slots, some of them even have a Buy Feature!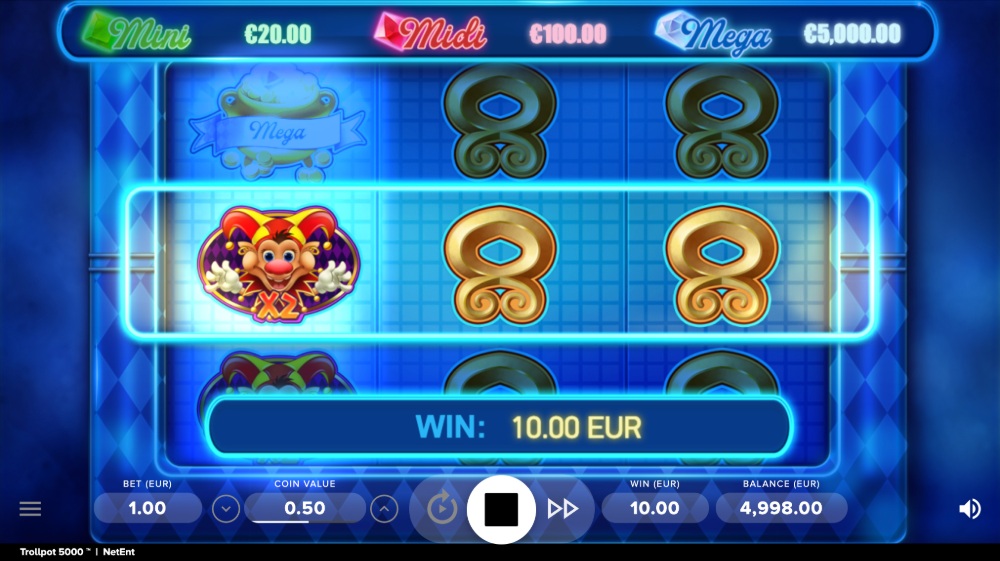 RTP & Symbols
The RTP of Trollpot 5000 is 96.19%. For a high variance slot that clocks a 10'er on our slots scale, it's good. However, what concerns us the Hit Frequency because it's 6.49% which is brutal. What the HF tells us is that you can expect a winning spin on every 10 to 15 spins. Well, all we can say it's scary stuff and only for high roller casino VIPs. If you have the bankroll to tame this wildling. By all means, give it a whack.
Just like your typical fruity slots, the symbols on the reels are lucky 7s, stars, clovers, bars, and mushrooms. The premium symbol is the Bars. When three of them pop up you'll snag a payout of 10x your stake. If we look at the game's jackpot we do understand why NetEnt ran with its current math model. So much so, it has a few interesting tweaks that pivot around its three main jackpots.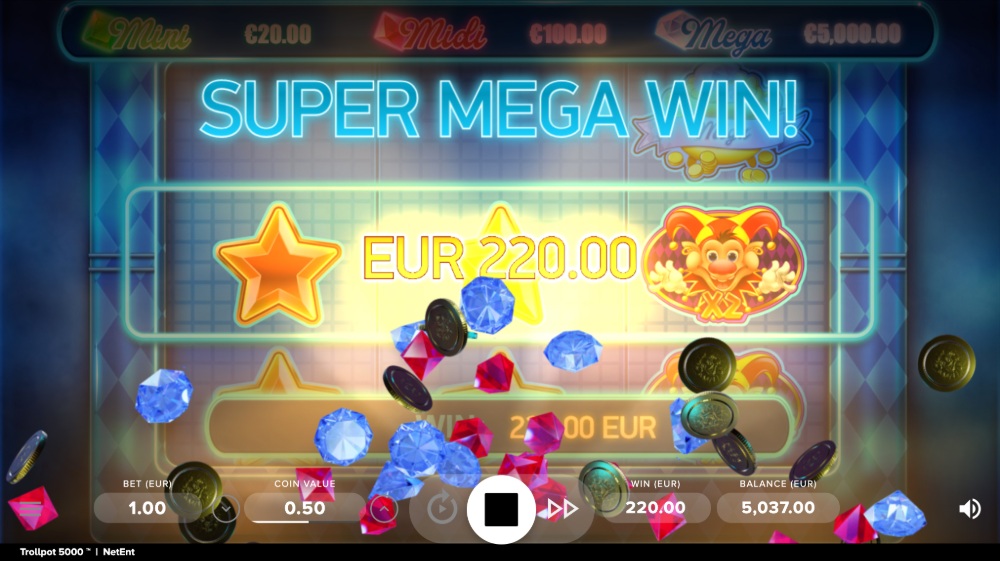 Bonus Rounds
Nudge Feature
Trollpot 5000comes with a Nudge feature. By no means is it an innovative streak because it pops up quite a lot. In other words, many online slots developers incorporate it into their games. What we can tell you is that the Nudge feature is quite aggressive. The Nudge feature kicks in on every winning spin. Remember the hit ratio. Well, it's only 6.49%. If we can go by it winning spins are very far and few in between. Which means that you won't see that many Nudges. When a Nudge occurs it begins on reel 1. The Nudge continues until a new symbol replaced the original. Interestingly, the Nudges spill over onto reels 2 and 3. When the Arrow symbol stops above a reel, it causes the reel to change direction.
Multiplier Wilds
The Jester with a grin on his face is the Multiplier Wild. It carries a multiplier of 2x, 4x, up to 8x. It replaces symbols adjacent to it during a winning combination. But, it does not substitute the jackpot or the arrow symbols.
Fixed Jackpots
Trollpot 5000 has three jackpots namely Mini, Midi, and Mega. The jackpot symbols appear at the top end of the reels once the reels complete the Nudging process. The question is, how do you win a jackpot? For starters, when the jackpot symbol appears on every reel; you'll snag the Mini Jackpot. But, if you want to win the big scoop, that is the Mega Jackpot. You must land all three Mega symbols for the top payout of 5,000x your stake. Alternatively, one or two Mega symbols pay 20x to 100x your stake respectively.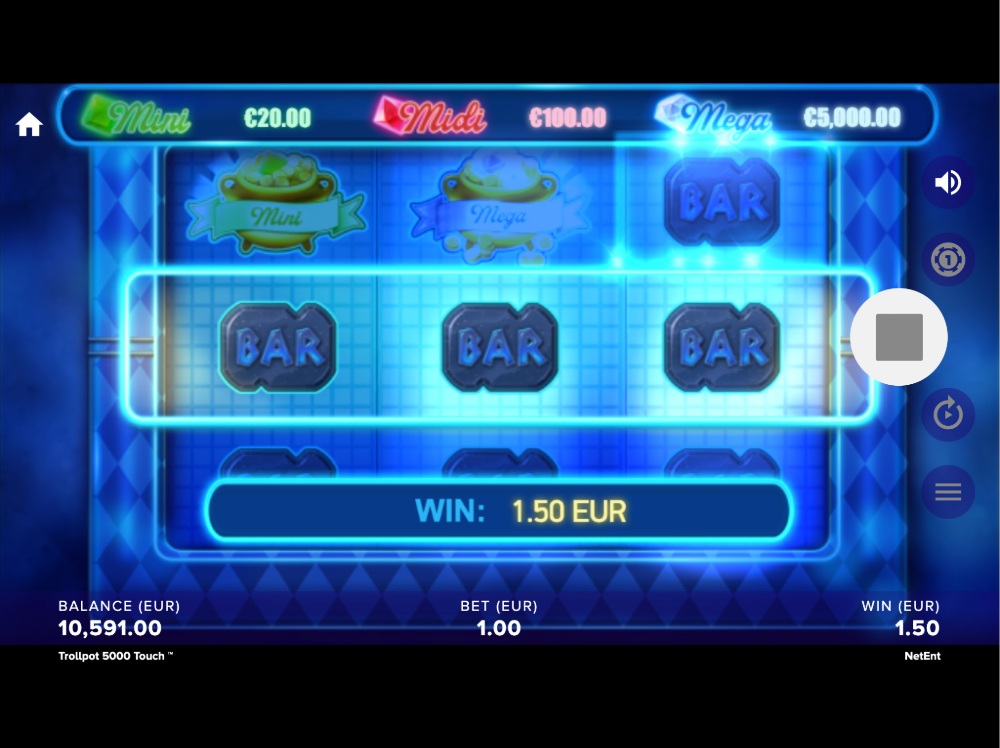 Verdict
Trollpot 5000 is akin to playing with fire because there is the possibility that it will burn you. We like the fact that it offers a Nudge feature and three fixed jackpots. But, you need the patience and bankroll of Job if you want to tame this cat! The addition of the arrows is a nice touch too because they reverse play. Another thing that puzzles us about the real money slots is that it's a clone of Grand Spinn. The hit frequency is just above 6%, so brace yourself for plenty of dry spins. When a winning spin finally pops up the pays can be very good. Our final take on the game; play it at your own peril. We prefer NetEnt's top slots for 2020, Street Fighter 2.