Wild Hot Chilli Reels is a Red Tiger Gaming slot with a spicy theme. It's not too spicy since it only has 5 reels, 3 rows and 10 paylines. The nice bit is that they pay both ways. The symbols are straightforward, and the jackpot you'll be playing for is 500x.
Not a big one but throw in the max bet of $200 it shoots up to $100,000. If you win the jackpot and invest it in a cryptocurrency like Bitcoin. Your investment can still turn you into a millionaire. Technically speaking, Wild Hot Chilli Reels is perfect for casual players and newbies. Moreover, players with small budgets can play the slots for real money from $0.10 per spin at our top mobile casinos.
It's a medium variance slot that clocks a 6/10 on the Whizz's slots scale. Can't the medium variance bit and the small jackpot still work wonders? Let's see. Red Tiger Gaming crowns the slot with a single bonus round the Super Spicy Wilds. Can't say we're happy because Red Tiger Gaming normally drops the ball on the RTP.
As a pokie, Wild Hot Chilli Reels is not available to players from Down Under. If you want to play a cracking online pokie, play Lotsa Lines at the top Australian online casinos. They list hundreds of pokies and table games. Don't forget to take advantage of their casino promotions.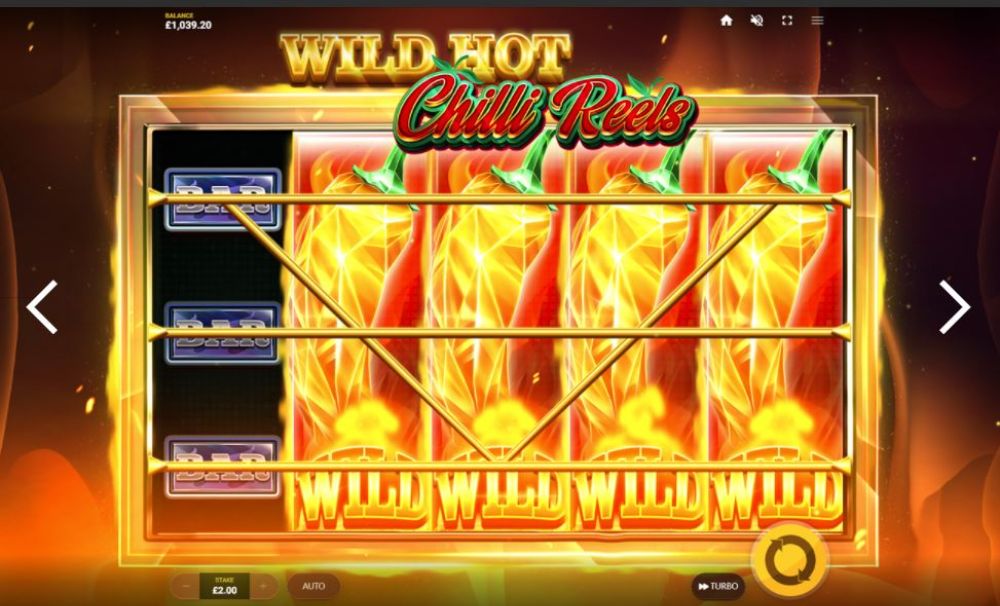 RTP & Symbols
Speaking of which. The RTP of Wild Hot Chilli Reels is 95.75%. We don't have to tell you that it's below the average. As a rule of thumb, the RTP doesn't really bother us but in this case, it does. Because the jackpot is small, it's of medium variance and the hit frequency low. This doesn't make for a good slot review of Wild Hot Chill Reels thus far. Now does it?
Thematically, Wild Hot Chilli Reels is more or less an old-school fruity slot. Now, the only real twist is the Wild symbols with chilli peppers. They look cool, almost outstandingly so. They're the only thing that jumps at us at this stage.
The symbols on the reels are BARs, lemons, cherries, bells, and diamonds. If you enjoy playing old-school slots, you'll know exactly what to expect. The production values are decent. Yet, it's a small downgrade if we compare it to the other Red Tiger Gaming slots. In any case, payouts for full lines can be decent. When a full line pops up it nets you a tidy sum of 45x.
Bonus Rounds
Wild Hot Chilli Reels is quite a bare-bones slot, or so to speak. It only has one bonus round titled the Super Spicy Wilds and it comes with a few tweaks as well.
Super Spicy Wilds
The Super Spicy Wilds always appear stacked on the reels. In other words, they cover three positions. Whenever a Super Spicy Wild appears the game's engine nudges it to cover an entire reel.
After the nudge, the Wild remains on the reels for the next spin. More importantly, when all 5 Wilds appear on the grid you'll win the 500x jackpot! Note, you won't get a free re-spin after the lock happens. Instead, the Wild will stay on the reels. However, you'll have to pay the normal sum if you want another spin with it on the reel.
Wild Hot Chilli Reels Tips & Strategy
We played Wild Hot Chilli Reels for a session of 50 spins at an average wager of $1 per spin. Long story short, it was a slog, yet we managed a win of $12 (12x). The overall experience was less than colourful and akin to chewing on a piece of wool.
Aside from Super Spicy Wilds, there's nothing else going on. Suffice to say, we left the slot for greener pastures. If we can give you a tip play the slots for free or at the min bet of $0.10. That's before you decide to risk more money.
Verdict
Wild Hot Chilli Reels is a classic Red Tiger Gaming slot. It's one of those forgettable slots with little to no sticky points. Red Tiger Gaming is one of the bigger slot studios around, it can afford a blunder now and again. There's still an audience for classic slots, but only if they offer the player value. Wild Hot Chilli Reels isn't one of those games. You might want to give it a few spins for the sake of it, but don't stay for too long.