Volcano Blast 10x slot from Rival Gaming has 3 reels and 3 rows. The slot machine offers US players a jackpot of 334x the stake. Not the biggest but it more than makes up for it with those 10x Magma Wilds!
For what it's worth play revolves around those Wilds. So, if it's free spins and other special features you're looking for, you won't find it here. The betting range is $0.09 to $45 per spin.
Perhaps not the widest coin denomination but adequate nonetheless. Volcano Blast 10x slot has a Polynesian theme with a volcano looming in the background.
It's a low variance slot that tips the Whizz's slots at around a 4/10. US players can therefore expect plenty of winnings spins with the odd big win.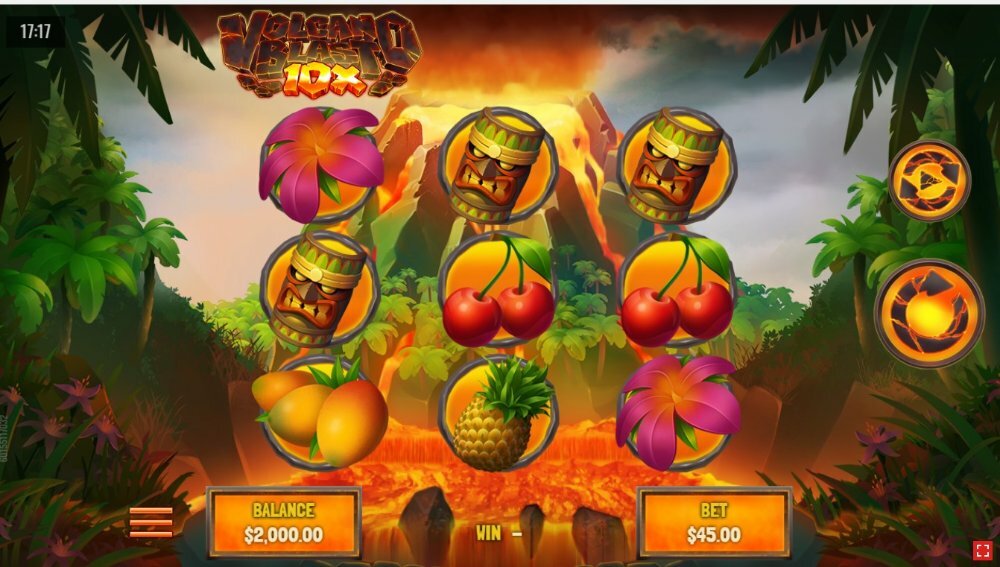 RTP
The RTP or the payback rate of Volcano Blast 10x is 94.47%. There might be RTP ranges that are lower so make a mental note of that. The slot boasts a high hit frequency of 30%.
Symbols
A volcano serves as the backdrop for the reel set. The symbols on them are different types of tropical fruit and the 10x Wild. The premium symbol is the 10x Wild, 3 of them pay 500 credits.
You'll win cash prize when three matching symbols appear across the reels. The wild also substitutes symbols when it forms a winning combination.
Even if the 10x wild forms a winning combination with a high-value symbol the payout can be big.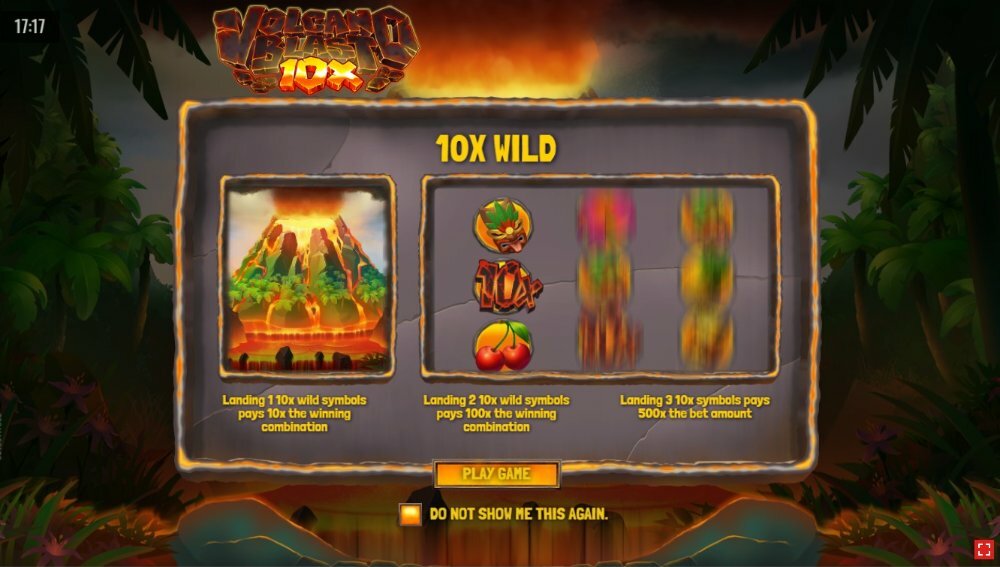 Volcano Blast 10x Bonus Rounds
10x Magma Wilds
Rival keeps things simple with Volcano Blast 10x slot. To such an extent the online slot machine only has a single special feature or bonus. That bonus comes in the form of the 10x Magma Wilds.
When the 10x Wild appears on the reels it offers a payout of 10x your stake. However, it also depends on the symbol combinations it forms the win with.
More to the point when three 10x Magma Wilds pitch you'll win the jackpot of 334x. As you can see Rival really kept the mechanic simple with Volcano Blast 10x slot.
Tips & Strategy Volcano Blast 10x
Volcano Blast 10x slot packs a mean punch despite its diminutive size. Before we played the slots online for real money USA we were skeptical.
After all, who wants to play a slot machine that's low variance with an RTP of 94.47%, right? We played the slot for the maximum wager of $45 per spin for 25 spins using the Auto Play option.
Yes, it's risky but sometimes risks pay off big time. That's exactly what happened in our case, we managed a spectacular win of $7,500. Insane, we know. Just to think we were on the verge of slatting the slot.
We're not trying to hype up the slot. Keep that in mind because many players make the mistake of 'playing slots blindly'. In other words, they don't play it with free credits first.
To improve your chances of winning more money when you play slots online. We wrote an article on 10 tips to become a better gambler. Please go through it before you play Volcano Blast 10x slot.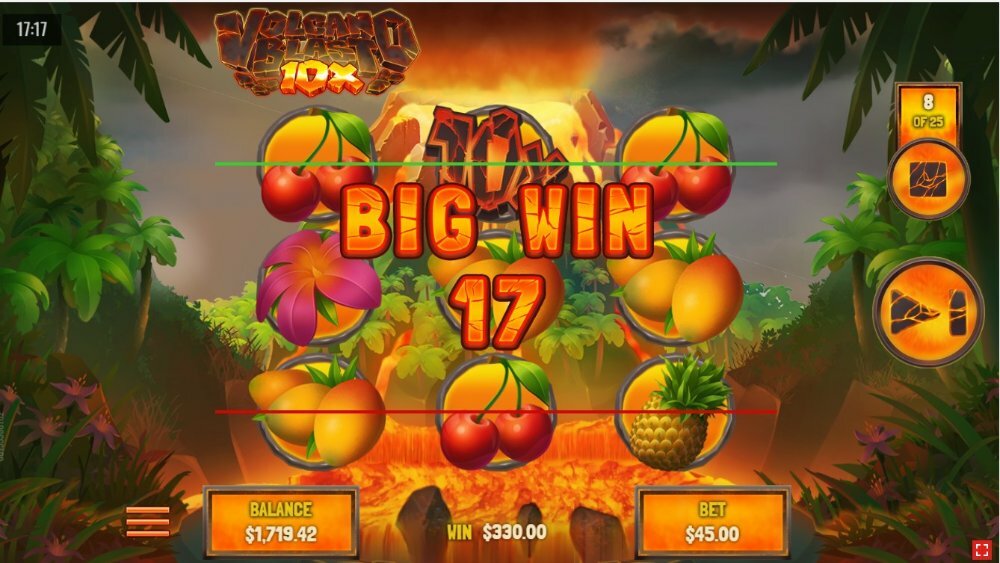 Verdict: Volcano Blast 10x Slot
We won't say that Volcano Blast 10x slot is a spectacular slot but it's an interesting one at that. Even during the testing phase, we had an insane win of $7,500 when two wilds pitched.
Call it luck or whatever you will. Yet, despite the big win it's difficult to sugarcoat a slot machine like this. For one the RTP of 94.47% leaves one scampering for the rafters.
Not to mention the low volatility and the small jackpot of 334x the stake. Then again we can't deny the winning potential of Volcano Blast 10x.
When we add in the simplicity and the manner in which those wilds bob and weave. Makes Volcano Blast 10x slot an easy recommendation.
That said, don't go overboard just because we had that big win. When it comes to playing slots online discretion is better than valor.
Betsoft Gaming released a few top-notch slots lately. Have a look at Rags to Witches, the jackpot up for grabs is $7,083x the stake. Rags to Witches slot offers 3x free spins features including a starting multiplier of 3x.