Tropicool is a tropical slot is an online slot from ELK Studios with  6 reels and 6 rows. It's not one of those grid slots that pay in Clusters. It does however offer up to a cool 46,656 ways to win.
The hit frequency stands at 23.10%, meaning you'll catch a winner on every 4.3 spins. The volatility is medium-high as such it clocks a 7/10 on the Whizz's slots scale. Now, the jackpot of 10,000x your stake is huge as the max bet comes in at $100 per spin. Moreover, casual real money slots players can play for a min of $0.20 at our safe and secure casinos online in Europe.
If you decide to play the slots for real money or just for fun. Tropicool offers you bonuses such as Avalanches, Feature Reel, Free Drops, and X-iter.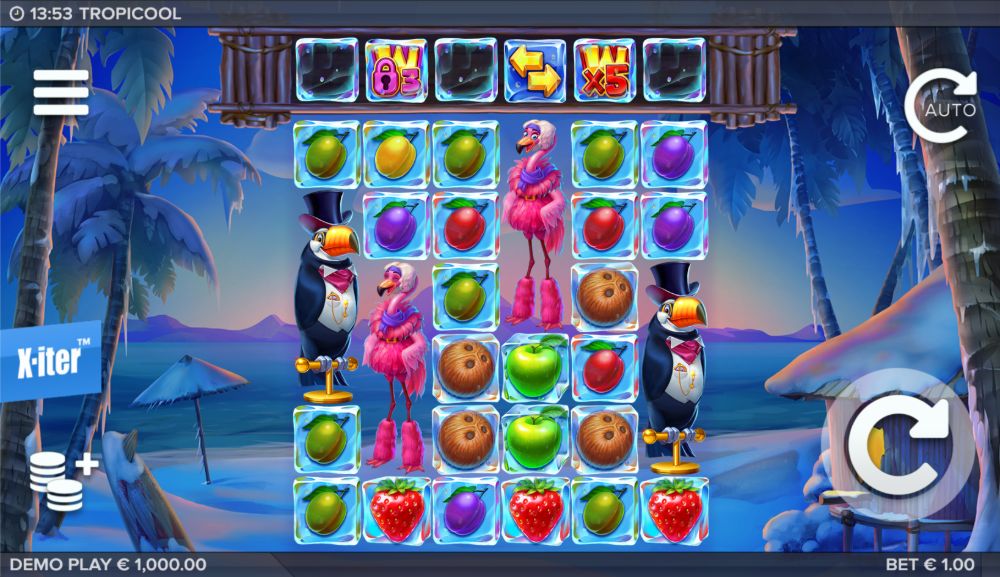 RTP & Symbols
The RTP of Tropicool is below average at 95%. We can't slate the RTP of the slot because the maximum earning potential is $1 million. Therefore, the lower the RTP the bigger the jackpot.
The visual arrangement of Tropicool is enchanting. You've got a tropical island with a touch of frost freezing everything except for the main characters. A nice twist to say the least. The high-value symbols are toucans and flamingos. When a bunch of them pitch across the reels they pay 0.9x to 1.2x.
That might not sound like a lot, but that's how this game rolls. There are small wins all over the place while the big wins pop via the bonus rounds. The low-value symbols on the reels are fruits, like coconuts and apples.
To play the best pokies online visit our legal casinos online for Australians. You can pick and choose from blackjack for money to pokies like Mr. Macau.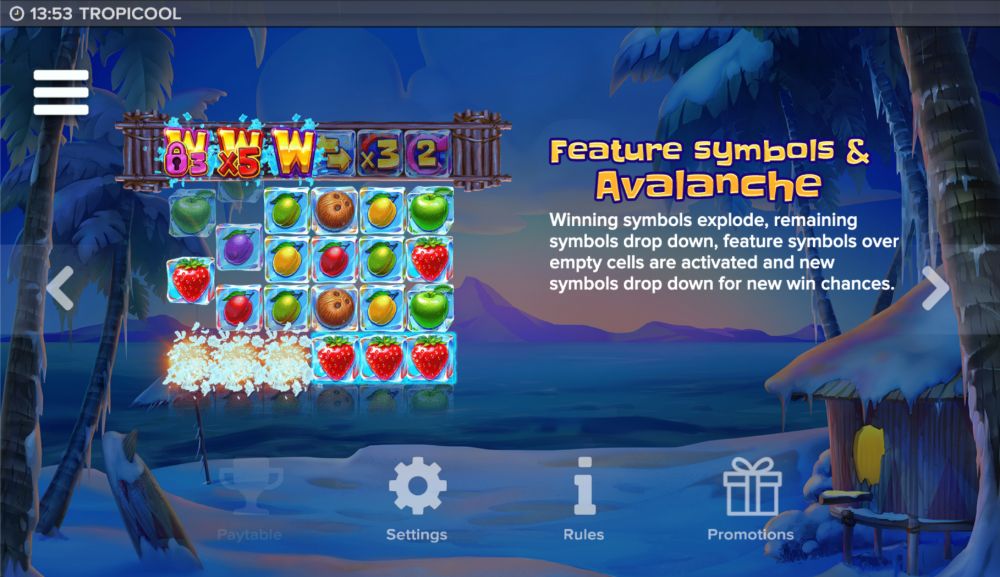 Bonus Rounds Tropicool Real Money Slot
Avalanches
Avalanches work in their basic fashion in Tropicool. Whenever you get a winning combo, you'll get your payout and the involved symbols will disappear. Then, new ones will fall in to allow for new combos to appear. This loop continues for as long as you keep getting new combos – no limits!
Feature Reel
To spice things up, symbols from the Feature Reel can pop in to add some fun. They can fall down during Avalanches and produce a special effect. You'll also see Wilds, and Multiplier Wilds of up to 5x. However, once the feature gets going Locked Wilds that stick to the reels and Row Swap symbols. The latter symbols transform other symbols into matching symbols.
Free Drops (Free Spins)
When 3, 4, 5, or 6 Bonus symbols that look like big Bs land; they trigger 10, 15, 20, or 25 Free Drops respectively. There's a global win multiplier for these free spins and two special symbols. You'll receive extra free spins when the Extra Spins symbols pop; they award up to 5 extra free spins. Moreover, Win Multiplier symbols increase the global win multiplier by up to +5x.
X-iter
X-iter is how ELK Studios calls its Feature Buy options. In other words, you can buy your way to different bonus rounds. There are 5 different options as well. It all starts with you paying 5x your bet for a spin that guarantees you a win. You can also pay 100x to trigger the Free Drops Feature.  Or, you can risk 500x to trigger it along with a 10x win multiplier.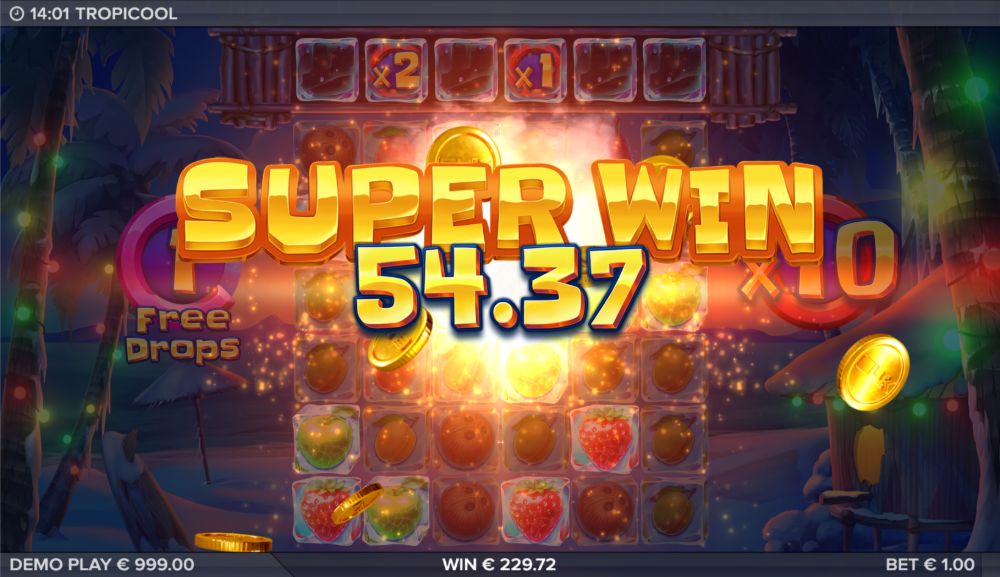 Tropicool Tips & Strategy
This time around we were prudent with our bankroll and played Tropicool with just $200. Our average bet for the occasion was $0.20 for 200 spins. Now, if you decide to play the slots online. You have three options at your disposal.
First, you can play it outright for real cash. Secondly, you can play it with free credits. Thirdly, you can play it at the lowest bet like we did. The going was tough for us because the slot doesn't take kindly to small bankrolls. Also, the RTP and overall volatility work best with larger bets.
The basic gameplay loop was straightforward. We didn't expect any fireworks because we played it at the lowest bet. As such wins in the base game ranged from a few cents to $1.50. The Feature Reel didn't deliver the goods either. Our next natural response was to trigger the Feature Buy or X-iter feature. We activated it at a cost of 25x. Basically, the feature guaranteed us 3x Locked Wilds on the reels.
Unlike some of the other slots' Buy Features, this one doesn't increase the RTP. We managed a win of $8.50. Somewhat less than our investment, but that's volatility and luck for you!
Verdict
Tropicool slot reminds us of those tropical sea snakes with a beautiful assortment of colours. Beautiful to look at but deadly! The slot does however have a lot going for it. For starters the jackpot is 10,000x and it has plenty of bonus games including an X-iter feature buy. The only thing that spooks us a bit is the RTP because it's below the industry average. Perhaps the hit frequency too as winnings spins seldom pitch.
It's not easy to trigger the free spins yet the Win Multiplier makes it worth it. Furthermore, the Free Drops feature hosts the jackpot. If you have those birdies as your mates on this tropical island paradise. You can snag a few 10x multipliers on a single free spin for the big wins. Who knows,  maybe the jackpot.
Tropicool is another captivating slots from Elk Studios and we do recommend it. We also advise caution because the volatility is sharp and the house always wins over the long haul. Yggdrasil's, Tropical Island 2 has the same theme. The slot has gorgeous HD graphics, a max payout of 2,500x, Colossal Wilds, and Expanding Reels.