Thor Infinity Reels is a video slot from ReelPlay. We've already seen the company utilize the Infinity Reels mechanic a few of times and here's another one.
We have Norse mythology to explore and Thor himself is present. The slots for real money features 3 reels and 4 rows. That can quickly increase thanks to Infinity Reels, though. There are no Megaways as in Odin Infinity Reels Megaways, but that doesn't take any fun out of the slot.
In terms of bonus rounds, there are Symbol Win Multipliers, Infinity Bonus, Jackpot Respins and Bonus Buy. As you can see Thor Infinity Reels has no shortage of bonuses.
The betting range is solid. It starts at €0.20, so even low rollers can join the fun. High rollers can wager up to €40 on a spin. The jackpot of 6,055x is splendid enough for the big spenders. To make up for that, the hit frequency is a winner every 3.5 spins.
That will keep your bankroll ticking and soften the blows a bit. You'll get many bonus rounds as well, with big multipliers included. You can check the game out at European online casinos and you should do so as well. Those are among the best around. Big sign up bonuses, hundreds of online slots and fast payouts. It's all there, no compromises!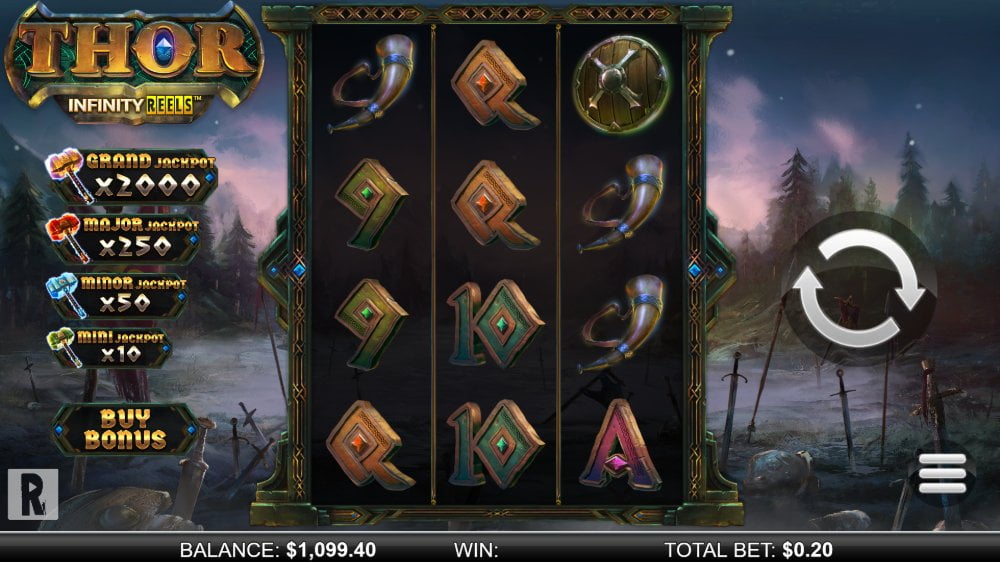 RTP & Symbols
The RTP of Thor Infinity Reels is 96.20%. That's the default for the base game. You can increase it to 96.60% via Bonus Buy, though that costs fair cash.
Payouts occur through the Infinity Reels. You'll snag a payout for a set of 5 symbols, but it doesn't have to stop there. Whenever the rightmost reel comes into play, the game adds a new reel. That will continue for as long as new wins pitch.
The symbols are classic for a slot based on Norse mythology. The low-value symbols are card ranks from Jacks to Aces. Standard enough. The high-paying symbols are more thematic. There are horns, helmets, shields and axes that enhance the theme even more. You'll be on the lookout for Wilds and Scatters as well. Scatters show Thor's famous hammer, Mjolnir. These hammers are your tickets to the jackpots; so stay tuned.
Aussies can check out TikiPop pokie it's brimming with special features and eye-popping visuals. The best pokie is no live at our safe casinos for Australians online.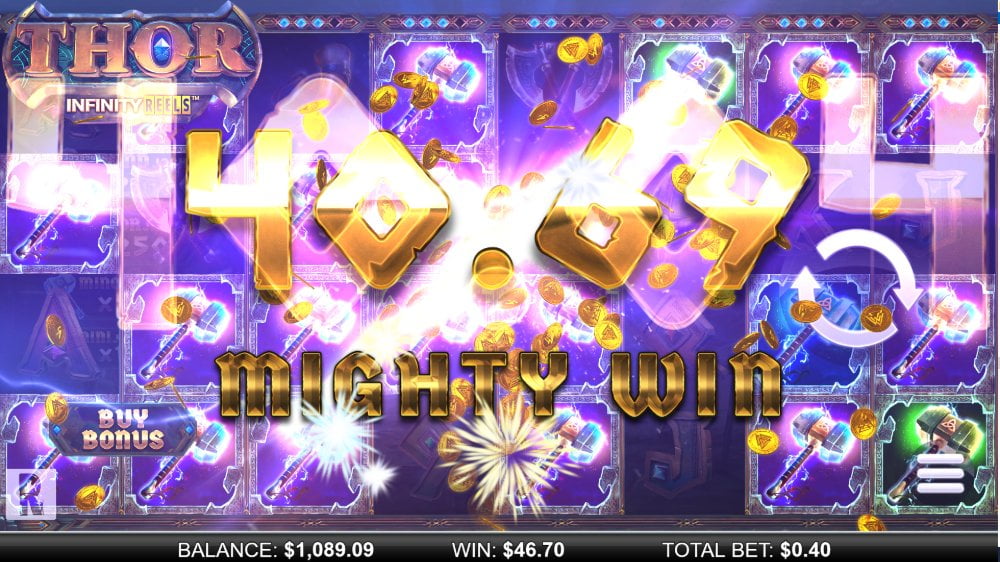 Bonus Rounds
Symbol Win Multipliers and Infinity Bonus
The Infinity Reels mechanic adds extra reels to giveyou more winning chances. Each added reel also increases the Symbol Win Multiplier by +1. After a spin, the engine adds the multiplier to the symbol values. That makes room for big wins, which is nice.
Even better, there's the Infinity Bonus waiting for lucky players. It's simple as well. If you add 12 reels during a spin, you'll get 888x your bet as a bonus!
Jackpot Respins
Finding 6+ Mjolnirs in a spin leads to the Jackpot Respins Feature. Here, the grid locks to the triggering setup. All Mjolnirs stick to the reels offering you more big cash wins. You can also add extra reels if you fill all existing ones.
It's the classic hold-and-win scenario with a twist that allows for bigger wins. Once no new Mjolnirs land, you'll collect all the displayed values. There are also 4 distinct Jackpot Spatters. If you manage to land those, you'll win the corresponding jackpot. These are worth 10x, 50x, 250x, or 2,000x your bet.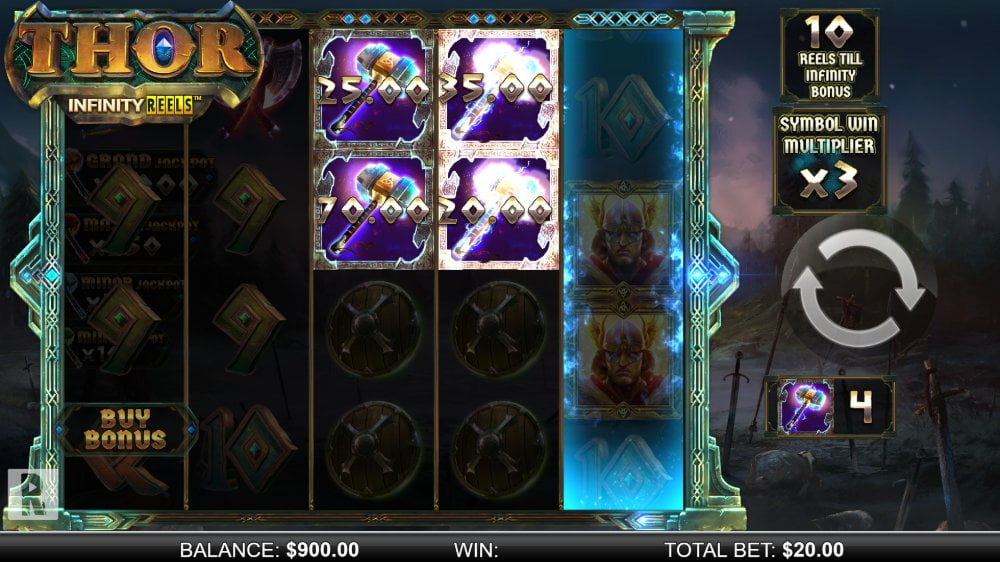 Bonus Buy
If you don't want to wait for Mjolnirs, you can use the Bonus Buy Feature instead. You'll have to pay 100x of your bet and you'll get a guarantee of 7+ Scatters. In the base game, you'll trigger the Jackpot Respins Feature about once per 160 spins on average.
Thor Infinity Reels Tips & Strategy
To test things out, we spinned the reels with a casino budget of €200. In other words, a relatively small bankroll. We set the autoplay to 50 spins and got some wins straight away. Our stake was always €1 and we managed to get some wins to the tune of €7+ as well.
The hit rate was solid and we received many €1.20 and €2 wins on the way. There weren't too many spins without at least one expansion, which was exciting. True, not all of them led to a win. It's sweet to get a chance for new Scatters, though.
We also used the Bonus Buy Feature to test drive the Jackpot Respins Feature. We had to pay €100 for it. Not a small price, but it was an exciting ride. The game let us unleash Thor, so to say. We got 8 reels and hit a couple of bonus Scatters on our respins. No further expansions and no jackpots, though. The final payout was €103; a small profit.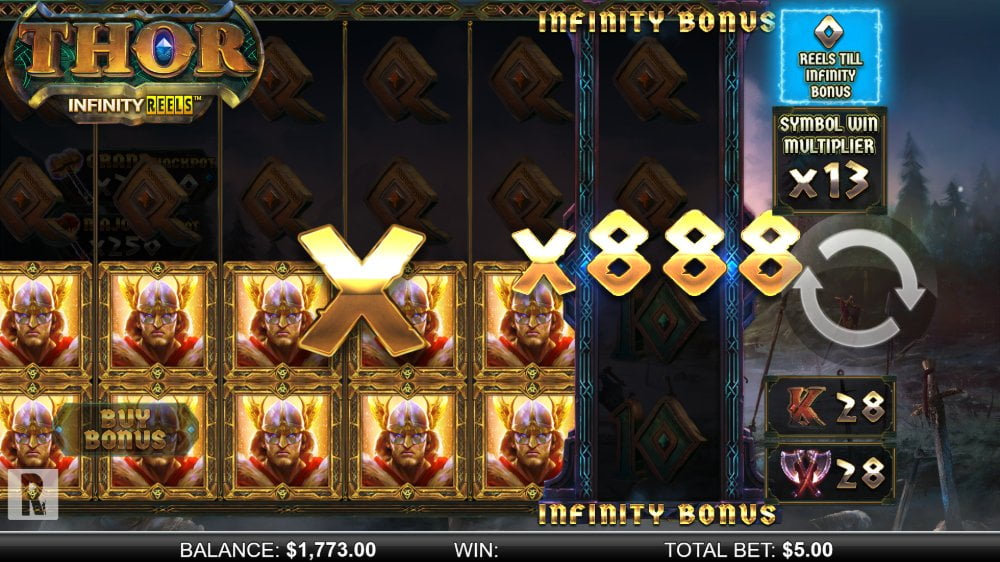 Verdict
Thor Infinity Reels is a classy ReelPlay slot that brings new twists to the table. You've got the basic Norse mythology in conjunction with Infinity Reels. As a bonus, there are Symbol Win Multipliers for the base game. Jackpot Respins top off the list of adrenaline action and it's a ride throughout. It can be somewhat volatile, though. There are no free spins either, so take care.
For a juicier adventure, look back to Odin Infinity Reels Megaways. It's similar, but it has even more volatility in exchange for a higher win potential. Both games are available at the best European casinos online. You can mix and match at will, then.
Whizz Hot?
Norse theme
Infinity Reels
Base game offers big win multipliers
6,000x+ jackpot
Bonus Buy
What's Not So Hot?
Not for small bankrolls
No free spins