The Hive from Betsoft is a 30 payline low variance video slot from Betsoft. Once you fire up the slots for real money at your favorite online casino. You'll notice that it has an unusual reel structure. To be more exact, a hexagonal grid. It's nice to see Betsoft dabble with something different for a change. It's a far cry from its previous release, Quest To The West.
Betsoft says: " Kick off your summer with a fun cast of bee characters. Each with their unique twist on the gameplay that will create fun and memorable playing sessions. Discover all the features and enjoy a buzzingly awesome free spins mode while you fly to the riches." The slot machine looks great and there's no doubt that it's highly entertaining. But, if there's one thing we don't agree with Betsoft, is that it won't 'fly you to riches'.
Simply because it offers a non-progressive jackpot of €30,240 or 378x your bet. But, it does have the potential to offer you hours of fun. Onto the more serious stuff. As we unpack its features we see that The Hive has Spreading Wilds in the Free Spins feature. Moreover, in the base game. Bees can appear on any random spot which activates special bees for the bigger wins. Or, as Betsoft sputs it, super fun!
You can now play The Hive from $0.10 to $10 per spin at our USA online casinos. Once you sign up you'll also receive a Bitcoin bonus on your first deposit. The reason why we suggest you use Bitcoin as a banking option. Some of our American casinos offer exclusive bonuses of up to 500%! Just make sure you understand the fine print before you accept the bonus.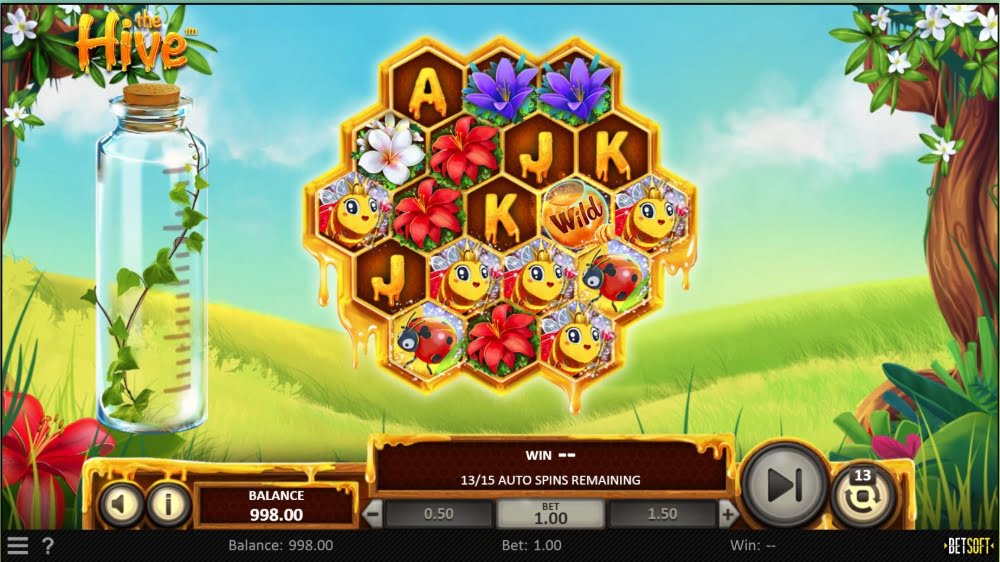 RTP & Symbols
The Hive has an RTP or average return to player percentage of 96.97% which is excellent. The RTP tells us that you can expect plenty of winning spins but they are small. The symbols that appear on the reels enhance the Bee theme. You'll see the standard low-value cards from Jack to Ace. And, the high-value symbols are three types of bees, and flowers of various colors. The premium symbol is the queen bee. When 5 of them appear on the reels you'll receive a payout of 10x your stake. Since the RTP of The Hive borders on 97%, we anticipate it to have a hit frequency of around 30%. Which is pretty good.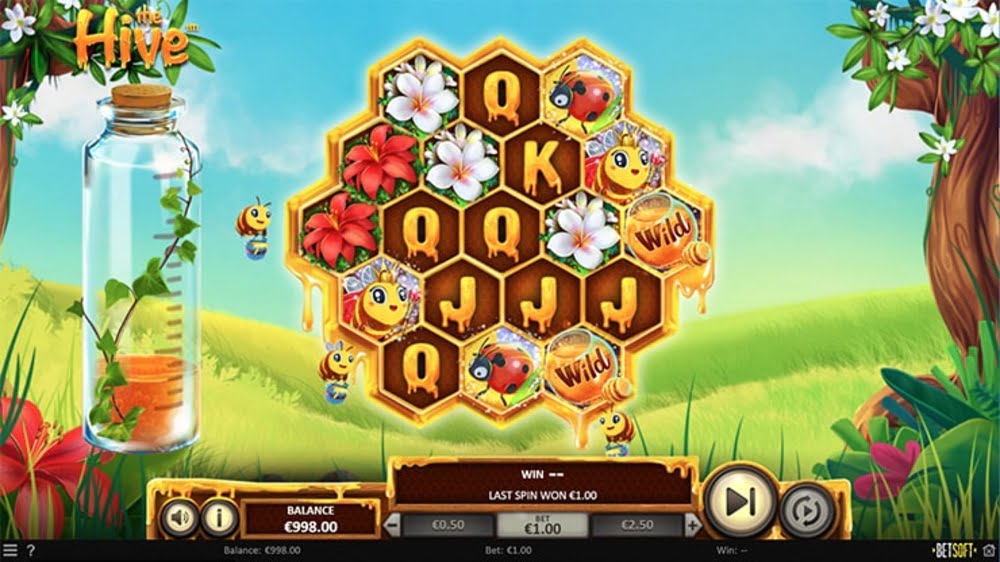 Bonus Rounds
Wild
The Wild symbol completes a winning combo when it appears.
Sticky Sweet Free Spins
Let's give you a brief overview of how you can trigger the bonus round. Every time a drone bee spawns it fills the Honey Meter by one level. Now, once you fill the Honey Meter, you'll trigger 5 Free Spins.
Honey Burst Spreading Wilds
The free spins feature also benefits from the Honey Burst Spreading Wilds. You can land anything from 1, 2 up to 3 spreading wilds. The Wilds spread from their initial position on the grid to an adjacent honeycomb on each free spin. If you strike 3 Wilds on a single free spin you'll receive some sweet wins! The Wilds continue to spread to the other cells until the free spins end. Since the volatility of the slot machine is low. It's possible to initiate the Free Spins within 30 to 40 spins. However, it also depends on the size of your average bet per spin.
Verdict
The Hive is like taking your dog for a stroll on a sunny Spring morning. Apologies for the analogy but that's the way we see it. It's an entertaining romp from start to finish. Just don't fall asleep while you play it. Also, keep an eye on the worker bees in the base game. When they pitch they award a stacking multiplier. The size of the multiplier depends on the number of worker bees that appear. Therefore, the multiplier value of each worker bee is 1+. Bees include a wide range of motion which Betsoft captures perfectly. Maybe there is an educational message in there somewhere that we must preserve bees. Because without the bees we'll be in rough shape. If you're looking for a real money slot with sterner material try Bamboo Rush.