Take Santa's Shop is a video slot from Betsoft with 5 reels, 4 rows, and 75 paylines. We've seen plenty of innovative games from Betsoft over the years and it still continues to mesmerize. The real money slots studio's previous release is Miles Bellhouse and the Gears of Time. The slot machine dazzles with its crafty steampunk visuals, cascades, and overall mechanic. One of the things we picked up when we play the slots for real money online. It's a retake of Take The Bank slot and it sports the same mechanic.
Because Christmas is on our doorstep, Take Santa's Shop is a Christmas-themed slot machine. Betsoft's other Christmas slot is A Christmas Carrol which is based on the famous novel of Charles Dickens.
Christmas is a time for settling down and spending time with family. This is exactly what Take Santa's Shop does. The online slot is as laidback as they come since it only offers a jackpot of 359x (£7,180). So, if you're a casual slot player this one is especially for you. Moreover, Take Santa's Shop is a medium variance slot with a decent enough hit rate.
The coin betting range of Take Santa's Shop is $0.20 to $20. To maximize your payouts we recommend a wager of at least $5 but we also advise discretion. Where possible go for the max amount of Wild Bombs.
Real money slot machine players can now play Take Santa's Shope at our most trustworthy USA casinos online. You can register an account at an American online gambling site within minutes; and it won't cost you a dime!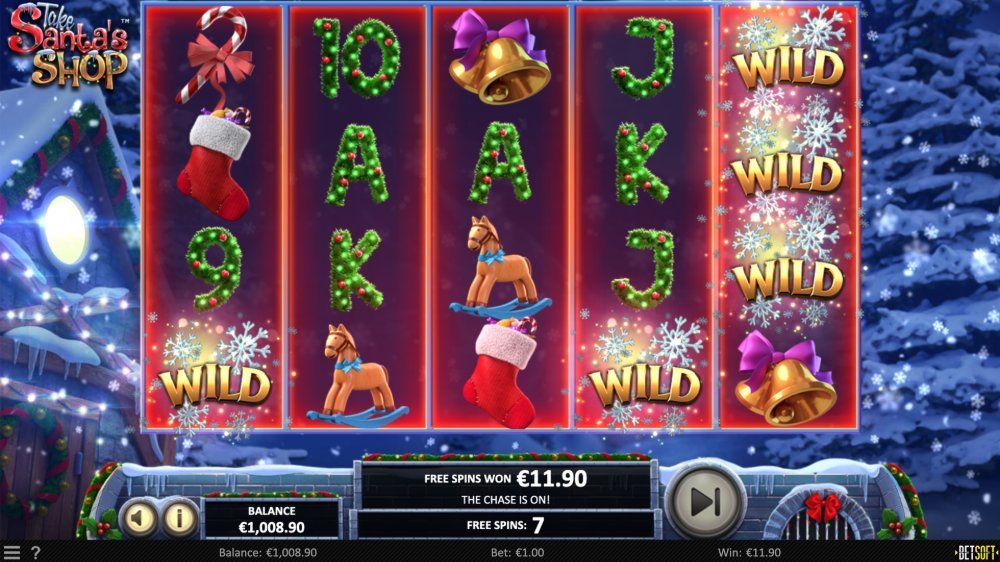 RTP & Symbols
The RTP of Take Santa's Shop is 96.08%. The graphical display brings the theme of the slot machine to life as well. The low-value symbols aren't much to go by as they're just card symbols from 9 top Ace. The high-value symbols are more varied though. They are bells, wooden horses, sleighs, snow globes, and holiday robbers. The production values are good and Betsoft showcases its 3D capabilities as well.
Bonus Rounds
Ornament Bomb Counter and Wilds
The first bonus round is the Ornament Bomb Counter. It situated next to the reels and its countdown starts from 10 to 0. Every time one of the Holiday Robber symbols appears. The game's mechanic transforms it into an Ornament Bomb.
Once the countdown finishes. All the Ornament Bombs on the reels will detonate which turns them into Wilds. The Wilds substitute other symbols during winning combos for the bigger wins.
Free Spins and Bonus Buy
As we head onto the business end of the game namely the Free spins feature. Play becomes more exciting. But, before you can join in on the festivities you need 3 scatter symbols first. Now, when they do pitch they trigger a hefty 15 free spins.
Interestingly, the Free Spins feature pauses the Ornament Bomb Counter. As a result, Wild Bombs appear on the reels during each free spins. Moreover, you can snag as much as 5, 7, or 10 Wild Bombs. They can move around freely and improve your winning combos. Therefore, thanks to these wild the wins can be spectacular in the Free Spins!
Bonus Buy
If you don't want to wait for three scatters to appear in the base game. There is another option available to you to initiate the Free Spins. The Bonus Buy option allows you to trigger the Free Spins immediately. More importantly, it gives you a choice between three different Bonus Buy possibilities.
Each with a different number of Wild Bombs that starts with 5, 7, or 10. The more wild bombs you choose the more expensive the buy-in. For example, if you pick 5 wild bombs it cost 27x. Pick 7 wild bombs and you'll pay 50x. And, if you go for the max wild bombs the cost will be 95x.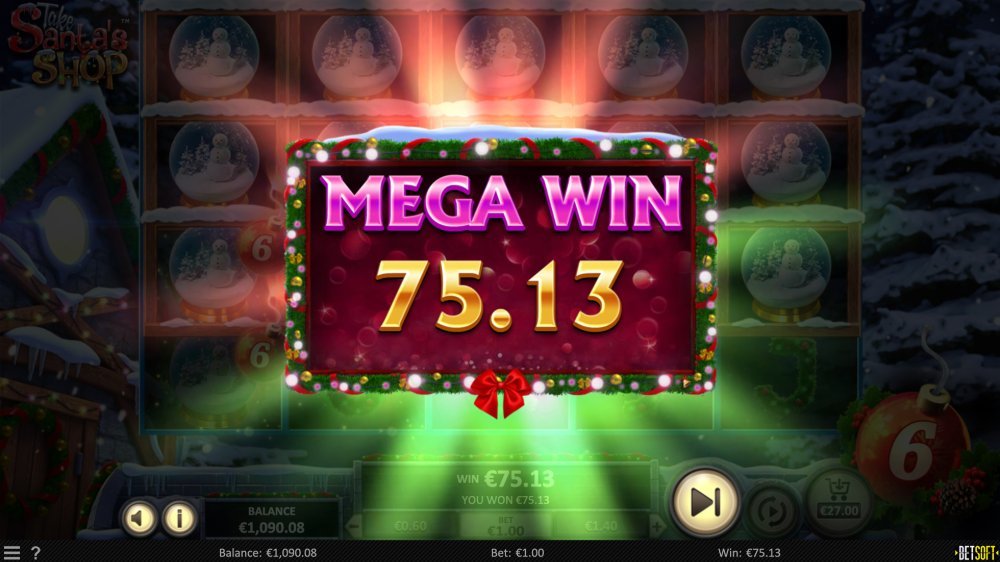 Verdict
Take Santa's Shop is Betsoft's interpretation of the 2020 Christmas season and it's a good one. It's as laidback as they come as it targets casual players that don't care about winning big jackpots. Then again, Christmas is about taking things easy, not so?
We like the 10-spins schedule of Take Santa's Shop. It guarantees you a special feature after each 10-spin round. Furthermore, the game can shower you with plenty of Wilds which is sweet. Take Santa's Shop is an enjoyable Christmas slot with a low jackpot of 359x.
Therefore, it won't make you rich. However, we do like the addition of the Buy Option. It gives you a pick between 3x Free Spins Buy Options with Wild Bombs from 5, 7 to 10. Players who don't want to grind out the Free Spins can trigger plenty of free spins immediately.
Also, Betsoft heightens play in the free spins with those Wild Bombs for the big payouts. During our testing phase, we noted that the game offers decent payouts of bets above $5 per spin. It adheres to the old adage the bigger your wager the bigger the payout!
As we leave this slot review. We can't remember the last time Betsoft released a game with a jackpot of more than 500x the stake. As its latest releases only focus on low rollers. Not that we're complaining. But, it will be nice if Betsoft's next release will give high roller casino VIPs something to nibble at.