Rival's i-slots 'A Switch In Time' comes with an interesting love story, the crux of the matter is would you travel back in a time machine to meet the love of your life? Interesting question, I guess most folk will jump at the opportunity but I'll take a pass-after all it's just a game. The slots features 20 paylines, 5 reels with up to 10 coins that can be wagered per line.
Any way it's one of the better Rival slots I've played to date, it comes with an exiting theme but also loaded with a unique free spins bonus mode, pocket watches, maps, clocks, vanity cases and cars. Plus there's an interesting snippet where you must stop the love of your live from marrying a potential suitor!
I must be honest here, the game's last bit intrigued me to a degree, after all I played it just to see how this love story panned out. If you haven't got the cash to fork out on an expensive time machine you can always take this Rival slots for a few spins. Bets can be made from a mere 0.01 cents per spin. The RTP (return to player percentage) of the game is 95.3% and it offers a top non-progressive jackpot of 6,789 coins.
"Travel through time to claim fame and wealth."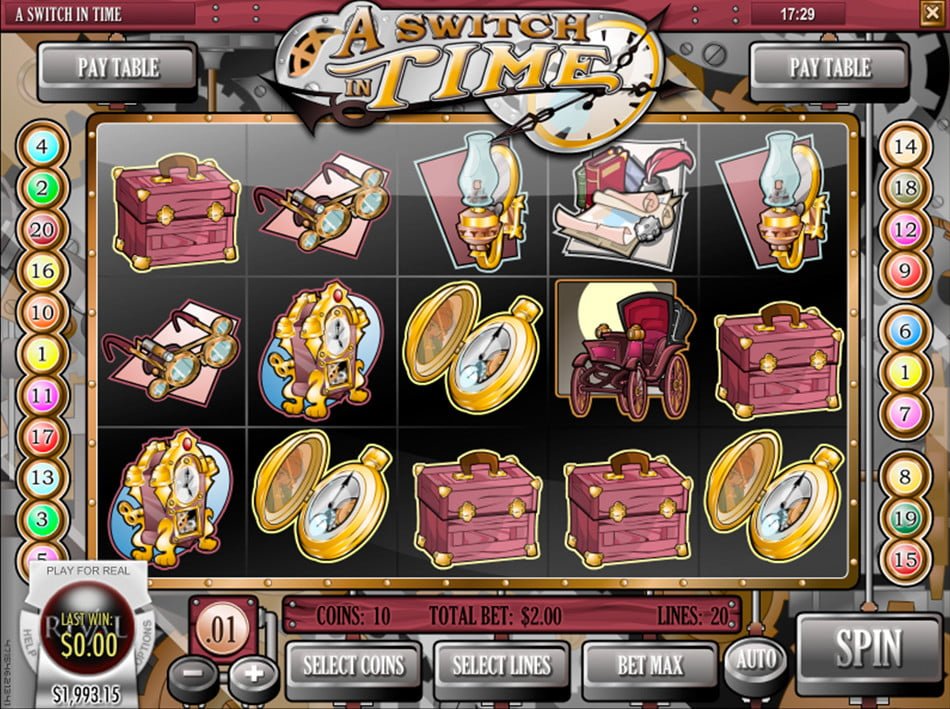 Game Play
The Present
There's no time to be wasted when you play this game, you must stop the love of your life from marrying someone else. It's recommended that you use all 20 paylines. The maximum amount of coins that can be wagered per spin is 50 while the coin value is 0.01 to 0.25.
Bonus Modes
Past
The only concern I had was that the cash prizes will be akin to those of a century ago, so glad I was wrong. Cash prizes are paid out as follow:
Note, wins are multiplied by your line bet, hit a score of vases and you'll win 65x your stake, hit a couple of lamps and you'll win 100x, a couple of cars pays 125x, 150x for a bunch of maps and 400x for clocks, the latter plays an integral part in your quest.
Now for the best bit…if you stop your soul mate from marrying another suitor you can win as much as 1,895x your line bet. The egg-timer is another important symbol to keep your eye on since it aids you in exiting this world. Did I mention the wilds? Nope I did not up and till now at least. To form a winning combination the wild doubles all cash prizes the moment it pitches on an active payline. A couple of wilds at the max bet offers a top cash prize of 6,789x your stake!
Free Spins
If you succeeded in finding your soulmate the free spins mode is triggered, anything from 12 to 78 free spins with multiplier wins that range from 3x to 9x can be won. Teleporting your soulmate to the 21st century requires an extra effort on your part-you must find the time machine again. The Mystery Time Bonus game is triggered by 3 or more time machine scatters.
During the 'A Switch in Time' mode, no wilds occur but there are 3 reel settings starting with A Switch in Time (the past), the present and the future. The slots starts off with the present, if you trigger the bonus feature for the first time by landing 3 or more 'Time Machine' scatter symbols a new screen opens up which shows the inside of the time machine. To win cash prizes, press the buttons and choose which direction in time you'd like to travel.
If you trigger the bonus feature again the results will differ, obviously this depends whether you'll be in the past or future. Should you be in the past you must contend with a T-Rex and assist 3 time travelers to kill it. Choose a weapon after each round, if you manage to kill the T-Rex you'll win a hefty cash prize and you'll travel back to the present. Now, if you're in the future a new screen opens up which shows a Cyborg invasion. Your job here is to kill the Cyborgs, the more you kill the more cash you'll win.
Verdict
If you're a hopeless romantic then Rival's A Switch In Time will win you over. With a plethora of free spins along with multiplier wins of up to 9x it keeps the bankroll ticking. The biggest win I managed during the free spins was 30 times my stake, I must warn you it's not easy to trigger it. Sometimes the lady makes you sweat, but the rewards are great if you can win her over.