Swedish online game developer Yggdrasil released another captivating futuristic video slots titled Super Heroes. The game sports 20 paylines, 5 reels and pays out a non-progressive jackpot of 1,000 coins. Central to the slots is its free spins mode which comes with 2 superpower features which boost normal free spin wins to the tune of 50x your wager. Once again Yggdrasil receives top marks for this innovative snippet which I'll discuss later on in this review.
The game is solely designed for mobile phone screens (HTML5) and plays like a charm on computer desktops at optimal graphic settings. With 7 bonus features this slots can do no wrong in books. Symbols that appear on the reels are the super heroes, villains, the free spins logo and various coloured icons.
With so many bonus features, Super Heroes is a medium variance slot with an average return to player (RTP) percentage of 96.5%. Payouts occur often but a tad on the small side with the occasional big win in between. The biggest wins are reserved for the free spins and the bonus modes.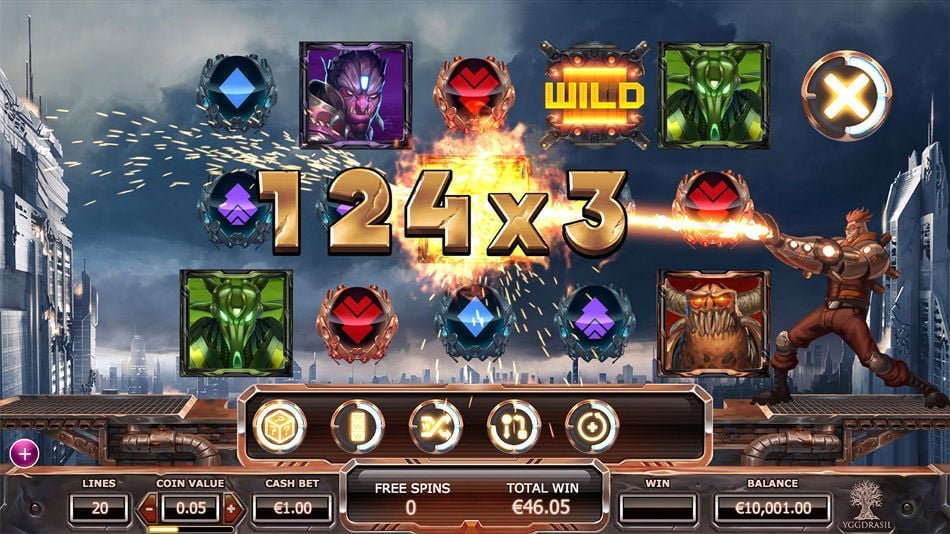 Game Play
When it comes to its game interface Super Heroes really shines. The audio is great too, you won't hit the mute button after a couple of spins. Various customization options like game speed, Auto Play, coin bet and graphics settings allows you to adjust the game so that it suits the platform (mobile or PC) you're playing on best. Bets can be made from as little as 20 pence up to £100 per spin.
Bonus Modes
Super Heroes is loaded with a bunch of bonus modes based on 6 super heroes but it's the free spins feature that steals the show. The visual side of the slots has that comic book look and feel.
Free Spins
Unlike most other slots where the free spins feature is triggered by a couple of scatters, 3 or more Free Spins logos trigger the free spins feature. When 3 Free Spin logos appear you'll get 4 free spins, 4 awards you 5 and 5 free spins logos rewards you with 7 free spins.
However, Yggdrasil made the free spins mode a tad more exciting by adding a 'Hero Mode' which awards 4 additional free spins interspersed with multiplier wins of 5x and 5 random wilds. When the two super heroes pop up on the reels they offer bigger wins, there are 4 levels for each Superpower:
Mystery Win
The Mystery Win Superhero turns every high-paying symbol into a dice which pays out as much as 50x your stake.
Wild Reel
As the name implies, the Wild Reel super hero flings a rotating blade towards the reels turning reels 1, 2, 3 and 4 into wilds. For every level you'll receive one wild reel until you reach level 4 which gives you four wild reels.
Random Wilds
In this section of the bonus mode the Random Wilds super hero turns random icons on the reels into wilds by summoning a meteor shower. During level 1 you'll receive 2 wilds while on level 4 you can get 5 wilds.
Random Symbols
A plasma beam is shot onto the reels by a random symbols super hero which transforms 2 to 5 symbols guaranteeing you a cash prize. The level you're on also determines the amount of wilds that will appear.
Multiplier
The winnings you notch up are stored. A power-ball is charged by the multiplier super hero and fired awarding you multiplier wins of up to 5x. It's a progressive multiplier which starts at 2x and increases after each level from 4x to 5x.
Extra Free Spins
The extra free spins super hero opens up a portal that gives you an extra 4 free spins. The free spins awarded are proportionate to the level you're on. If you're on level 1 you'll receive 1 free spin and if you're on level 4 you'll get 4 free spins.
Verdict
Yggdrasil's Super Heroes is a well-balanced slots that offers regular wins during the main game albeit small while the biggest wins occur during the free spins mode. Another exciting feature is the 'Wild Reel' since it gives you 4 wilds on every free spin. To say the least, it's an entertaining slots that's akin to a lucky packet since you really don't know what you're going to get and herein lies the best part of the game.