Starburst XXXtreme is NetEnt's version of an upgrade to its famous slots buster, Starburst. Despite its age, Starburst remains one of the most popular slot releases of all time. In fact, online EU casinos still run daily slots promotion on it.
Whether it's a bunch of free spins or a special bonus. This begs the question, will the new Starburst XXXtreme be just as good? We certainly think so. Join us as we cover all the bits and pieces about Starburst XXXtreme online slot in this review!
The online slot, Starburst XXXtreme contains 5 reels, 3 rows, and 9 paylines. Unlike the original, Starburst XXXtreme only pays from left to right. Keen eyes will also spot that the number of lines is lower. Other than that, the slot's mechanic and visual fidelity are the same as Starburst. Starburst XXXtreme ropes players into the slot with Starburst Wilds, XXXtreme Spins, and Random Wilds.
However, the math model is slightly different. Instead of medium volatility, Starburst XXXtreme takes things to the extreme. Pun intended of course! Let's just say it clocks a 10'er on the Whizz's slots scale. But, with its jarring volatility comes an incredible 200,000x jackpot! ($10 million). The original's jackpot of $50,000 is chump change when we compare it to this one.
You can play the slot for real money from $0.10 to $50 per spin. Or you can play it as a free slot, with no risk at our safe European online casinos!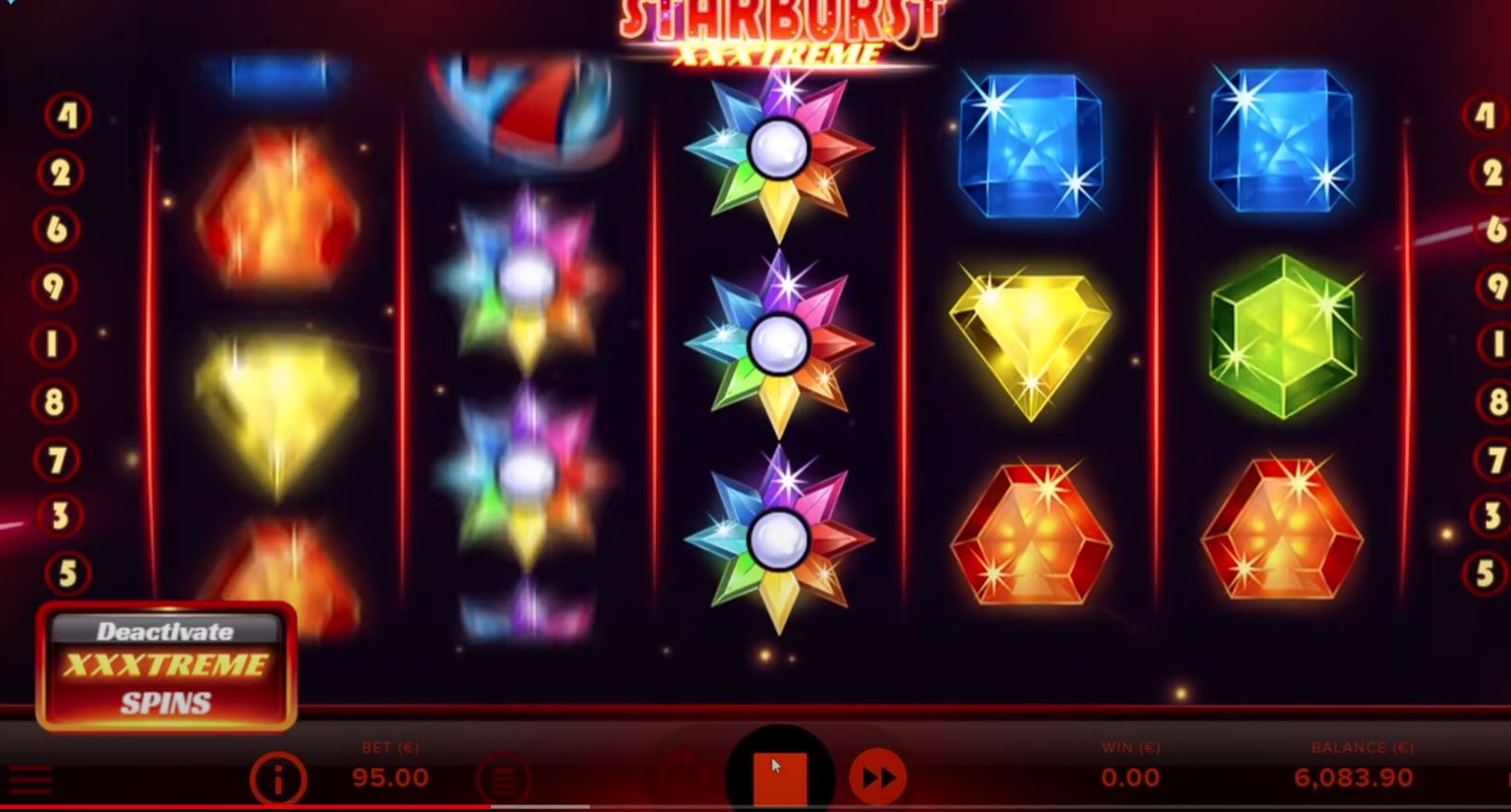 RTP & Symbols
The RTP or payback rate of Starburst XXXtreme ranges from 96.26% to 96.45%. That depends on what betting mode you use, more about that below.
Visually, it's the original Starburst all over again. There's hardly a theme to speak about. Now, let's look at the symbols on the reels quickly. The low-value symbols are 5 different gems while the high-value symbols are sevens and BARs.
It's an old-school slot through and through with reasonable game art. Sure, the gameplay is smooth. Perhaps the designers could've done more, but they wanted to keep the original feel intact. For what it's worth we understand why NetEnt kept things simple.
Casino gamblers from the United States can't play Starburst XXXtreme for real cash. If you want to play slots like Wild Drops for free or with money. Please visit our legal and most trustworthy USA casinos online.
Bonus Rounds Starburst XXXtreme Slot
Starburst Wilds
Starburst Wilds are once again the focus of the game. They can land on the middle three reels and the substitute symbols adjacent to them. The best part is that they expand to cover an entire reel. You'll receive a re-spin with a Starburst Wild locked in place. Get another one and the process repeats itself, up to two times.
Above all, the Starburst Wilds double as win multipliers as well. The lowest win multiplier is 2x while the highest shoots up to a mammoth 150x. When 3 Starburst Wilds pitch the top multiplier shoots up to an incredible 450x! If you're lucky enough to accomplish this feat, the payout will hit the moon!
XXXtreme Spins
Starburst XXXtreme offers players three types of betting modes. You can play the normal mode or you can go for two XXXtreme Spins options. The first one costs 10x your stake for a guaranteed Starburst Wild on each spin. The second option costs 95x your bet. Furthermore, it guarantees you two Starburst Wilds per spin.
Random Wilds
After a spin or a re-spin, you can trigger the Random Wilds bonus on any random spin. The bonus adds up to 3 Starburst Wilds to the reels!
Starburst XXXtreme Tips & Strategy
Due to the slot's extreme volatility, we played it with free credits. The reason why we chose this option and not to play it with real money. We wanted a holistic feel for the real money casino slot. The vibes are the same as Starburst's, but the math model is far more extreme.
A flakey issue about XXXtreme Spins is that it's not conducive to small bankrolls. What concerned us is that we only managed a few Starburst Wilds and that after a few hundred spins. Starburst XXXtreme entails grinding, there is no other way to put it. However, if you can afford the Starburst Wilds option, by all means, go for it.
Our free slots play yielded a few amazing wins; one of them was 150x our stake at $1 per spin.
Verdict
Starburst XXXtreme is the quintessential high roller casino VIP slot! Even though the graphics are virtually the same as Starburst's, the buck stops there. You won't find an attractive appeal here. It wasn't NetEnt's intention to wow you with a pretty face in the first place. NetEnt jacks up play with a massive jackpot of 200,000x. Plus, the RTP of 96.26% is better than the original.
If you play the slot you'll face a few headwinds of your own. Did NetEnt knock Starburst XXXtreme out the park? We certainly think so. It's in stark contrast with the original. While the former is suitable for all budgets this one is strictly for jackpot hunters.
The number of wins you'll receive will decline like Sunday congregations in an Anglican church. Before you give it a collective shrug. The life-changing jackpot of $10 million will float any player's boat. NetEnt once again demonstrates that it's a sharpshooter. Starburst XXXtreme has a leg up on the competition. To such an extent Casinowhizz.com hails it as one of the very best 2021 slot releases.
It appears that 2021 is the year of the big jackpot slots. Wild Luchador takes a whimsical look at the world of Mexican wrestling. The slot pays as much as 40,500x your stake on a single spin. And, free spins with big multipliers orbit it.