Powered by RTG, Shopping Spree II is the sequel to one of the oldest progressive slots around– Shopping Spree. Hitting the starting jackpot of $100,000 has never been easier with the this progressive slot just by betting the max of 2.25 per spin and earning free spins. To play for free or real money just visit one of the recommended casinos above in the where to play section.
Gameplay
In line with the original Shopping Spree from the makers of RTG, Shopping Spree II progressive slot shares the same 5 reel, 9 payline format as its older sister. But, what sets this progressive slot apart is the cool starting jackpot of $100,000 coins; a jackpot worthy enough to treat yourself to a nice shopping spree indeed.
One important feature to be aware is that this game has a max bet of 9 coins and a fixed coin size of .25, meaning you have to play 2.25. This allows you not to miss out on the progressive jackpot by not being able to bet any less or any more per spin.
To win the ultimate prize of the progressive jackpot, you need to line up five of the Diamond Ring symbols with the 20x wild multiplier on the middle reel. However, you can still collect 5,000 coins of 5,000 coins multiplied by up to 10x if the combination of five Diamond Ring symbols is hit with anything else other than the 20x multiplier.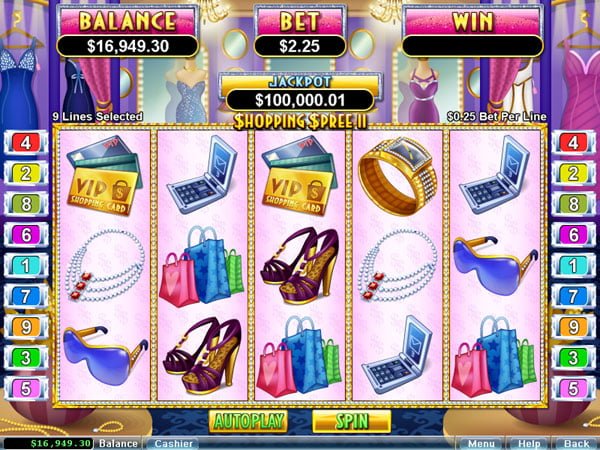 Symbols
The wild Sale symbol is stacked and appears on the middle of the reel; this will allow you to accumulate a whole reel of wilds with each wild multiplying by either 2x, 3x, 5x, 10x or 20x. The 'big daddy' of the 20x multiplier is crucial in not only being able to win the jackpot but even a small win on the pay table can be boosted by into a big payoff.
But there is more ways to win where after the progressive jackpot pay, the second highest win is 2,500 coins for five Ladies or win 50,000 coins with a wild 20x. Five $5 Signs (20,000 with a 20x) will win you 1,000 coins. Five of a kind wins will range from between 500 and 125 coins (10,000 and 2,500) with a 20x wild.
The awesome feature about Shopping Spree II is that even if one does not win the ultimate prize of the progressive jackpot can still take home a nice payday with one of the secondary pays. Something not very common when it comes to progressive slots.
Bonuses
There are some added features with Shopping Spree II that will help make getting to the progressive easier such as getting three or more scattered Shopping Spree II logos anywhere on the screen that will earn you free spins. Once this is triggered, you will be awarded 9 free spins.
In this bonus feature of 9 free spins, extra money symbols are added to the reels. The extra money symbols are the key to earning some bonus spins once all the regular free spins are done. 100, 200, 300, 400 or 500 money symbols will appear adding to your bonus tally. Bonus spins will be awarded once the free spins are completed.
Going back to your bonus tally; this will determine the amount of bonus spins you will receive. Collect 1000 points and receive three free games up to a max of 12 extra games. Furthermore, your chances of of winning during the bonus spins is increased as the whole middle reel will stay wild during the bonus spins.
But Shopping Spree II is all about giving away money as players can be awarded a consolation prize if you do not get to a 1,000 in the original free spins. You can win between 3 and 100 times your total bet as a consolation prize dependent upon how many points were collected under 1,000.
With a $100,000 starting progressive jackpot and many other ways to win, Shopping Spree II is not only a welcome improvement from the original but also a can't miss.