Serpent Shrine video slot by Fantasma Games could well be its best release to date. The slots for real cash online has 5 reels, 7 rows, and up to 16,807 ways to win.
More to the point a 2x3x3x3x2 reel set. It's a breath of fresh air because we don't see this reel set up often. Incidentally, it's also our first slot review of Fantasma Games. Applause all round is in order.
We'd like to point out that the majority of the symbols on the reels lock. Hence the reason play in the base game starts with 108 ways to win. So, there's a bit of handicap when you start, but it's not a biggie. Because as you spin the reels you can unlock plenty of positions.
The betting range of the Serpent Shrine is £0.20 to £50. Therefore, the real money slots is perfect for high rollers. If you're up for the task and you want to venture into the serpent's lair. Our top UK casinos online set you up with a bonus on deposit as well as Free Spins.
The slot's theme is all about traveling to a fantasy shrine. To survive the treacherous journey upon the reels. You must defeat plenty of monsters such as skeletons and serpents for the big wins! For your bravery, you'll receive a handsome reward to the tune of 10,000x (£500,000) your stake. That's the size of the slot game's jackpot by the way.
For starters, the jackpot is quite big. However, Serpent Shrine's volatility clocks a 10/10 on the slots scale of Casinowhizz. Therefore, we advise discretion and a decent bankroll. That's if you're want to chase the big wins.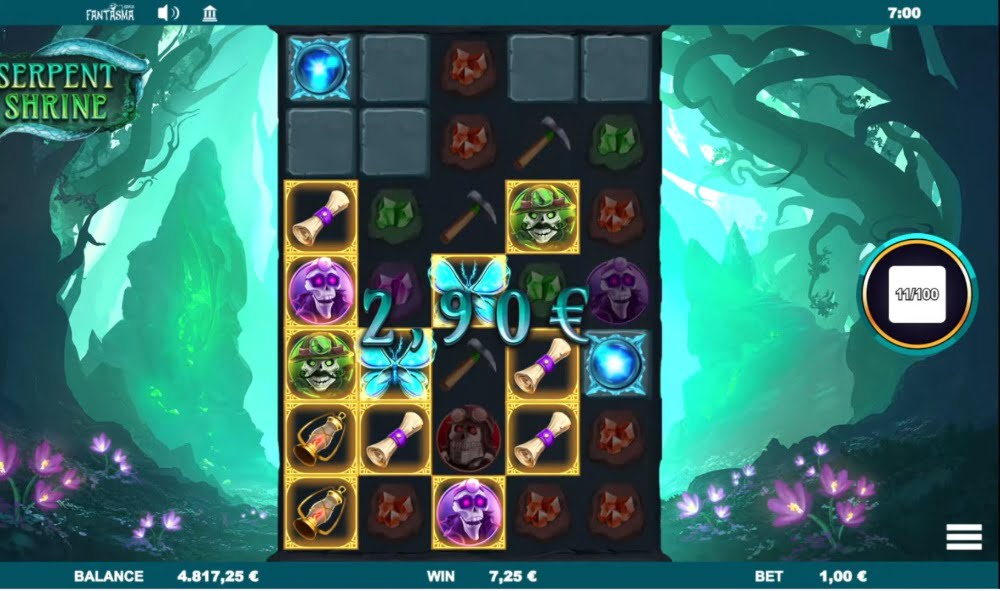 RTP & Symbols
The RTP of Serpent Shrine is 96.55% which is phenomenal.
The symbols of the Serpent Shrine offer a mix of exploration and danger. In terms of exploration, you have pickaxes, maps, and lanterns. Whilst the dangerous part encompasses skeletons and serpents. A few butterflies and special Golden Shard symbols splutter across the reels as well. The Golden Shard wilds form winning combos when they replace symbols adjacent to them.
The production values of the Serpent Shrine are high. We like its interactivity since you'll feel like Indiana Jones as you explore and navigate its "dangerous surroundings". Moreover, it's a one of kind experience and not many slot games offer it. Another positive is that there are no low-value card symbols.
American casino gamblers check out our best instant payout USA online casinos. They offer you a cocktail of Betsoft slots and huger bonuses on deposit.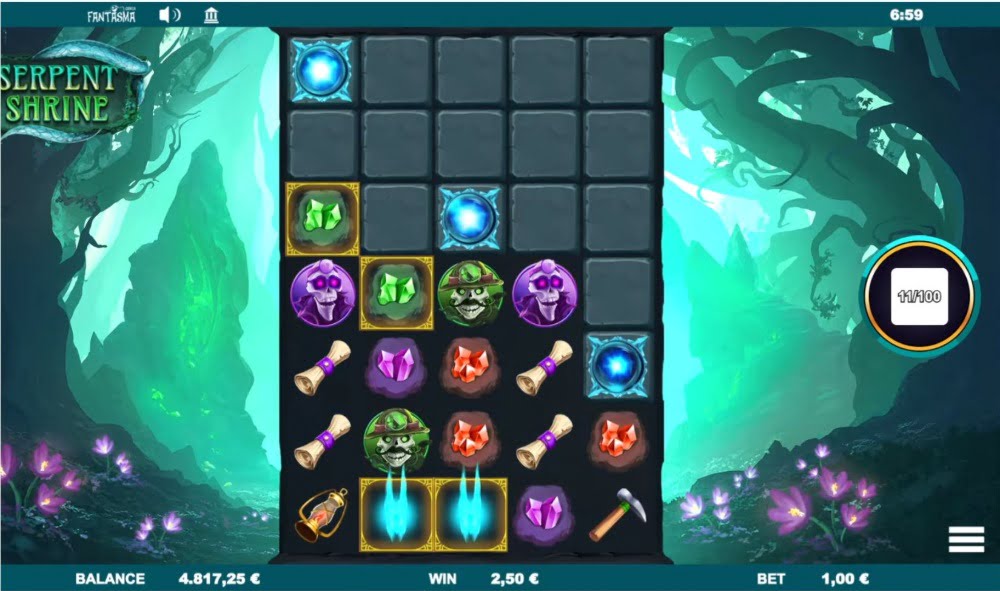 Bonus Rounds
Butterfly Wilds
If you want more ways to win. You must unlock the hidden positions across the reel set.
The question is how do you go about it? Winning with Butterfly Wilds is a good start since the butterflies enable you to unlock 3 random blocked positions.
In return, you'll receive a re-spin. We like the fact that you can snag a few more re-spins on your initial single spin. Also, keep your eye on those blue bomb orbs. When a butterfly symbol shatters them it unlocks more blocks.
Bomb Symbols
Each spin starts with three Bombs that appear on the blocked positions. More importantly, they interact with the Butterfly Wilds.
Now, whenever the Bombs interact with the butterflies. They'll explode and destroy blocked positions. The best part is, they improve your winning chances substantially.
Snake Free Spins and Super Free Spins
Once you unblock all positions, you trigger the Snake Free Spins Feature for 5 free spins. Interestingly, the reel set transforms into a behemoth of 16,807 ways to win.
A giant serpent moves down the reels with each free spin. Not only does it block the positions. Bit, it compensates you with win-win multipliers of 2x, 5x, 20x and 100x. That's a good trade-off and you can even find three Butterfly Wilds. Not only do they kill the serpent for two Super Free Spins. They offer 16,807 ways to win and the top multiplier of 100x!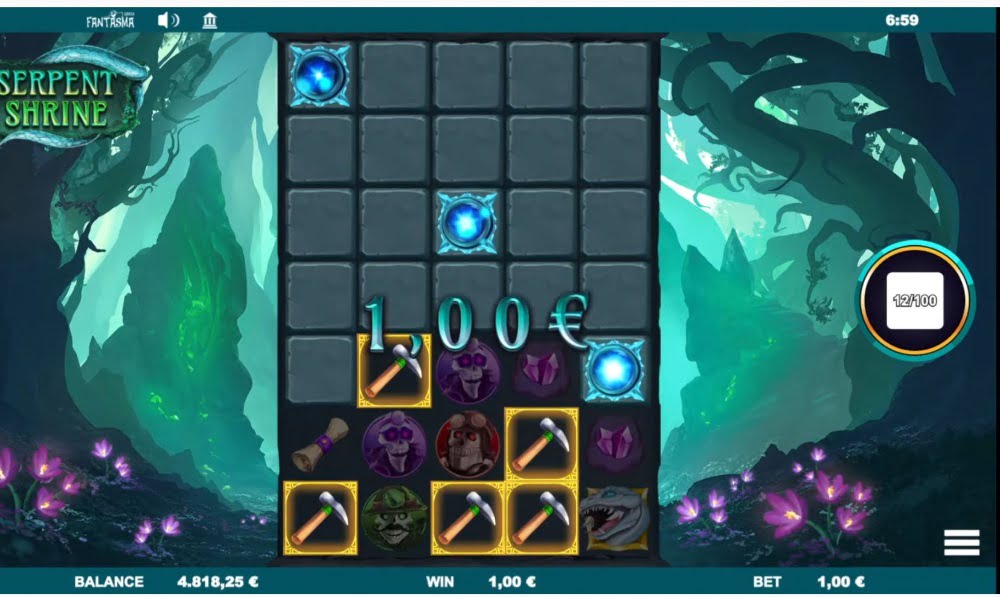 Verdict
Serpent Shrine is one of those rare online slots that does what it says. A minor caveat though is that play only starts with a handful of symbols. And, it is super volatile! However, if you sweat it out it can skyrocket to 16,807 ways to win.
Make no mistake, it's not easy and it will cull a reckless bankroll. It's one of the best online real money slots we did play in a while.
Hear us out, please. We fired up the free slots version and we managed a few incredible payouts. But, at the highest bet of £100 per spin. Due to its extreme volatility; Serpent Shrine does not work that well at the lower bet levels.
Although the Hit Ratio on the tin says 23.37% it's more like 10%. At times we had as much as 17 dry spins in the base game. Yet, when those butterfly symbols pop, that's when the true magic occurs.
It took us around 250 spins to trigger the Free Spins feature for the first time. The only downside though is that you only receive 5 free spins. However, play starts with a grid full of symbols and no blocks. On our final free spin, we snagged the top multiplier of 100x; and won £6,500.
It's a brutal yet extremely rewarding slot game with potent snake venom. Therefore, if you snag a big win; grab your cash, and run!
Our final three cents; high rollers casino VIPs will love it! An online slot for real money that's on the same level is Hypernova Radial Reels.