When it comes to innovative slots machines Yggdrasil is fast becoming a force to be reckoned with. The iGaming vendor is celebrating the change of season with its latest installment: Seasons video slots. The online slots offers a slew of free spins (up to 30), eye-popping visuals and a RTP (return to player) of 96.2%. Jackpot Up to a maximum of $50,000 can be won. The game was released on 16 April 2016.
Now that the formalities are out the way let's explore 'Seasons' from a wider lens. The game's main selling point to players is its free spins and a quartet of wilds that comes with a multiplier of 10x during the base game! Hooked yet? The theme of the slots is based on the four seasons. It features a colourful and vibrant woodland setting with 20 paylines and 5 reels. Cute-looking animals (Hare, Fox, Deer and Owl) that parade across the reels will take you through spring, summer, autumn and winter. Additional paying symbols are leaves, toadstools, berries and pine combs.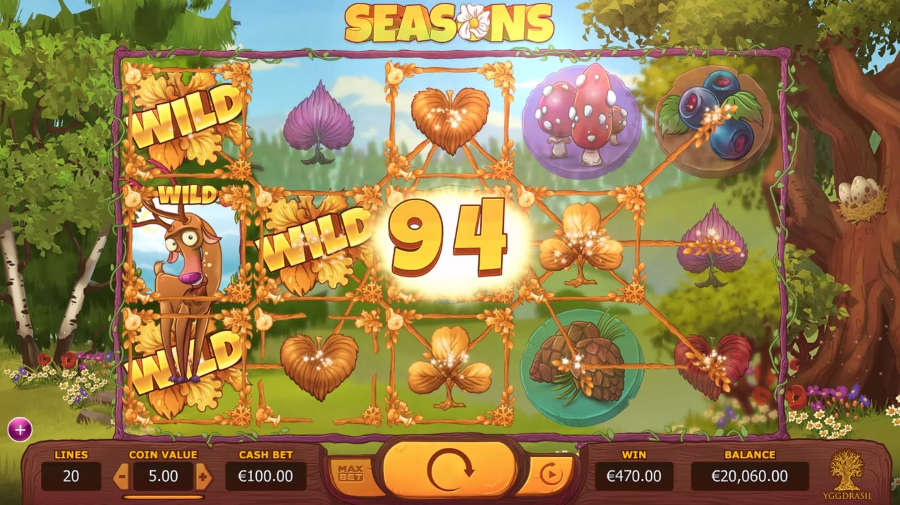 Game Play
I know you can't wait to get cracking but just take a minute before you start playing. Ensure that your bankroll is in line with the amount of coins you wish to wager per line (1 to 5). The minimum bet per spin is £$0.2 up to £$100. I suggest you start with £$0.60 (bet level 3) per spin and move up to £1 to keep things ticking over. I find that the game pays out quite well at these bet levels.
Bonus Games
Seasons is different than most slots I've played. It does not feature the usual layout nor payouts during the main game. It offers something way more! When you start playing it walks you through the various seasons. I'd say the seasons change on average after every 10 spins. This feature alone is a game changer and I'm sure you'll agree with me.
As you know by now, each season's main attraction is its accompanying wild. Here's a sneak peek as to what you can expect from each accompanying wild.
Autumn: The wild icon that features in this season is none other than the sly Fox. When it pops up on the reels it's accompanied by a multiplier of up to 10 times. The more multipliers the higher the payouts. Not bad, eh?
Winter: I really don't know what is it with hares and winter but it's the wild icon for this season. If you hit this wild it duplicates creating additional wilds. Suffice it to say you can win a decent cash prize here.
Spring: The air is fresh and crispy! The wild symbol for this season is the Owl. When it appears you'll receive a free spin and the Owl will move horizontally, diagonally or vertically. As long as the owl sticks to the reels you'll keep on receiving a re-spin.
Summer: The wild icon is the deer. It goes without saying that this is the best season of the lot. The deer expands in a cross pattern when it lands. In layman's terms it means that you can win a substantial amount of cash.
Free Spins
I'm happy to report that Seasons also comes with a Free Spins bonus game. When 3 or more free spins (scatters) show up on the reels the free spins are triggered and awarded as follow:
You'll get 7 free spins for 3 free spin icons.
For 4 of them you'll receive 15 and if you land 5 of them 30 free spins puts a smile on your face. This is where it becomes interesting. The free spins game plays out in the same season it's triggered. If you triggered it in Autumn (fox) a multiplier of up to 10 times can be attached to each free spin. However, you'd want to trigger the free spins during the winter season when each spin has a wild (hare) locked on to it.
Verdict
With its slick design the transition in-between seasons is a visual delight. Each level portrayed by a different animal brings just about the right amount of energy to the table. Aside from its impressive wilds and multipliers, the free spins bonus keeps payouts bouncing along nicely too. No matter what time of the year Seasons is played it offers all-round game play.