Sea God is a Stakelogic slot in partnership with Reflex Gaming. The online slot studio is not a slot developer of note yet. Will Sea God place it onto the slot map? Let's find out in our no-nonsense slot review of Sea God.
As the name of the slot implies it's all about the mythological Greek god of the sea, Poseidon. We might add he stirs up quite the storm. Moreover, play occurs on a reel set of 5 reels, 4 rows, and 20 paylines.
There are more paylines on display too. However, if you want to catch them you must trigger the bonus rounds. Furthermore, Sea God is a medium variance online slot with a jackpot of 1,162x your stake. Can't say the hit frequency of 17% blew us away. Basically, a winning spin pops up on every 5.88 spins.
As we peel back the layers of Sea God. It offers a few bonus rounds starting with a Super Stake, Super Reels, and Free Spins features. Pretty tight if you ask us and that for a relatively small jackpot. Casual online slot players must make a mental note of this. The coin betting range of the Sea God slot is wide. Slot players for real money can play from $0.20 up to $200 per spin at the top mobile casinos online.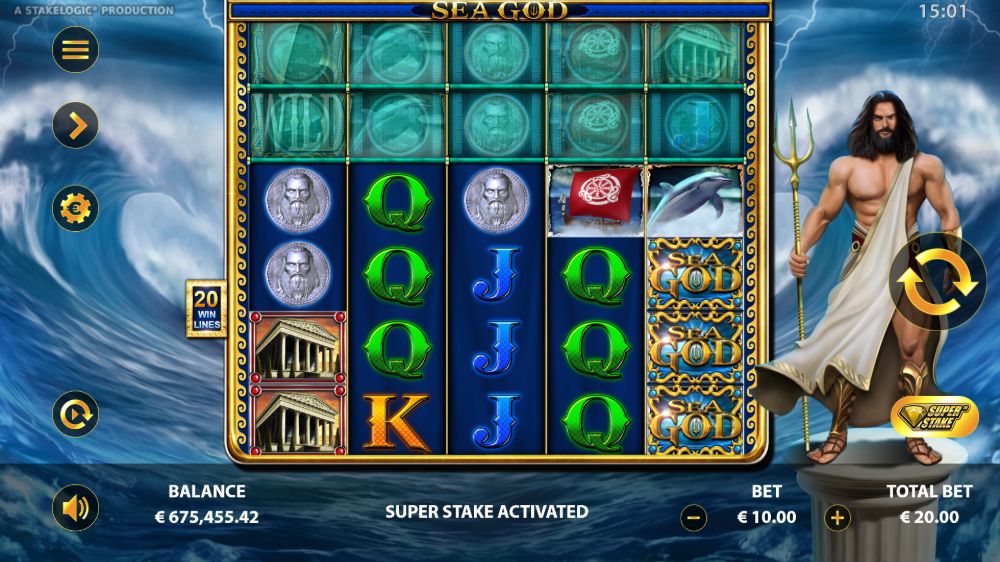 RTP & Symbols
Another disappointment is the RTP or payback rate of Sea God. It's a dismal 95.21%! Any player in his or her right frame of mind won't play it for a long session. Now, the symbols on the reels are all about Poseidon and his watery realm. The low-value symbols are the card suits from Jack to Ace. The high-value symbols are coins, dolphins, temples, and of course Poseidon.
When a full line of Poseidon symbols pitch you'll win 15x your stake. There are two Wilds in the mix as well. The Classic Wilds cover just one position. The Stacked Wilds show Poseidon in his full glory and can cover up to 6 positions!
This slot is not available to American casino patrons for real money. If you're into the slots with glitzy visuals and exciting bonuses. Play Spring Wilds at our best casinos online in the USA.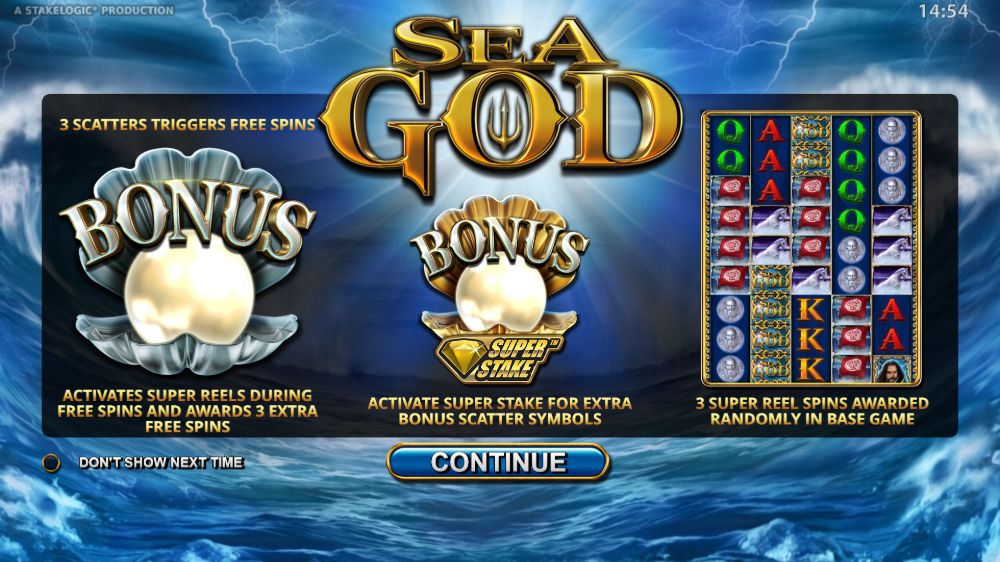 Bonus Rounds Sea God Slot
Super Stake
At any point in the game, you can opt for the Super Stake option. By doing so, you'll have to pay double your stake. In exchange, though, you'll increase the number of Pearl Scatters. By doing that, you'll improve the average free spins rate to 43 spins. Quite a hefty boost, don't you think?
Super Reels
You can trigger the Super Reels Feature on any random spin in the base game. Teh bonus round offers 3 free spins on an expanded playing field. That means one with 9 rows and 45 paylines, which is way better. Besides, the feature comes with a higher chance for stacked symbols.
Free Spins
As we head on into the business end of Sea God, or the free spins. It's the game's best asset by far. Find 3 Pearl Scatters and you'll trigger the Free Spins Feature. You'll always get a tidy coin win, up to 50x your stake for a set of 5 triggering Pearl Scatters. There are no immediate boosts here, just 8 free spins. Whenever you hit a Pearl Scatter during a free spin, though, you'll immediately activate the Super Reels Feature!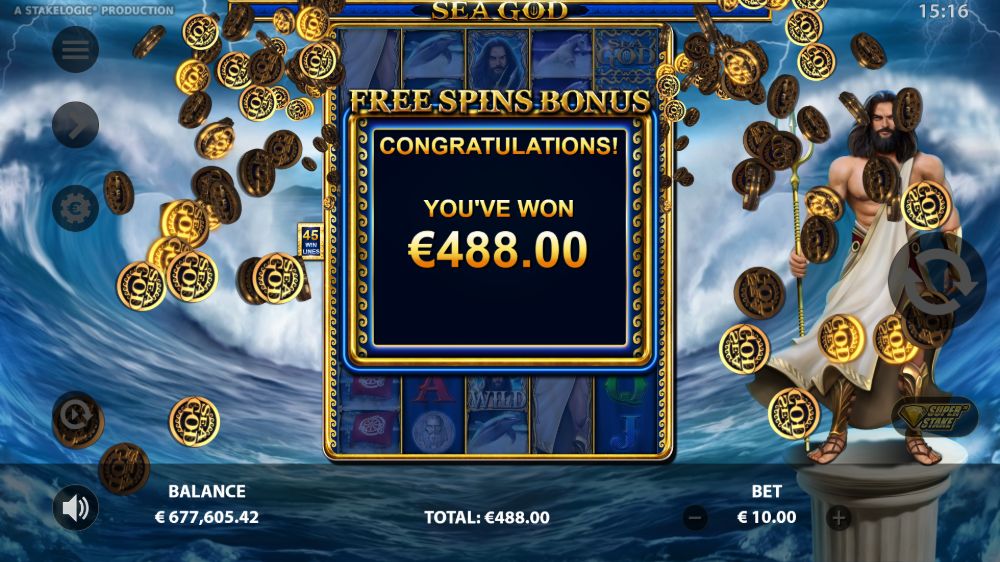 Sea God Tips & Strategy
We played with the Super Stake option on, as that feels like the only option honestly. Without it, the hit rate of the free spins drops like an anvil in a pool. Plus, the game becomes a repetitive slog. During our testing phase of 100 spins we did trigger the free spins bonus, twice.
The payouts at an average bet of $2 were not encouraging. The top payout of $24 came in the free spins after two triggers! Hardly exciting stuff. Think you'll get better value for money if you chew on wool. Perhaps not as harsh but you get what we're implying. Overall, Sea God is a really 'meh' slot with a slew of flaws!
Verdict
Sea God is the type of slot you won't even let your mother-in-law play. Yes, it's that bad! Let's start with the RTP, it's 95.21%, not very encouraging. The next stop is the medium variance price tag for a jackpot of 1,162x. It's on another roll if you drop in the max bet of $200! Play the maximum and your poor bankroll will burn like paper in a bonfire!
Sorry for wasting our time and money Reflex Gaming. Slot releases like this won't amount to anything. Yes, the free spins trigger often but the payouts are small – what's the point, seriously. Granted, no slot is perfect. But, indicate to us that you tried at least. Looks like Tommy the chimp designed the slot when the developers were playing Dota 2.
Rather play play Crazy Mix from Yggdrasil Gaming. At least everything checks out over here. The visuals are superb, the jackpot of 25,000x a belter, and the bonus rounds a hoot!