Sausage Party form Blueprint Gaming has 20 paylines, 5 reels, and 3 rows. It's the real money slots version of the 2016 Hollywood film Sausage Party. Even Rottentomatoes gave it a rating of 83%. As daft as this sounds, we never heard of Sausage Party the film before crafting this slots review. The action on the slot's grid takes place inside the Shopwell supermarket. You'll see plenty of the film's clips flash across the reels every time you hit the spin button.
Jackpot & Average Bet
We heard a lot about Sausage Party at affiliate conferences. As a result, we decided to see what all the hype is. So much so, that it prompted us to jump into action. Sausage Party the slots version, of course, offers you a jackpot of 50,000x your stake, which is enormous! Okay, you haven't heard the coin betting range yet, so hang onto your boots. Bets per spin start from £$0.10 to £$400 per spin. If we crunch the numbers, it gives us a top cash prize of £$2 million! We guess a jackpot this size will grab anyone's attention. You can now play Sausage Party at our top UK online casinos. What's more, you even qualify for Free Spins and a bonus on your first deposit.
We see the humour Blueprint Gaming brings to the table. Sausage Party real money slots has plenty of bonus rounds: a Power Play Feature, 6 Bonus Features, and 6 Modifiers. Long story short, it looks like one of the best-branded slots for 2020. Kudos to Blueprint Gaming for venturing into unchartered territory. We can hear a lot of players saying 'cool' already. To a degree, we're excited because it's nice to do something utterly different, albeit with a powerful adult theme. Before you play the slots for real money you can play the free slots version of it risk-free.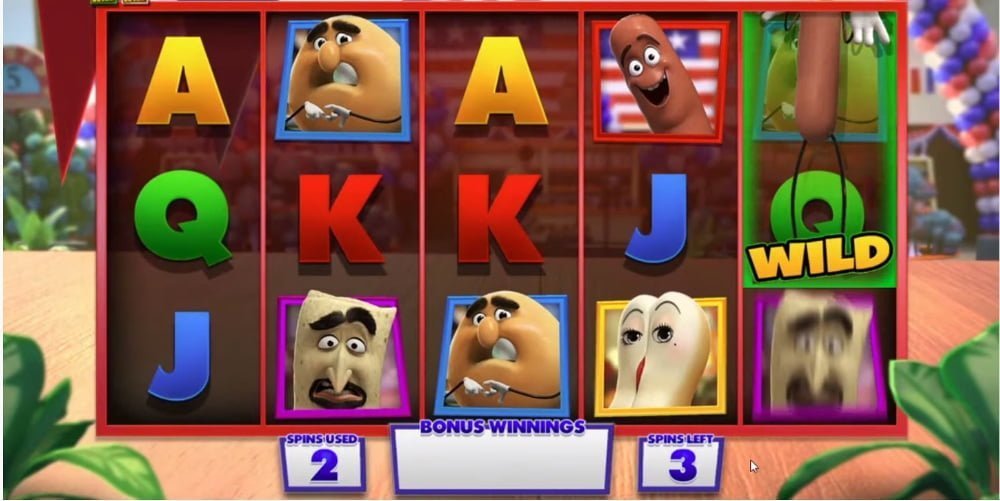 RTP & Symbols
Sausage Party slot machine has an RTP (theoretical return to player percentage) of 95.95%. We guess if we look at the size of the jackpot and RTP, it evens out. In general, the gameplay is tight. But, the slots' theme and expertly crafted visuals will entertain you for hours on end. The symbols on the reels sport that cartoon look. We're not sure what the Hit Ratio is because Blueprint Gaming did not disclose it. Since it's a medium to high variance slots, we reckon it's around 18% to 22%.
You'll see the usual low-value cards from Jack to Ace. The top symbols are Brenda, Frank, Sammy Bagel Jr, Wild, scatter, and the game's Logo. The Logo is the most valuable symbol because 5 of them pay 25x your stake. Sausage Party has a 'Power Play Option.' You can flick it on at the cost of 1x your stake. If you score a payout of 5x your stake. You get to spin the bottle to score another multiplier, or you can trigger a bonus round.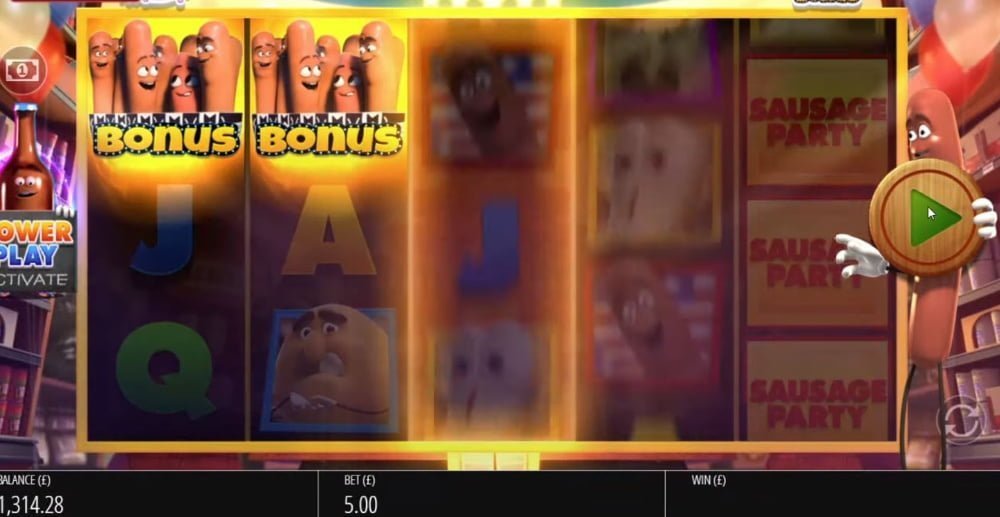 Bonus Rounds
Seriously, this is where Sausage Party comes alive. It has so many in-game bonus rounds we had to picks our jaws a few times from the ground. You can cash in on six bonus rounds and six modifiers. In the main game, you can trigger the Immortals on any random spin. However, it offers you one of the following modifiers:
Skin on Wilds: Plenty of wilds pitch, which transforms symbols into wilds.
Mighty Douche Hot Dog Wilds: You can land a Colossal Reel when three adjacent reels combine.
Touching Tips: Mystery symbols display a random symbol in various positions on the reels.
Batch Salts Boost: The Bonus symbol appears pitches often.
Keen as F%$*in' Mustar: The nice thing about this modifier is that it guarantees you one big winning spin.
Sausage Party throws in another two modifiers once you had a losing spin. The first modifier is a knife; it slices across the reels arranging the symbols into a winning combination. The brush and dustpan is the second modifier that emulates the first.
Just like the six modifiers, Sausage Party slots have six bonus rounds. You need three scatters to trigger a bonus round. Once you activate a bonus round, a new screen with an animated clip opens up. You'll see a shopping trolley and six features. When the trolley stops on one of the features, that's the feature you'll receive. If you're not happy with the bonus round, the game randomly picked for you. You can upgrade it. Herewith the bonus rounds:
Still Fresh Bonus
You must pick sausages on the shelve if you want to survive. If you survive, you'll receive a random cash prize. The bonus round ends when the randomly selected sausages end up in a bin. You'll win a cash prize. Or, they can initiate another bonus round.
Great Beyond Bonus
The Great Beyond is a pick-me bonus round. You must pick food items on the shelve, which reveals a cash prize, collect, or double win. You'll trigger another bonus round when you click on Barry.
Getting Juiced Free Spins
You'll receive Free Spins along with a Douche Special Wild as well as four special symbols. Keep your eye on the Douche. Every time it pitches, it collects the values from the four symbols you amassed. Upon conclusion of the free spins. A Super Douche symbol pops up on the first four reels while reel 5 has empty slots. If the Douche symbol appears on the 5th, it adds a bonus round.
Bread Bashing Free Spins
When the Lavash symbols and the Bagel appear simultaneously on the reels, they become wilds. When you have no more free spins left. You'll see jars hovering across your screen – pick one. As you choose on the jars, you'll receive extra spins and wilds. But, you can also trigger the Greater Beyond bonus round.
Bun In The Oven Free Spins
We laughed at the name of this free spins feature. Bun in the Oven, seriously? Crazy. When the Frank and Brenda symbols are three positions high, you'll receive free spins. When the Frank and Brenda symbols pitch, they form a Frenda Wild with a 2x win multiplier. The Free Spins feature ends with another pick me round. You can Collect, or you can trigger, or re-trigger it.
The Greater Beyond
In the Greater Beyond bonus round, the multipliers you notch pays up to 500x your stake. When the Stop (X) lands on a feature, well, we're not going to tell you. You'll have to find out yourself.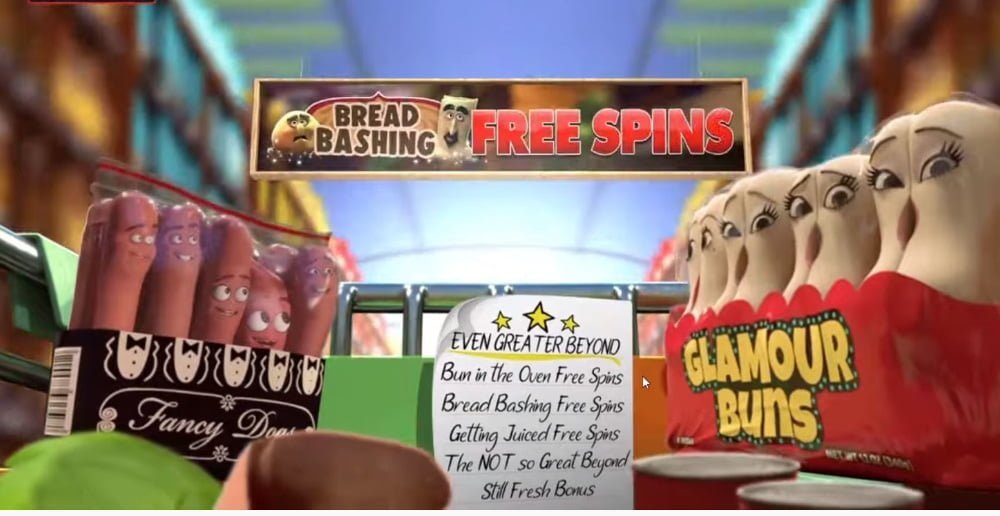 Verdict
Sausage Party is chockablock with moving parts. It's offensive, crass, and it's wild! As online slots experts, we already label it as one of the best real money online slots releases for 2020. The critics touted the film as loud and unfunny garbage. On the contrary, we can only heap praise on Blueprint Gaming's slots rendition of it. Another slot machine with cartoonlike visuals we high recommend is Megaways Jack.
We know that Sausage Party slots won't appeal to everyone. But hey, that's our enigmatic online slots world for you. If we momentarily move aside the expertly crafted visuals and in-game features. One thing that stands out like a pole above water is the jackpot of 50,000x your stake. We're confident that the high rollers casino VIPs will be onto it like bees to honey. But, it's not only the high rollers that will love it but players from just about every part of town. If you are from America, and you're looking for slots to play. Visit our USA online casinos.
[wp-faq-schema title="Sausage Party Slot FAQs" accordion=1]