Rhino Rilla is a video slot between Crazy Tooth Studios and Microgaming.
When we saw the slot for the first time, our initial impression was, what!
It's one of those games that's all over the place. So, if you're up for a bit of adventure with a few twists and turns. Hop on board.
The slot has a 5×5 reel configuration along with 3,125 paylines. Moreover, it utilizes the Any Adjacent Pays system.
Now, the theme of Rhino Rilla has strong Jurassic Park overtures. To the left of the reels, you'll see 4 Beast Prizes.
Besides, there are also a bunch of bonus rounds. They are the Team Up, Team Up Bonus Spins, and Beast Prizes.
Hopefully, they'll help you win the jackpot of 5,000x your stake. But, the volatility is sharp with a hit frequency of 28.92%.
The graphics are colourful albeit with a touch of grey and black hues.
Rhino Rilla slot starts with bets from $0.25 up to $12.50 at our top casinos online for real money.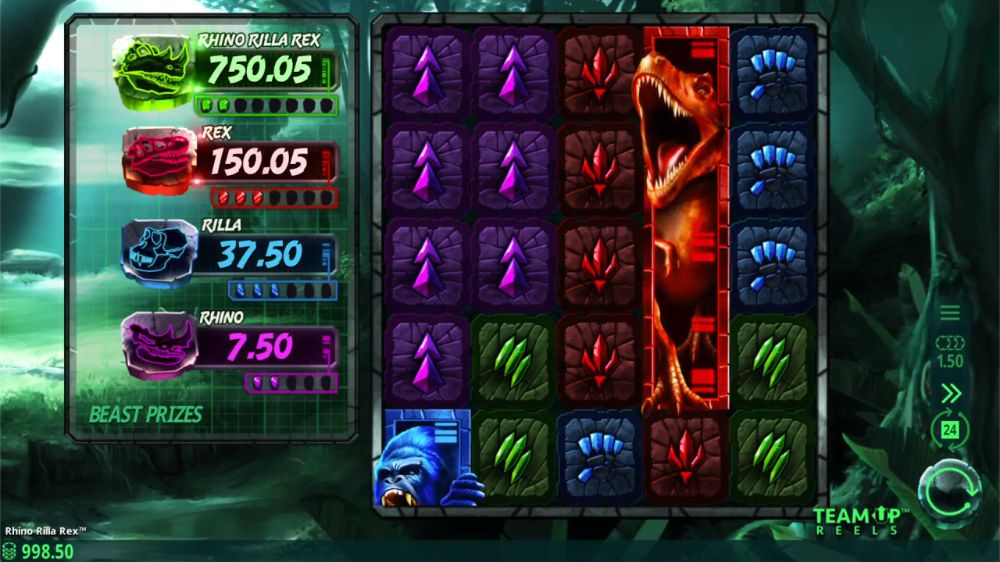 RTP
Crazy Tooth Studio announces the RTP of Rhino Rilla at 96.20%.
The caveat is that there are RTP ranges, so make sure you play with the best one.
Online gambling sites that accept Australians offer pokies like Yggdrasil's, LolliPop.
Symbols
A jungle serves as the backdrop of the grid. Winning combinations occur when 3 or more matching symbols pitch.
Note, the symbols must be adjacent to each other and you can play with up to 3,125 ways to win.
The symbols with the various colours and imprints in them offer wins of up to 0.04x for 5. To say the least, that's shoddy!
The premium symbols such as the rhino, gorilla, and dinosaur don't fare better either. Five of them any position on the grid pay 0.08x.
The Wild symbol subs symbols adjacent to it during winning combos.
Furthermore, the size of the animal symbols ranges from 1×2, 1×3, to 1×4 symbols.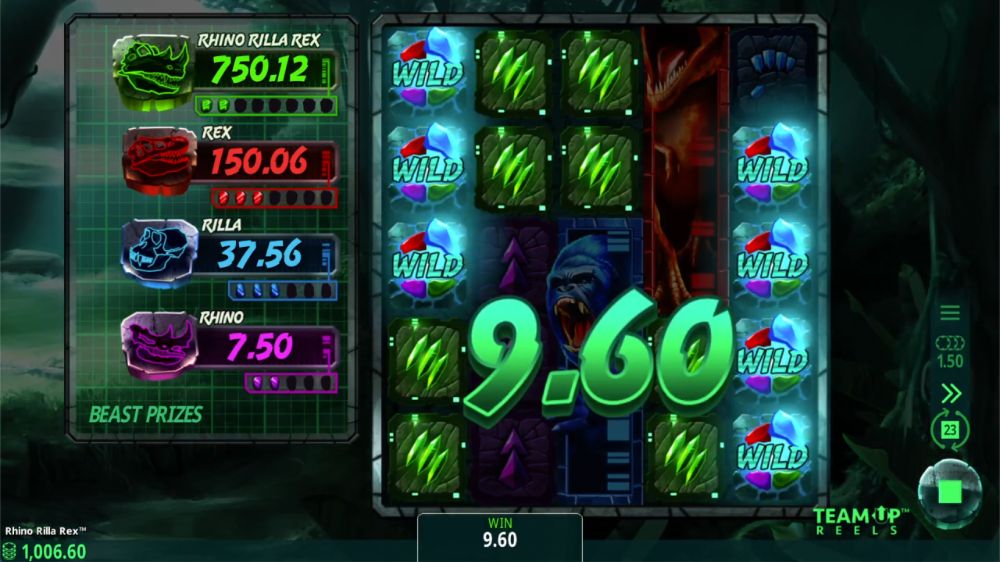 Rhino Rilla Rex Slot Bonus Rounds
Team Up
You'll trigger the Team Up feature when a bunch of the premium symbols land.
In return, they offer you multipliers, a cash prize, tokens, or play that takes place on a new reel set.
The multipliers boost payline wins by up to 5x. However, this also depends on which animals initiated the feature.
We find it interesting that the slot offers a hybrid combo win of sorts. In other words, you'll play with Rhino-Dino symbols.
Team Up Bonus Spins
You'll trigger the Team Up Bonus when a combination of the same 3 beast symbols appears.
You'll play on a new reel set and you'll receive a few spins to boot. The reels also play host to multipliers, extra spins, and cash prizes.
The bonus continues as long as you land new multipliers or extra spins.
Beast Prizes
There are 4 progressive Beast Prizes to the left of the reels.
Their respective values increase when a premium animal symbol pops up.
A meter with various slots in them is beneath each prize.
You'll fill up one of the slots for every token. That's to say if you win from the Team Up or Team Up Bonus Spins.
You'll receive the Beast Prize of 5x, 25x, or 500x if you collect the right tokens.
The tokens we're referring to are the Rhino, Rilla, Rex of the combination of the three.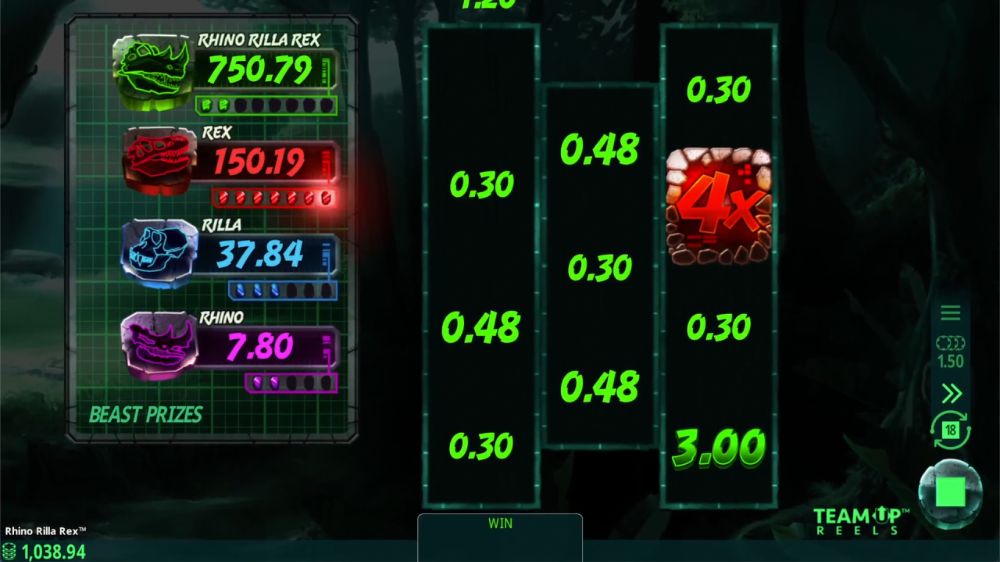 Rhino Rolla Tips & Strategy
Open up the paytable to see the RTP you'll be playing with.
Anything less than the default RTP of 96.20% is not worth it.
If it's your first time playing slots with real money. Take a quick peek at how to become a better slots player guide.
Verdict
Rhino Rilla is one of those slots that shocks and then puts a smile on your face. As long as you're not looking for the big wins.
Furthermore, it takes a while to digest all the features. Once you got the hang of them it's not that difficult to plow through.
The biggest problem we have is that the symbols are practically worthless. As result, Rhino Rilla's base game will smash your bankroll.
The Team Up feature is not that bad, thanks to those multipliers. The Beast Prizes are relatively modest too despite offering a jackpot win of 5,000x.
Our conclusion is that it will take you ages to build up a decent number. If you just want to play for fun Rhino Rilla is a great slot.
If you're chasing the green buck it's best to stay away. We say so because it's an iron fist in a velvet glove.
The Great Pigsby Megapays is something completely different. But, it also comes with a fun exclamation mark.
The jackpot it offers is $1 million, Megapays with progressive jackpots. Believe it or not, it's raining respins and free spin!