Reactoonz 2 is a video slot from Play'n GO and the much-anticipated follow-up to the popular Reactoonz. The original still has a strong following and we would even call it a cult hit.
Does Reactoonz 2 do the series justice or does it misfire on a couple of fronts? Let's dig in! To refresh your memory have a look at the original, Reactoonz slots. Many real money slots players including us reckon Reactoonz is one of the best slots ever.
The playing field of Reactoonz 2 is large with its 7 reels and 7 rows. The original didn't have any paylines and that remains the same here. Play pivots around its Cluster pays mechanic. You'll even find 5 or more matching symbols that touch horizontally or vertically in order to get a payout.
If you're ready to give Reactoonz 2 a shot, you can do so £0.20 to £100 at our top online casinos in the UK. The action doesn't stop on your first winning spin because it throws into Cascades. The Cascades remove the winning symbols from the board while new ones pop in from the top. Therefore, you can string along a few chain wins.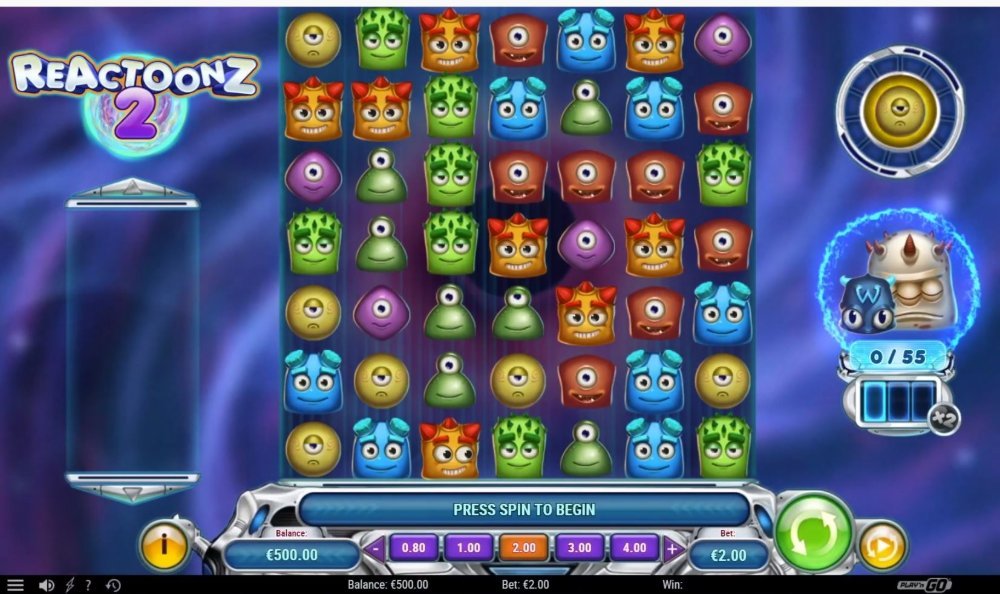 RTP & Symbols
The volatility level of Reactoonz 2 is high and its RTP is 96.20% which is good. It's a high variance slot machine that clocks an 8/10 on the Casinowhizz scale.
The little critters that made Reactoonz so popular in the first place are back! Moreover, they are as hilarious as ever. They are present on most symbols, so you'll be seeing them a lot.
They can have one eye, two eyes, blue, you name it. All the monster animate during winning combos. Moreover, they're funny as whack. The slot's production values are high, so let's give Play'n GO a thumbs up for that.
Pardon for the interruption. Because we cater to a global online casino audience we try and cover all angles. Due to America's present online gambling laws. Slot machine players for real cash can't play Reactoonz 2, unfortunately.
All is not lost though and thank heavens. Slot machine players can visit MYB Casino one of the best online casinos in the USA. It offers you plenty of no deposit bonus codes. Plenty of quality Betsoft slots to play and it accepts Bitcoin as a casino payment option!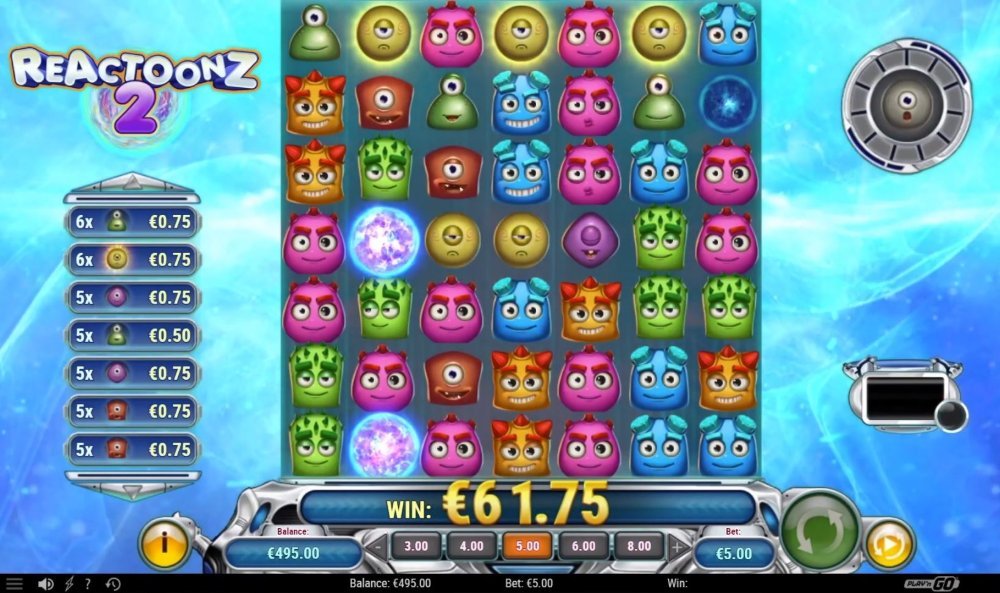 Bonus Modes
Fluctometer
At the start of each spin, the slot chooses one of the one-eyed symbols at random and makes them fluctuate. If you get a win on the chosen symbol. You'll get Electric Wilds that substitute for other symbols and they also fill the Fluctometer. Once you fill it, you'll get up to three bonus Electric Wilds added to the board.
Quantumeter
The aforementioned Electric Wilds can both substitute for other symbols and zap them. Now, the non-Wild symbols fill the Quantumeter. There are four different levels to go through and they require 55, 85, 110, and 135 charges, respectively.
While the first level will net you four 1×1 Wilds. The second level throws up a single 2×2 Wild. The third level gives you a single 3×3 Gargantoon Wild. It splits into smaller Wilds when it triggers the Cascades. The fourth level is even better! It adds a 2x win multiplier for all wins featuring Gargantoon Wilds.
Wild Pair Explosion Feature
If you get through the features and remain with two or more Electric Wilds. You'll trigger the Wild Pair Explosion Feature. It destroys a number of symbols and it gives you another chance of winning. Bear in mind, the symbols it removes from the grid don't fill the Quantumeter.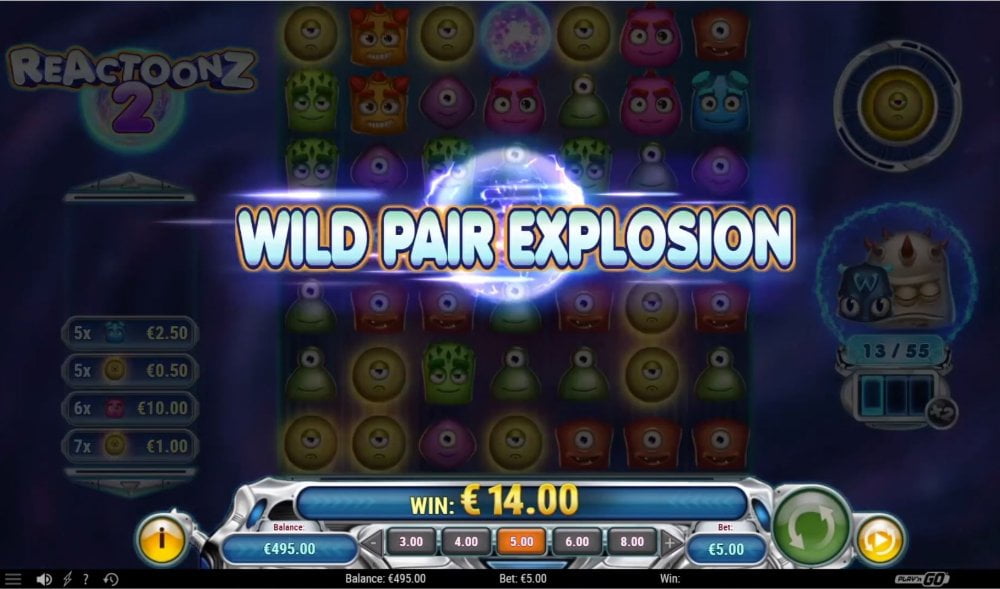 Verdict
Reactoonz 2 is a worthy follow-up to the popular original. The fresh coat of paint is pleasant, but it's the gameplay that intrigues us. There are dry spells make no mistake, but the hilarious characters will have you grinning from eat-to- ear. More so, they'll keep the old bankroll chugging along as well.
Then again we hope that it doesn't become a money guzzler and that it piggybacks on the success of Reactoonz.
Once you hit a few chain wins that's when the magic starts. Reactoonz 2 isn't a slot you can play for only a few spins. We'll even say that it will entertain you like crazy and it has the slot legs to go the distance.
Trust us, we've been there and know the feeling! How does it stack up against the original? Pretty good actually. The features are less, so it's all about getting the Wilds in the various constellations. Which can be a bit of a grind, to be honest.
Another thing we picked up is that this one only drops a Wild when the fluctuating symbols hits. Compared to the original it smoked the screen with two Wilds when the fluctuating symbol pops.
The max win of 3,000x is a bit lower than what we expected; we hoped for a 5,000x max payout. In the grander scheme of things, it's only a minor bump in the road. Play N' Go still retains the same elements that dazzled us as the original. And, we're more than happy with that!