Quest To The West is Betsoft Gaming's vibrant new real money slots release that celebrates one of China's epic legends. If you wonder which so-called epic legend we're referring to. It's none other than the famed Monkey King. The Monkey King is born out of a rock and fertilized by the grace of heaven and earth. Not only is he highly intelligent, but he learned all the magic and tricks from a famed Toaist master.
Look, we always give credit where it is due. Unfortunately, Betsoft did not wow us with Back to Venus and Monster Pop. Make no mistake, they are not bad per se, but they are not good either. Especially when we compare them to behemoths such as The Slotfather 2 and Fire and Steel. So, will Quest To The West be any different? For one, the online slot machine really looks good. Betsoft went to town with its high-end graphical tricks.
The slot machine features 25 paylines, 3 rows, and 5 reels. Therefore, the standard reel structure, and the same math model it uses in the majority of its games. Betsoft amplifies Quest To The West with Walking Wilds. The slots developer for real money did not disclose the size of the jackpot. But, if we compare it to its previous releases we reckon it will be 5,000x your stake. Bear in mind we have very limited information at this stage. Once Betsoft releases the full details about the game we'll update this review. You can play any Betsoft slots at our best online casinos for real cash or the free slots version.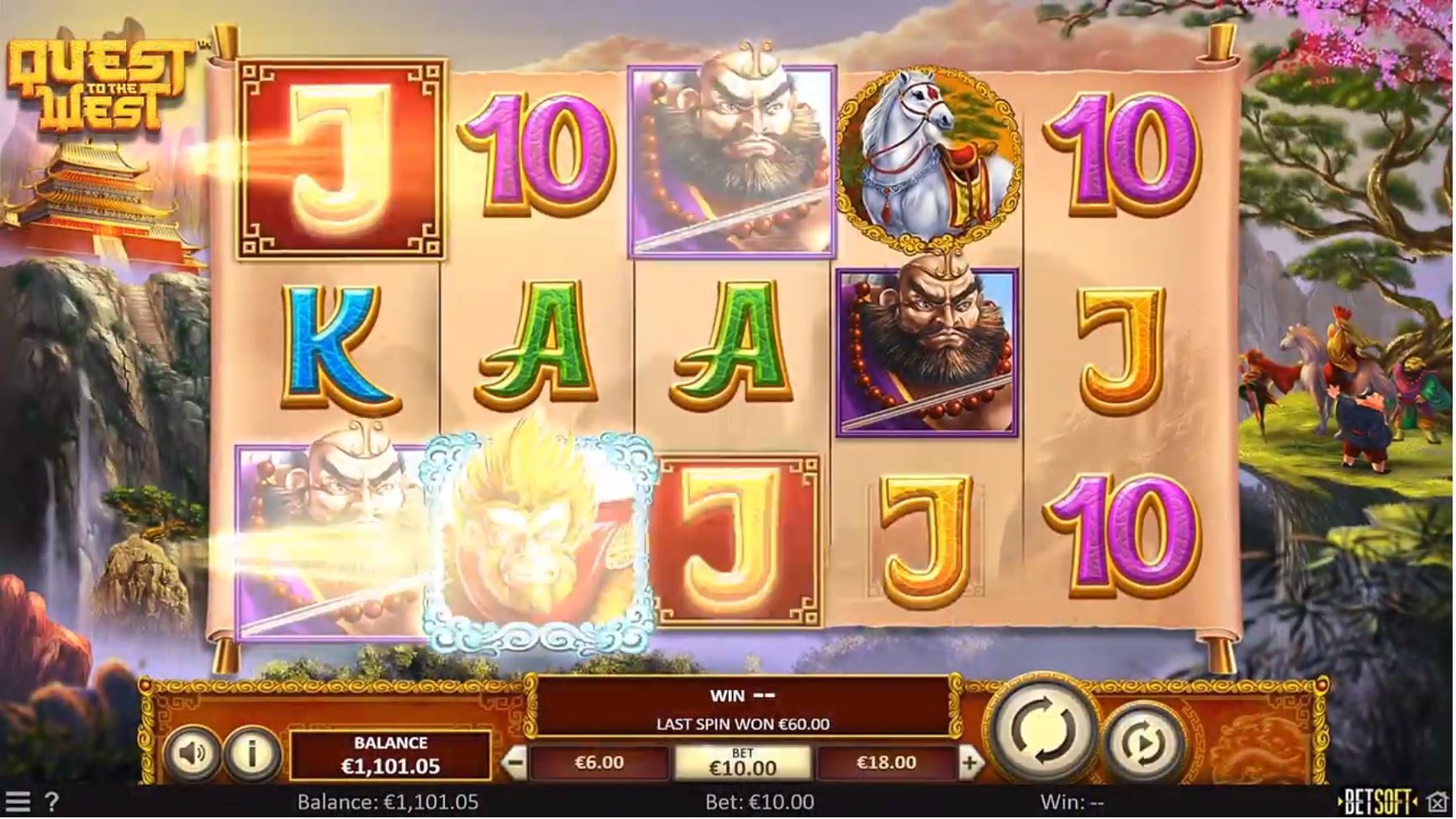 RTP & Symbols
We do admit we get things wrong from time to time. As seasoned online slots experts. We reckon the RTP (theoretical return) Quest To The West is in the vicinity of 96%, plus. Which is the standard RTP for the Betsoft slot machines online. The symbols on the reels remain true to the game's theme. There's the Monkey King which is the premium symbol. The other symbols are warriors, pig men, princes, dragons, lotus flowers, and the usual Asian-styled low-value card symbols. And, let's not forget about the walking wilds.
Bonus Rounds
Aside from the Walking Wilds, we're still in the dark concerning the rest of the game's in-game features. Besides, if we can go out on a limb here, and knowing Betsoft there will be a Free Spins feature. We'll even go as far by saying that a Buy Option will be part of the mix too. Maybe we're stretching it a bit, but when Betsoft goes all out they really do go all out!
Walking Wilds
We like slot games with walking wilds. For the simple reason, they can start at either end of the reals and shift across them. Therefore, in theory, you can receive a winning spin as the wild shift from left to right. Moreover, extra shifting wilds can appear to improve your winning chances even more! Another feature we like about the shifting wild is that it acts as a normal wild. It completes a winning combination when it substitutes symbols adjacent to it.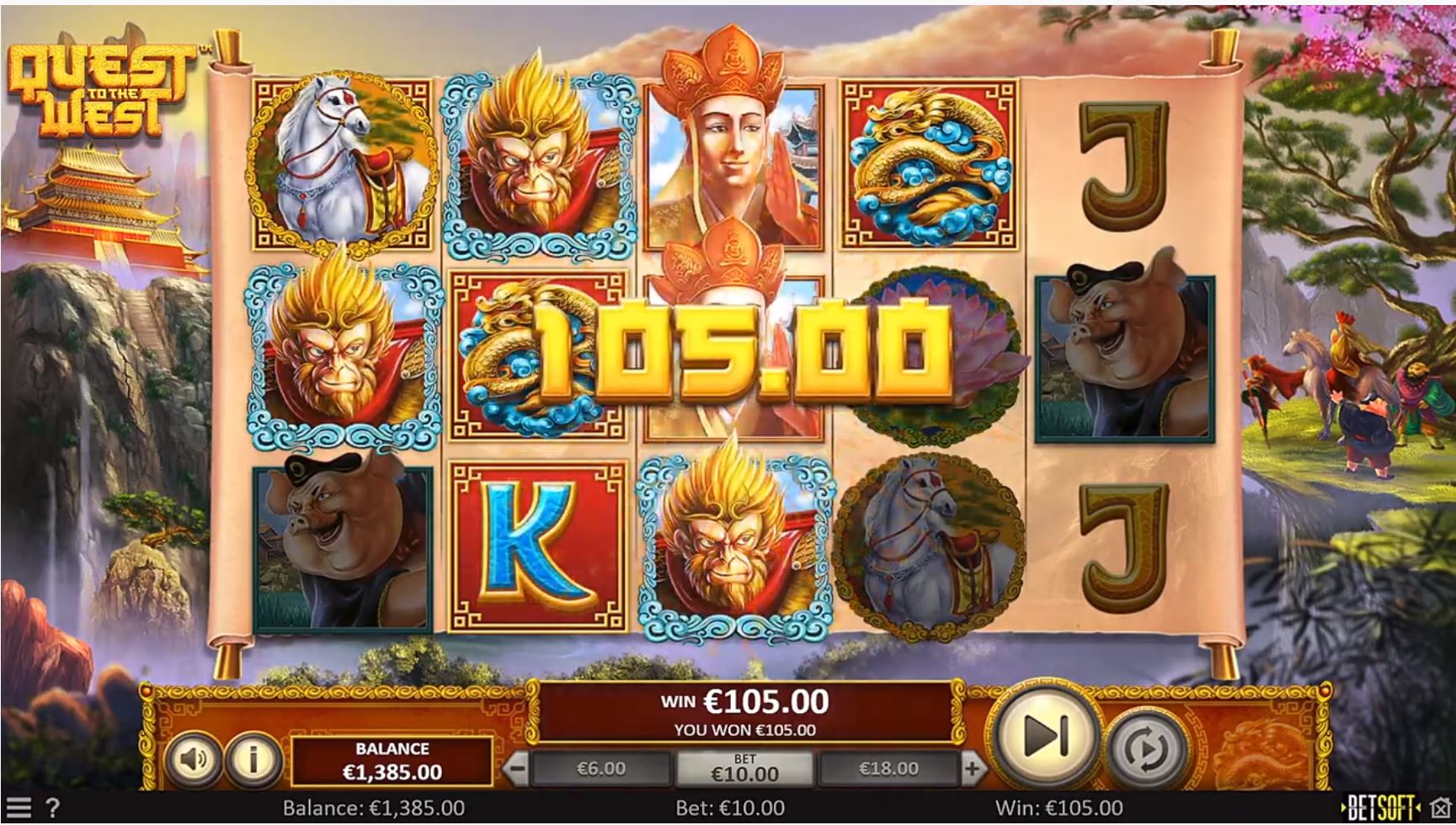 Free Spins
Now, we anticipate Quest To The West to have a Free Spins bonus round. Strictly speaking, Betsoft won't leave it hanging with just a Walking Wilds feature. You'll need the usual 3 or more scatters to trigger it.
The free spins you'll receive are proportionate to the scatters as well. For example, 3 scatters award 10 free spins, and so on. The Walking Wilds feature also applies to the Free Spins. Therefore, you can score as much as 3 maybe 4 walking wilds in the free spins. Did Betsoft add multiplier wins to the Free Spins? It's not impossible but we don't think so. Make no mistake it would be great. The Walking Wilds feature in the free spins we think is ample enough.
Buy Option?
If we go with previous releases like Yak, Yeti and Roll. We do believe that Betsoft made provision for the Buy Option. If you don't want to hang around for 3 or more scatters to pitch, you can activate the Buy Option. Remember, it comes at a cost of 70x your stake, maybe more.
Verdict
Right, that's our two cents on what appears to be a great online slots for real money. We sincerely hope that Quest To The West plays as good as it looks. Betsoft Gaming did not cover itself in glory with its latter releases. Maybe just maybe it redeems itself with this high paying slots. Only time will tell, so watch this space because we'll be back.