Queen of Bounty is another superb video slot from PG Soft. As a best pokies studio, PG Soft has the performance and power to deliver lightning fast graphics with exclusive content. The slot is a winner in our books because of its incredible credit and bonus features.
Pokie Online Overview
Women can be every bit as ruthless as men! The beautiful pirate bucanneer whisks you off on an adventure of a lifetime. PG Soft promotes workplace equality like none other on the high seas.
Slot players for real money up for the task can aquire the bounty queen's map to her treasure! Moreover, the online pokie has 5 reels, 3 rows and 20 paylines. It offers a jackpot of 50,000x your stake. The coin denomination is AUD$0.20 to AUD$100 per spin. Players can now play the pokie at our best online casinos in Australia.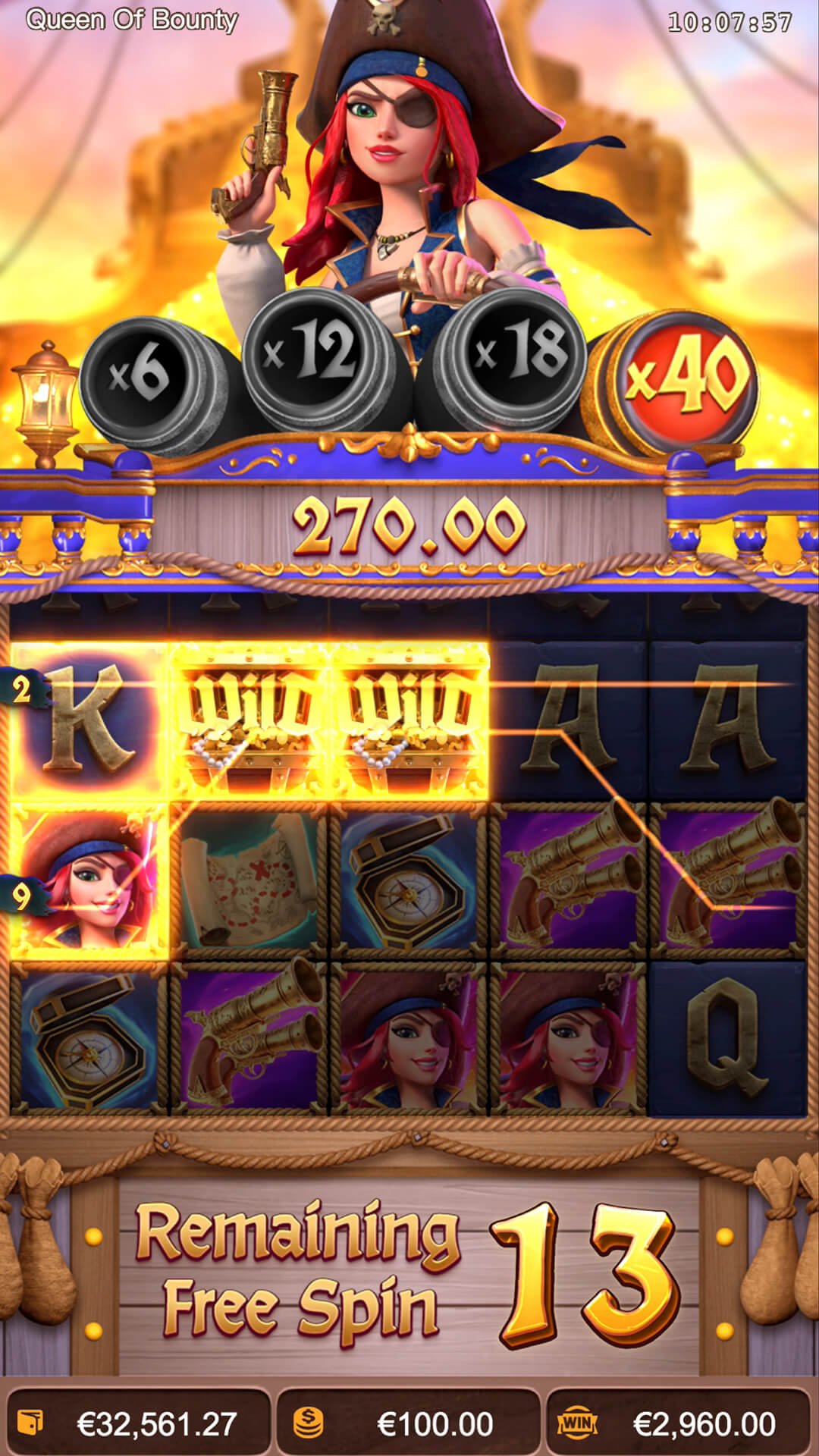 The nice part about the game's betting range is that players with small or big casino budgets can play it. Furthermore, the pokie has a Free Spins feature with progressive multipliers of up to 40x! Despite the lack of in-game bonuses. The free spins is unique because players can decide how many free spins they want. As well as the size of the multiplier value they want to play with in the free spins.

If you're a high rollers casino VIP you can win a cool AUD$5 million! Keep in mind that the maximum exposure after a billion simulated spins is more like 7,576x. Be that as it may, it's still a hefty chunk of cash! The best part of our slot review; we provide expert tips and a betting strategy on how to "beat" the slots. Very few casino guides online provide this valauble resource!
Finally, the pokie throws in a Cascading Engine! When you land a winning combination of at least 3 symbols. The engine allows the winning symbols to explode and removes them from the reels. As such, it replaces them with new ones for successive wins.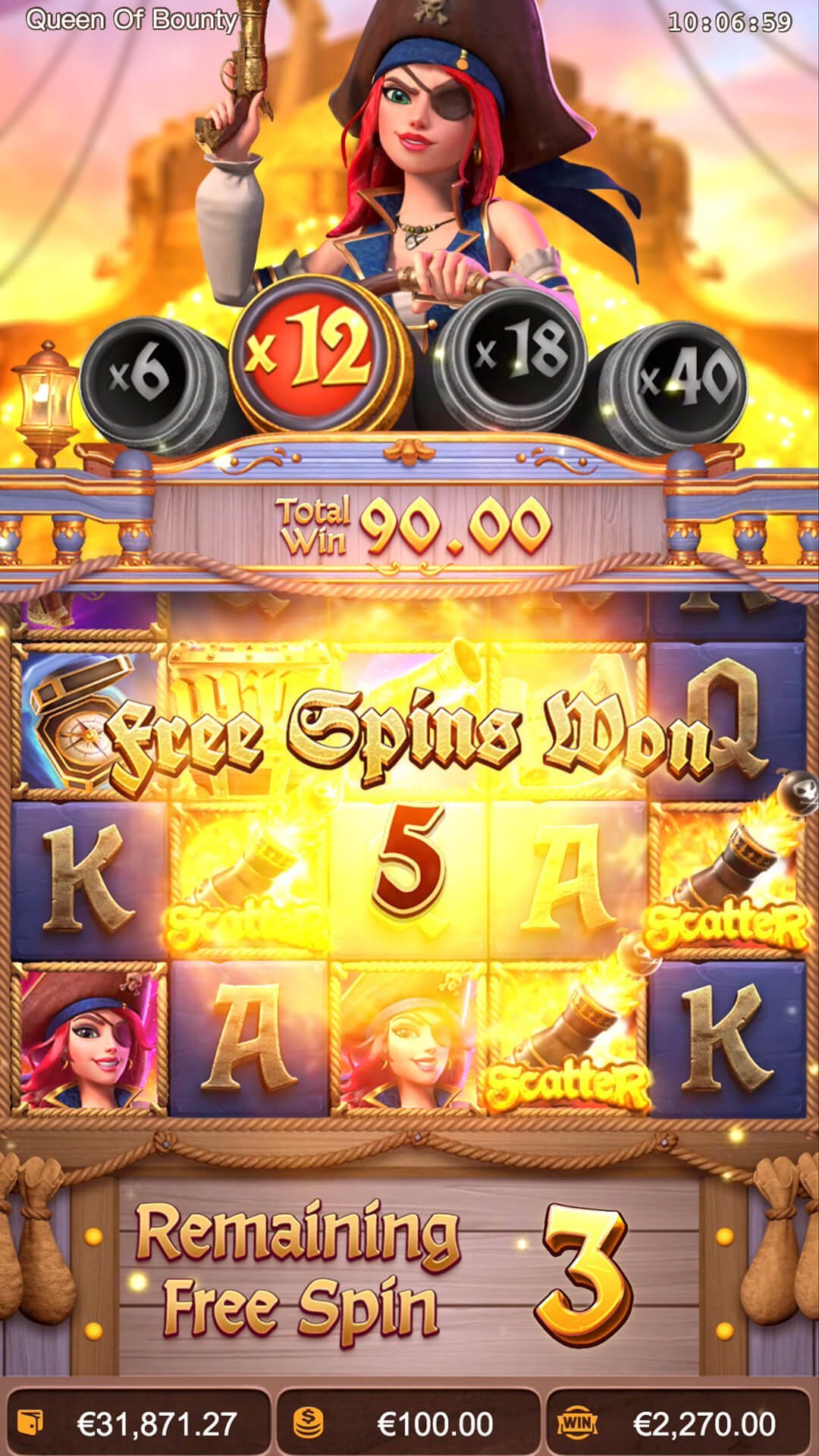 RTP & Symbols
The RTP of Queen of Bounty is 96.74%. The RTP represents the long term payout of the pokie. That's way above the industry standard of 96%. For what it's worth, the RTP in the main game is 66.10% and in the Free Spins feature it's 30.64%. The beautiful bounty queen's pirate ship serves as the backdrop for the symbols on the reels.
Let's start with the low-value symbols. They are the cards from Q to Ace. We also note that the Jack does not form part of the mix this time around. Suppose PG Soft wanted to add a more feminite touch. The high-value symbols are the bounty queen, guns, compass, and map. The premium symbol is the bounty queen. When 5 of them pitch you'll pocket a hefty cash prize of AUD$2,500.
In addition, there's the Scatter and the Wild. The Wild only appears 2, 3 and 4 and subs adjacent symbols when it forms a winning combination. Note, the wild does not replace the scatter.
Players from the 'Land of the Free' can check out online slot machine like Stacked at any USA casino online. Their casino lobbies mimic Las Vegas casinos and you qualify for an exclusive bonus code on deposit.
Bonus Rounds
Queen of Bounty Free Spins
The best online pokie only has a single bonus round and that is the Free Spins feature. Coincidentally, it's also the bonus game where you'll win the maximum cash prize of 50,000x. But, before you can say Ahoy me hearties! You need 3 or more Scatters to trigger the Free Spins feature.
Once you're in, Queen of Bounty gives you a choice between three free spins options with ranging mulitpliers. Free spin option number one gives 20 free spins with multiplier values from 1x to 5x. The second free spins options offers you 10 free spins with a multiplier value of up 3x up to 20x.
The third and final free spins option gives you only 5 Free Spins. However, it's the size of the multiplier that matters here. The multiplier wins on each free spin is 6x, 12x, 18x to 40x! Therefore, it's safe to conclude that players can decide; if they want a low, medium or a high variance free spin option.
The more free spins you choose the lower the volatility. And, of course the max multiplier of 40x gives you a bite at the cherry! In other words, the jackpot.
Queen of Bounty Tips & Strategy
Once you picked any of our safe and trustworthy Aussie Casinos online. You can play Queen of Bounty pokie for free or for real money. Call it the Casinowhizz pokie map if you will. Before we risked our hard-earned cash we play the pokie for free. After our free play session we played the game with a budget of 100 credits.
We selected the Auto Spins option and clicked on 25 spins. A session to us is 25 spins; we played the pokie for 4 sessions or a total of 100 spins. Our average stake was AUD$1 per spin with a casino budget of AUD$100.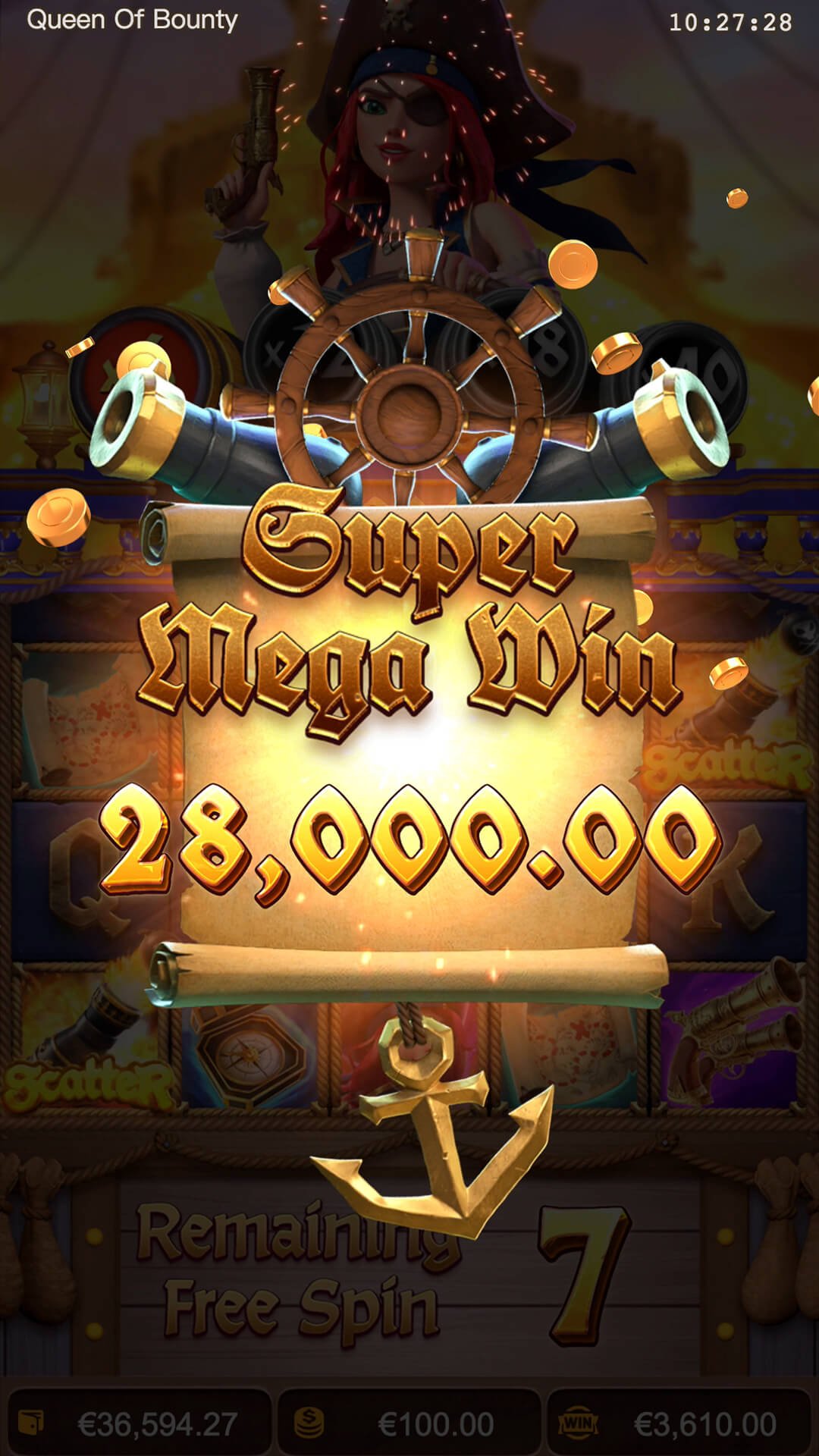 Bets Per Spin, Freebies, and Multiplier Values
Our average base game wins were AUD$0.50 to AUD$15 (15x) not too bad. We received a payout on every third spin. The hit frequency is therefore around 30%. If we wanted bigger payouts we had to risk more money per bet. Even though the Cascading engine juices up play in the base game the payouts were rather 'meh'.
We triggered the free spins after 80 spins, given the RTP and the hit frequency that's about fair. We picked the 10 free spins option with multipliers from 3x to 20x. At this time in our play we wanted to mix things up a bit. Not only did we want to prolong our play but we tried to snag a decent win as well.
Upon conclusion of our 10 free spins we managed a top multiplier of 3x and a win of 30x. Remember, for every Cascade in the free spins, the game engine increase the value of the multiplier. We're happy with the our overall result and we had fun!
But, more importantly, each of our top casinos online in Aus offer you a pokie bonus on deposit. The bonus is free and of course entirely optional. Also, check out our article 'how to make your money last at the casino'.
Verdict
PG Soft's Queen of Bounty pokie could very well be a timeless classic. It's one of those 'evergreen' slots players can turn to when they venture into stormy seas. The pokie strikes up a fine balance between its RTP, volatility, jackpot size and its hit frequency.
Now, how does the game distribute the big payouts? You'll hit a Big Win after 569 spins. Players search for that ultimate win will have to slog it out. Because you'll have to make at least 1757 spins for a Super Mega Win.
Moreover, we like the choice the pokie developer gives players in the Free Spins. As Captain of your own bankroll, you can play the game as a casual player or as a high roller. The latter bit kicks in when you choose just 5 Free Spins. The good news is that each free spin win potentially benefits from a multiplier of up to 40x.
On your quest for adventure and riches, we caution you with the following note. Queen of Bounty can be excessively flirtatious, and unpredictable as she exploits her beauty for personal gain. The pokie is a timeless commitment to innovation, performance and "fun for the gambler". If you're a fan of PG Soft's games we highly recommend, Dreams of Macau. With a disctintly Asian theme, 720 ways to win, and splendid visuals.