Punk Toilet slot from Nolimit City hits below the belt with a hilarious theme. Did we expect anything less from Nolimit City? Nope, not in the least.
We got to appreciate the mob over at NLC's rather eccentric sense of humor. So, if you're up for a rather smelly affair. Let's pop the "foul-smelling" hood of NLC's Punk Toilet.
Moreover, if you haven't seen Einstein drop a few fart bombs. You gotta play this floater, eh slot! The theme of the slot takes you to a London toilet.
Dang, the humour just oozes off the reels. For example, if you trigger the Free Spins, it says: "$h!t Happens".
The online slot has a 5-reel grid along with a 3-3-3-3-3-1 layout. The standard layout starts with 81 ways to win, but quickly moonshots when extra symbols pitch.
A colourful toilet greets you that's replete with graffiti, urinals, and a Glory Door. If you're into muffled band music. You can crank up the audio at the best casinos not on GamStop.
Now, don't say we did not warn you. The volatility of the Punk Toilet slot is extremely volatile. In fact, it takes high variance to an entirely new level.
However, you'll also be spinning for a massive jackpot worth 33,333x your stake. You can play Punk Toilet at online real money casinos that pay wins instantly.
If you're up for a bit of toilet fun. Bets per spin start with a modest $0.20 up to $100 per spin. Looking for a few extra slot tips?
Make sure to check out our piece on how to stretch your bankroll when you play slots.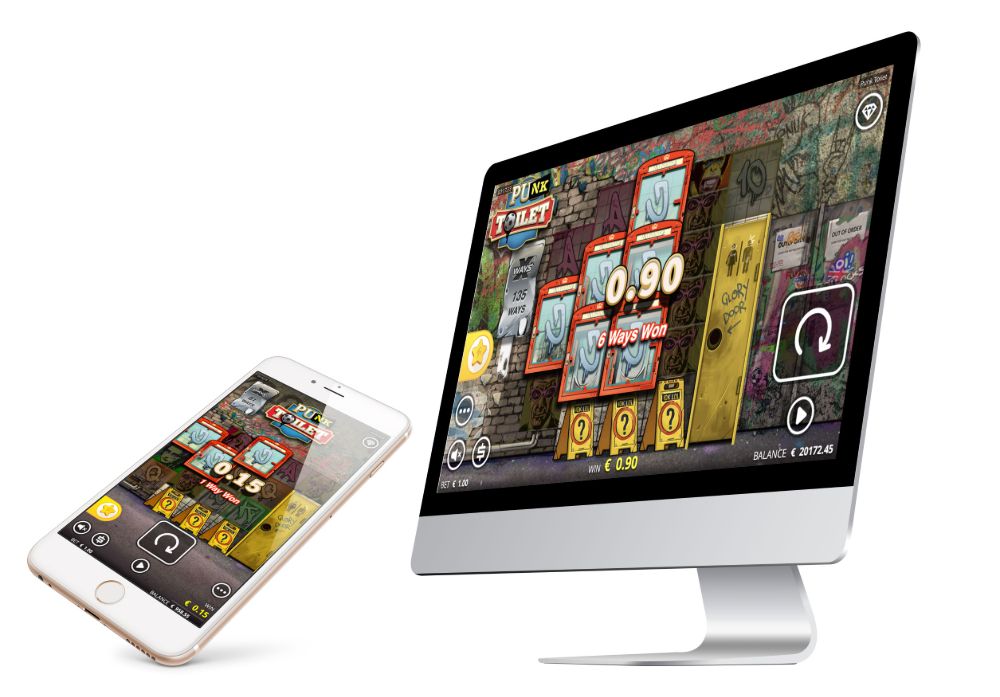 RTP
Even though the math model of Punk Toilet is extreme. The RTP or payback percentage is 96.09%.
In addition, the hit frequency of 20.17% won't leave your budget gasping for air. We say so despite the game's extreme volatility.
However, if you don't want to play with the default RTP. The Buy Option albeit at a cost allows you to play with an RTP of 96.71%.
US players looking for a slot with a high RTP can play Lost Mystery Chests. The game now appears in the libraries of our best payout online casinos.
Symbols
To receive a payout you need 3 or 5 matching symbols. In total there are 11 symbols, including the cards from 10 to Ace.
The low-value symbols pay up to 2x your stake for 5. As we turn our gaze further afield.
The high-value symbols are the 6 characters that pay up to 5x for 5 of a kind. Finally, there's the wild which subs adjacent symbols during a winning combo.
Punk Toilet Bonus Rounds
Here we go, everything about toilets is in big supply here. This includes the bonus rounds such as the Urinals, X-ing, Glory Door, xWays, and Free Spins
Urinals
Toilets and urinals go hand in hand, especially if it's the men's toilets. Punk Toilet slot has three urinals, just below reels 2, 3, and 4.
You'll unlock a urinal when 1 or 2 scatters pop onto the grid. The symbols on the grid will be huge apart from Haw-King. It's the symbol with the wild beer.
Glory Door
You'll trigger the Glory Door bonus when the Loo symbol appears above it. You'll see one of two things. The first one is the Haw-King and the other is the Glory Door.
The former transforms the character symbols into Haw-King symbols. Whilst the Glory Door reveals a special symbol and a character symbol that's two-positions high.
On reels 1 to 4, the character symbol doubles the size of the same symbol type:
xSplit, divides the symbols on reels 1-4 in a horizontal line and serves a 2 high wild.
Mega Split, on reels 1 to 4. It splits regular symbols to double size and serves as 2 high wild.
xWays
The xWays symbol can appear on the centre reels. Furthermore, the xWays' size ranges from 2 to 6 symbols that either drop a wild or random symbol.
In case you land more than one xWays, it reveals the same symbol.
P!$$ Spins
If you catch 3 scatters they'll award you with 6 P!$$ Spins. The urinals open up below the reels which reveal the character symbols.
You'll receive an extra spin when a scatter appears. Furthermore, on its reels, it upgrades the Urinal multiplier by +1.
The payouts can be massive here. The multiplier does not reset. Plus, multiplies the character symbol's multiplier.
When the Loo symbol opens the Glory Door opens. You'll snag an extra 2 spins and you'll trigger the $h!t Spins.
The average trigger occurs on 210 base game spins.
$h!t Spins
When 3 scatters grace the reels on any position they trigger 8 free spins. You'll further notice that the urinals below the reels are open.
Moreover, they reveal the character symbols. For extra scatter that appears you'll catch extra free spins. And, they upgrade the Urinal multiplier by 1+
Above all, the multiplier multiplies with that of the character symbols' multiplier. It doesn't reset either for that extra oomph!
The Glory Door opens when a Loo symbol appears which gives you 8 $h!t Spins. You can land extra $h!t Spins as well.
Keep in mind, you'll have to grind out the $h!t Spins free spins because it takes 13,000 base game spins to trigger.
Nolimit Bonus
You can buy the free spins with 3x options available to you:
P1$$ Spins cost 67x with an RTP of 96.38%.
$h!t Spins cost 345x and delivers an RTP of 96.76%
The third option costs 206x. You can land either of the two bonus games along with an RTP of 96.71%.
Punk Toilet Tips & Strategy
This is one online slot game you don't play with a bonus. The volatility makes it difficult to clear the WR.
However, a few free spins help a bit. We play Punk Toilet online slot with free credits at an average stake of $4 per spin.
Big base game wins were very far and few in between, although smaller wins appear often.
So, our next logical step was to buy the free spins for 345x. A long story short, we managed a win of $10,850.
In reality, is it possible? Yes, it is. The size of the character multipliers combines and multiplies with your original win.
Verdict
Wow and wow! Punk Toilet is another trailblazer from NoLimit City. It's a case of having more balls than brains when you play this slot.
Nolimit City seriously digs deep with Punk Toilet. Not only does the slot bunch in an array of feisty treats.
It successfully explores the British culture albeit with slapstick toilet humour. The features explode along with a jackpot of 33,333x that's life-changing.
Not only that, but it catapults Punk Toilet into the same league as Tombstone RIP.
With a constant flow of new ways to play slots that stretches the imagination. Punk Toilet is the very definition of what a slot machine should be.