A top real money slots player sent us a note recently. In it, he practically scolded us for not listing Blueprint Gaming's Primal Megaways. Well, 'Bigspender' this one is especially for you. As online slots experts, we were slow out the blocks with the Megaways slots. For the simple reason, we were apprehensive about the 'Buy Option' most of them have. And, of course, the fact that the British Gambling Commission frowns upon it. Be it as it may. We're huge fans of the Megaways Slots and we can't get enough of them lately as our slot reviews attest to. If you're more into RTG slots. You can play them at our best USA online casinos.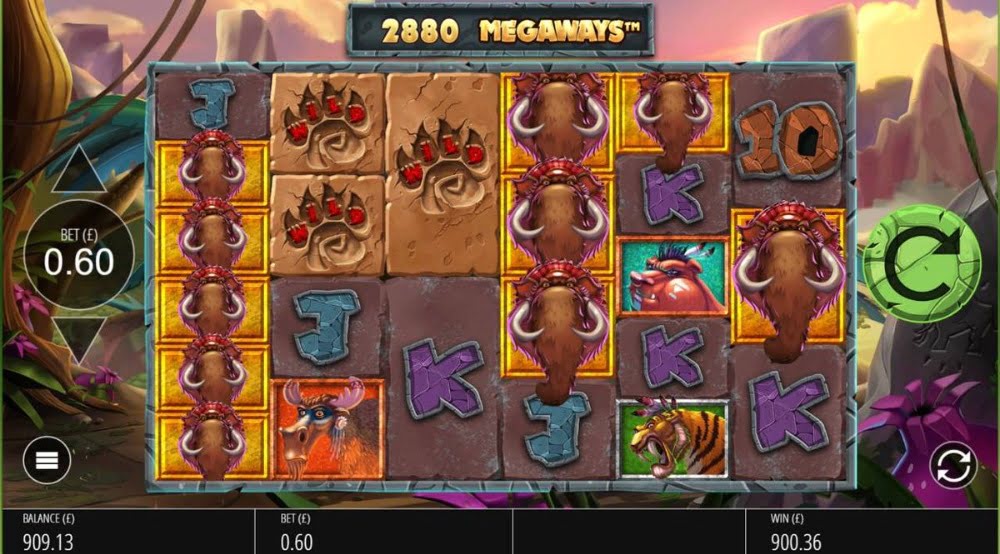 Paylines & Jackpot
In our opinion, Primal Megaways is hands down the best Megaways Slots release to date. Therefore, it's justified that 'Bigspender' berated us, and thanks mate for bringing this one to our attention! However, we'd also like to warn you that it is extremely volatile! So much so, that it clocks a scary 10'er on our slots scale. Primal Megaways features 46,656 paylines, and 6 reels. So, basically a reel set of 6x6x6x6x6x6=46,656 lines. The main actors are the 'Primal Bonus Free Spins' and Mystery Symbols features. Also, you can win an unlimited amount of Free Spins. The Wild Multipliers of up to 7,776x, lead to payouts of up to 50,000x your stake in the Free Spins.
The graphics and the symbols exude a feeling of warmth and they compliment the time period (Upper Paleolithic) well. When we explore the theme we see that it dates back to 46,656 BC where sabertooth cats and woolly mammoths were the kings of the plain. We also know this period as the Stone Age. You can play Primal Megaways from £0.20 up to £5 per spin at our instant cash out mobile casinos. If you use an e-wallet like Neteller or Skrill, you'll receive your winnings within minutes! You can expect payouts of up to 2x to 25x in the base game.
RTP & Symbols
The RTP or average return to player percentage of Primal Megaways is 96.76%. Although the RTP is very good it can take as much as 20 spins before you receive a payout. Yeap, the game is that brutal. That said, we played the free slots version of it with a few sterling payouts. The symbols that pitch are cards from 10 to Ace, and a slew of prehistoric animals. The premium symbol is the Mammoth when 6 of them pitch, you'll win 50x your stake. The other symbols that appear on the reels are the paw print Wild and the scatter. The Fiery Mystery symbol pitches as well. It reveals any random symbol except for the scatter and the Wild.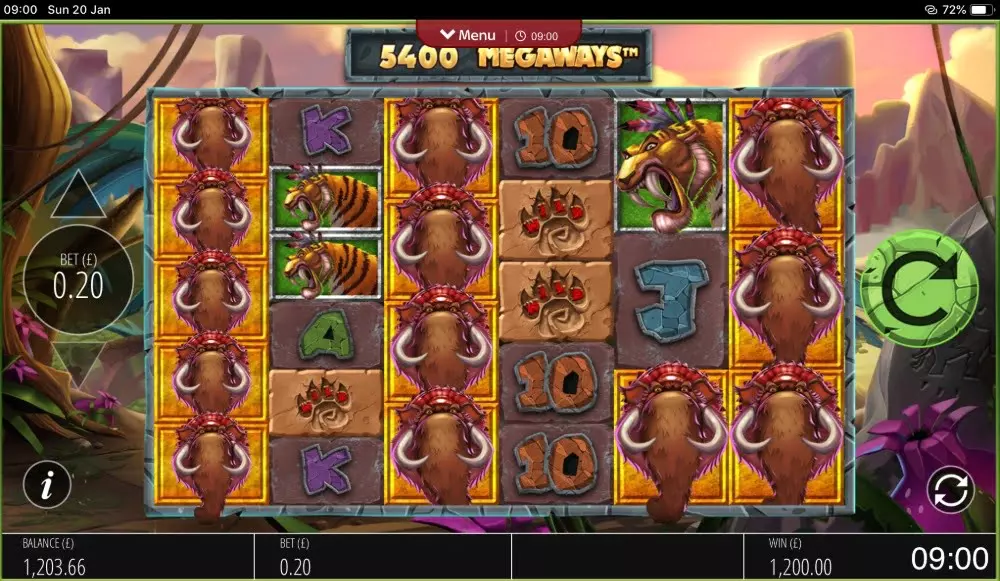 Bonus Rounds
Free Spins Primal Megaways
The jackpot of 10,000x your stake 'hides' in the Free Spins. Before you can trigger it you need 3, 4, 5, or 6 scatters. The free spins you receive are proportionate to the scatters. The scatters also have a multiplier value assigned to them in the Free Spins:
When 3 scatters appear you'll receive 10 Free Spins. But, a wild multiplier of 2x and 3x boosts payouts on each free spin.
4 Scatters awards 15 Free Spins along with with a wild multiplier of 2x to 5x.
When 5 scatters pitch you'll score 20 Free Spins with a top multiplier of 5x.
If 6 scatters pitch you'll get 30 Free Spins with a potential multiplier of 6x.
Every time 2 or more scatters appear, you'll receive another 5 Free Spins. It's important to note that you can win an unlimited number of Free Spins. Despite the amount of Ways to Win it's best to focus just on the wild multiplier. If you land 6x Wild Multipliers on the reels and their multiplier values are multiply, it's a crazy 7,776x multiplier. Moreover, the standard Wild can transform into a wild multiplier for even bigger wins! Note, the wild does not appear on reel 1.
Just so you know it's difficult to trigger the Free Spins feature. With our allotted free credits of £1,000, it took us 200 spins at an average bet of £5 to trigger it. We also managed a win of £700 which enabled us to break-even.
Free Spins Guarantee Feature
Primal MegaWays also offers a Free Spin Guarantee feature. If you have a payout that is less than 10x your stake. It triggers another 10 Free Spins which gives you another opportunity to score a decent cash prize.
Verdict
Primal Megaways is most probably the top Megaways slot of all time. It has all the amenities of a big-hitter albeit wrapped in a highly volatile TNT tin that will blow your poor bankroll to smithereens. We've seen payouts of up to 27,000x on a £1 bet. But, it does not mean you're the next heavyweight contender. We advise discretion and keep your bets below £5 because the pays are extraordinarily good at this level.
To win the jackpot of 50,000x your stake, you must trigger the Free Spins feature. This in itself can be a monumental task because it can take 150 plus spins to trigger. One thing that concerns us is that the payout pendulum can swing both ways. Unfortunately, that is the nature of the Megaways slots beast. There is no in-between, if Primal Megaways pays, it's huge! We also recommend Flower Fortune Megaways slots.