Primal Hunt from Betsoft has an ice age theme, and we totally dig it. The real money online slots has 5 reels, 3 rows, and 30 paylines. But, more importantly, it throws in a Free Spins feature with Multiplying Multipliers. Hit a few big multipliers and the payouts will be sweet indeed.
If we circle back to the theme quickly we like it because it appeals to a much larger online slot machine audience. It takes you way back to the Neolithic Period, or the Stone Age when sabertooth cats were still the undisputed kings of the plains. Looks like Betsoft goes way back in time with Primal Hunt.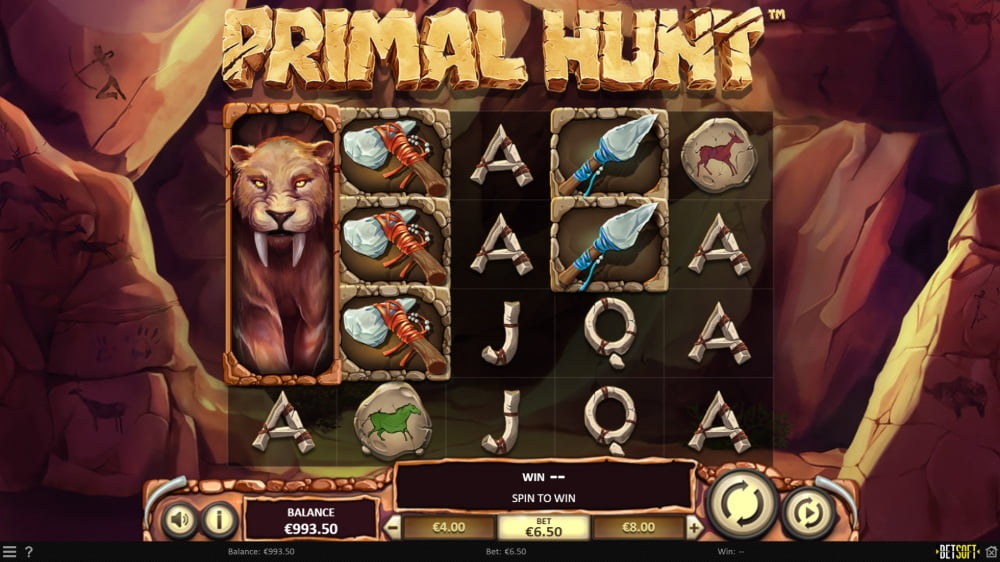 RTP & Symbols
The RTP of Primal Hunt is speculative at best. Once again we predict that the RTP will be above 97%. The RTP gives us a brief overview of the payouts. So, you can expect plenty of winning spins albeit small. Maybe 5x to the odd big win of 30x your stake.
You can play Primal Hunt at our top Betsoft online casinos in the USA. Before you risk real money you can play the slots for free at Betsoft.com.
However, it's the Hit Ratio that's the real deal. We'll go out on a limb again and state that the Hit Frequency will be more than 30%. Essentially, slot machine players for real cash online receive a payout on every third spin.
Bear in mind, when it comes to the latest and best slot reviews the new online casino market has to offer. The Casinowhizz.com team is always first out of the blocks.
As a result, we don't always have the latest information about the slot machine on hand. When the Primal Hunt slot machine hits the shelve on the 24th of September 2020. We'll update the slots review with the newest information.
It doesn't mean, however, that we can't make a few predictions of our own, not so? Especially in light with Betsoft's previous real money slots releases like Mystic Hive and more recently Dim Sum Prize. Both of them are low variance slots with online jackpots of up to 300x your stake. Therefore, it's a possibility that Betsoft continues with the same trend. Then again we could be wrong.
The visual styling of the symbols in Primal Hunt complements the theme. You'll see sabertooth cats, woolly mammoths, stone tools, and rudimentary card symbols from J to Ace.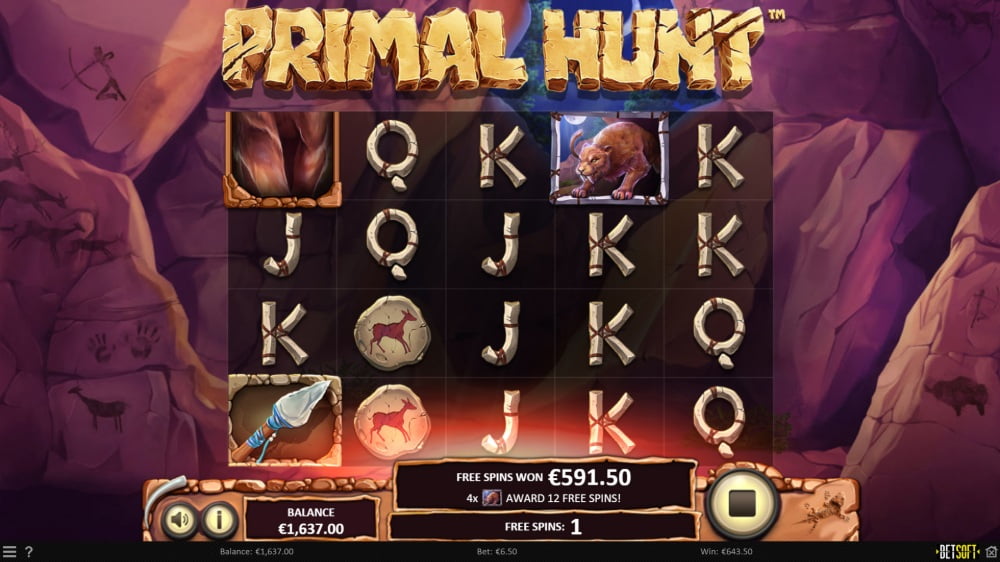 Bonus Rounds
Free Spins
The Primal Hunt real money slots sports cracking Multiplying Multipliers and Free Spins. That's the most pertinent information Betsoft gave us thus far. It appears that the online slots developer is keeping its cards close to its chest with this release. It could very well still be a slotsbuster.
Like the majority of the Betsoft slots online you need 3 scatter symbols to trigger the Free Spins feature. Once you're in, you'll receive 8 Free Spins. Moreover, the free spins feature also benefits from Charms and Clovers. In other words, 2 special features.
How many spins must you make to initiate the Free Spins feature? Once again it's hard to tell. We're not sure if Primal Hunt will be a low, medium, or high variance online slots. If we compared it to its previous three releases. And, we take the average we're looking at 40 to 50 spins because they're all low-variance.
The bottom line is you should be able to trigger the Free Spins relatively easy without denting your bankroll.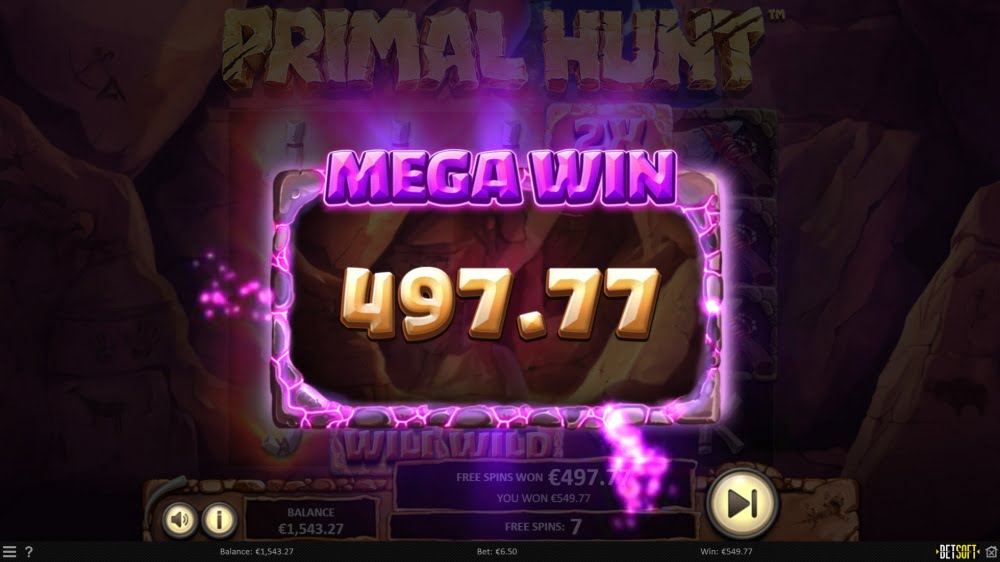 Verdict
We're still trying to figure out what Betsoft's is up to with its previous releases. Because all of them have been low-variance slots for real money. We have no reason to believe that Primal Hunt will be any different.
In the meantime, until Primal Hunt slots rolls of Betsoft's incredible production line. You can go down memory lane with Greedy Goblins since it offers a massive jackpot of 1,200,000 credits. When we compare Besoft's previous releases to the new ones we feel that it dropped the ball. Not only in terms of its overall quality, but it's "stingier" with its jackpots.
Maybe it's good to do with the weekly instant withdrawal limits of our best USA online casinos. Due to legislation, their third-party payment processors can only clear payments of up to $BTC20,000 per week. We're talking to you Super Slots Casino.