We can tell that 2020 is going to be a great year for real online money slots. Releases like Multifly! and Rise of the Mountain King bucks this trend. Besides, we regard them as the best high variance slots online of the year thus far. Quickspin's Nero's Fortune follows the same exciting formula with its sprawling visuals and in-game features. It offers a top cash prize of 8,100x your stake on a single Free Spin. More importunately, it's not just any high variance slot machine. The variety and depth of its mechanic makes for some brilliant play elevating it above everything else in its class!
Emperor Nero is famous for setting Rome on fire and blamed the Christians for doing it. His reign marred by corruption and brutality makes him one of the ancient world's cruelest dictators. Quickspin gets the Roman theme across with the same clarity, and it pulls you into its world from the first spin. Nero's Fortune is a 5×5 video slot with a Cluster Wins Reel Mechanic. Few online casino games is as unrelenting. Yet, it has a potent Free Spins feature with progressive multipliers, and Burning Arrows feature, that makes is playable for just about everyone.
Nero's Fortune is Quickspin's third Tumble slots. Its math model and reel structure is remarkably different than that of Golden Glyph. Bets per spin start at £$0.20 up to £$100. Although its volatility (10/10) can get downright frustrating at times, it's backed by a solid RTP (theoretical return to player percentage) of 96.21%. You need at least 5 matching symbols (cluster wins) to score a payout. Symbols are removed from the grid with new ones dropping in from the top. Thanks to the Cluster Pays system you can get successive wins on the same spin. Symbols on the grid (reels) are wolves, lions, eagles, red ruby gemstone and the Wild ('W') symbol. The most important symbol is the red ruby, land 5 of them on the reels you'll pocket 150x your stake.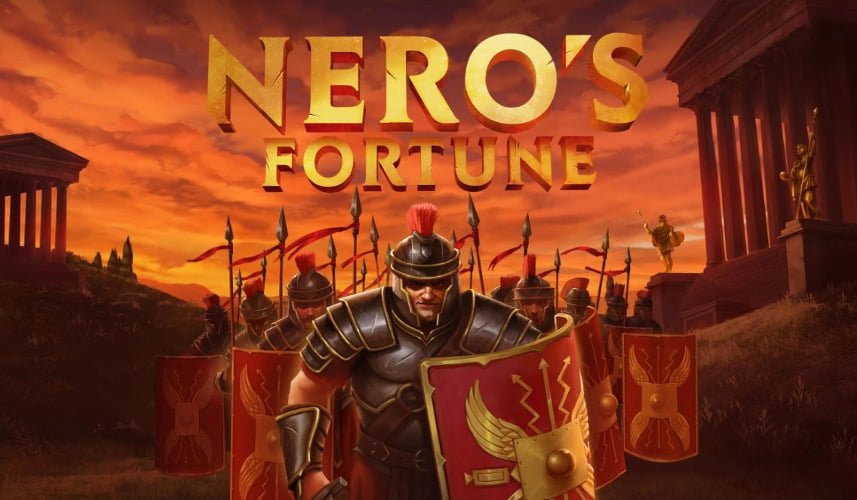 Bonus Modes
Burning Arrows Feature
In the main game you can trigger the Burning Arrows feature on a random spin. Since Nero's Fortune utilizes the Cluster Pays Mechanic winning symbols are removed and replaced with a good dose of multipliers. In return, the multipliers combine and applied to each spin. In layman's the payouts can be quite spectacular!
Free Spins
The Flames of Nero Free Spins feature is Nero's Fortune's best asset. When 3, 4, or 5 'BNS' scatters pop up you'll trigger the free spins. Depending on the scatter count you'll receive 10, 12, or 14 free spins. Each free spin has a multiplier value that's carried over to the next spin. As a result, the multipliers just keep on growing and growing. In Quickspin's video clip of the game, the top multiplier in the free spins is 25x which yields a win of £$68,500 at an average bet of £8 per spin. On all counts this is super impressive! However, given the volatility of the game our calculated guess is that it takes 150-200 spins to trigger the free spins.
Quickspin's Nero's Fortune is a game that anyone can have fun with. If you think a roller coaster ride is crazy take it for a few spins; it ebbs and flows with a volatility that borders on insanity. Its challenging as it is robust. You'll be good as rain when you land plenty of cluster wins with multipliers in the free spins. Most importantly this sets you up to win the jackpot of 8,100x your stake. Besides, Nero's Fortune leaves an impression because it keeps fighting to impress you. If you are willing to explore its depths, glory and riches of ancient Rome await you.

Nero's Fortune Slots FAQs
Can I win big even with a small bankroll?
Yes, you can. You can play Nero's Fortune from £$0.20 up to £$100 per spin. Just don't play it with £$0.20 per spin, you'll be losing out big time because it's super volatile. Winning spins don't come around often, but if they do they tend to be very good. This is why we recommend an average bet of £$4-£$8 per spin. If you are lucky you can win as much as 8,000x your stake on one free spin. Just remember that the result of each spin on a slot machine is already determined by the random number generator – so, no foul play is involved. The online casino already makes a profit from the game's house edge of 3.79%.