Microgaming added a different spin to its latest slots release, Monkey Keno. As the name implies it's a blend between a slots machine and keno-I must admit it's the first time I've come across a slots of this nature. The software developer teamed up with Mahi Gaming by adding a nice touch to the game mechanics which is played with 80 numbers on a 8×10 grid.
The number of payouts are displayed on the paytable to the right of your screen, you must pick the numbers you fancy. The monkey who also happens to be the star of the show (no surprises here), sits on a heap of coconuts above the 'hot' and 'cold' numbers. If you've picked the right numbers he'll hurl a bunch of coconuts your way.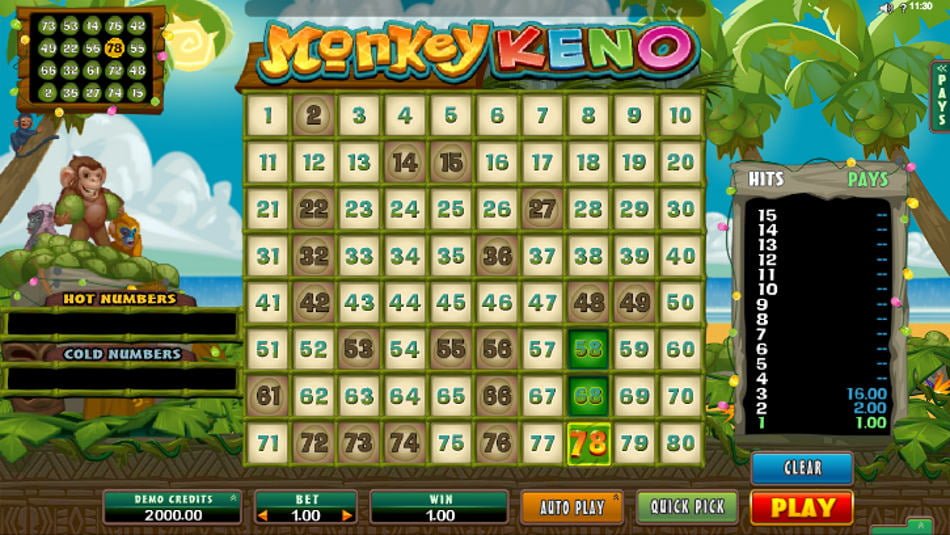 What's The Score?
Since Monkey Keno is based on Keno you must choose between three and fifteen numbers by clicking on the numbers. If you don't have any specific numbers in mind simply touch or click on the 'Quick Pick' option which randomly selects the numbers for you. Once you've selected the numbers you wish to play with and your coin denomination is set, click on the spin button. The monkey will then place 20 coconuts on the grid-the trick is to cover as many of your picks as possible.
Initially I was a bit apprehensive about the game but when I saw that the top jackpot cash prize up for grabs is 10,000x your stake, I changed my tune about the slots pretty quick. The jackpot is won when the 15 numbers you've chosen are covered by coconuts. The best part is if you experienced a nice win with the numbers you've picked you can always keep them or you can pick new ones. An Auto Play feature spins the reels automatically for a pre-determined amount of times.
Verdict
As behooves most Microgaming slots I've played expectations were high. Did Monkey King live up to them? The short answer: yes. Payout wise it gives medium and high staked players something to shoot for with a top cash prize of 10,000 times your stake. The audio track is great which further accentuates the game's tropical theme. It's a must for keno lovers looking for something new and refreshing. I'm not a fan of Keno but even I enjoyed playing the game.