Money Train 2 is the sequel to Relax Gaming's Money Train. It's not always easy for the sequel to top the original. Yet, we hold the opinion that Money Train 2 can knock it off its perch.
Money Train 2 does a few things well. For starters, it sports a decent reel structure of 5 reels, 4 rows, and 40 paylines.
Next, it offers an enticing jackpot of 50,000x your stake. Along with a betting range of £0.20 to £20. Basically, the medium roller real money slots online players can play it like high rollers. It also offers a cracking Free Spins feature with massive multipliers. Re-spins with multiplier wins and a Buy Option. So, far everything looks dandy.
RTP & Symbols
The RTP of Money Train 2 is 96.40% is above that of the industry standard. The scary part about it is its volatility. It clocks an 8/10 on the Casinowhizz slots scale.
The jackpot of Money Train 2 is 50,000x your stake. At a glance, it looks massive. But, when we factor in the max bet of £20 it's not as big. If you decide to go for the max bet it sets you up for a £1,000,000 big ones.
Money Train 2 is available at our best European online casinos. Once you sign up. You can top up your bankroll with a cash bonus of up to 300%. Note, please read the instructions of the bonus carefully before you accept it.
Money Train 2 has the heart and soul of a Wild West game, but the setting is modern steampunk. The low-value symbols are the standard card suits. The game shines with its high-value symbols which include the snipers and the necromancer. They offer payouts from 8x to 20x your stake for a bunch.
American casino gamblers van visit our online casinos USA for the best deals. They offer you rebates on losses. Instant cash withdrawals through Bitcoin, comps, and Free Spins on hand-picked slot machines.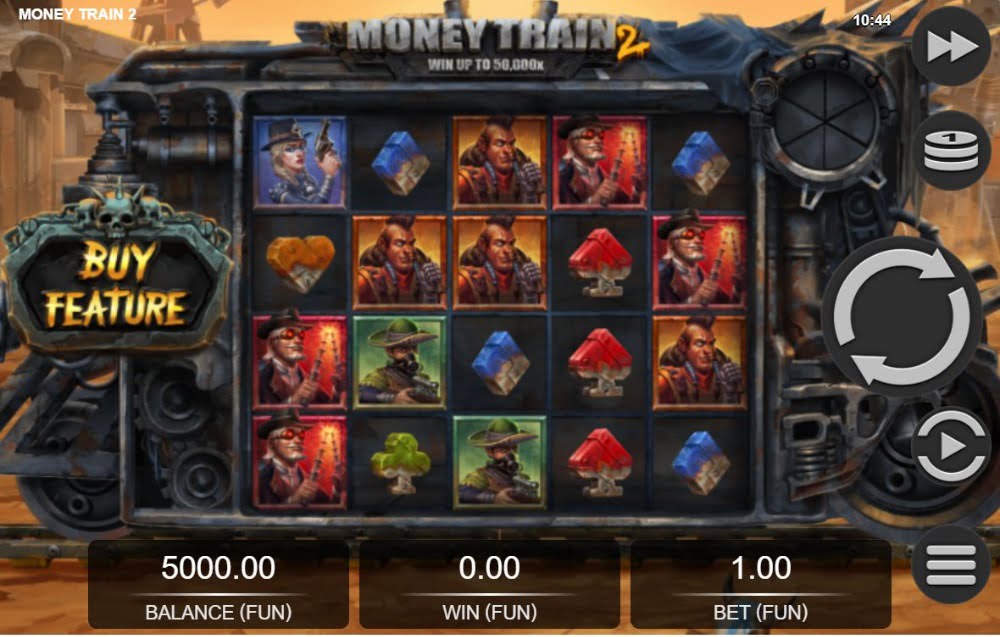 Bonus Rounds
Re-spins
You can trigger the re-spins feature with two bonus scatters. The scatters combine into a multiplier and offer you re-spins. It takes around 30 to 40 spins for two scatters to pitch. That's after they first appeared.
Re-spins without wins increase the multiplier. Interestingly, the multiplier latches onto your original re-spins along with a payout. The biggest payout we won in the re-spins was £700 with a top multiplier of 10x.
Money Cart Bonus Round
Three or more Scatters triggers the Money Cart Bonus and it's your primary breadwinner. It comes with grids, win multipliers and special symbols that can produce special effects.
These effects occur often. However, the character symbols offer generous instant coin wins along with big win multipliers for that something extra. Please note, due to Money Train's extreme volatility. It can take anything from 300 to 500 spins to trigger the Free Spins feature.
As a result, the Buy Option suddenly becomes too much to resist. Herein lies the problem. Because, it doesn't guarantee you a big win, and it's costly to activate. We ran several tests with the Buy Option at the max bet. Every time we came of third best.
Extras
When you strike a winning combo in the base game. The value resets and it goes into the win multiplier. Each of the main symbols has a special ability:
Bonus symbol: the value of the multiplier is 1x to 10x.
Golden bonus symbol: the value is 20x to 200x.
Payer: It adds its value to the other symbols on the reels.
Collector: collects all symbols as well as its own value.
Collector/Payer: Throws its own value to that of the other symbols. Moreover, it adds the new value to the symbols on the reels.
Sniper: increases the value of 3 to 8 symbols.
Necromancer: it jolts 1 to 6 symbols such as the Collector, Payer, or Sniper to life again.
Reset Plus: increases the value of the starting spins by 1+.
Persistent payer: on each spin its adds its value to the other symbols.
Sniper: it doubles the value of 3 to 8 symbols.
Collector: collects the values of the other symbols and combines them with its own value.

Bonus Buy Option
If you don't want to wait for 3 scatters to appear. You can trigger the Money Cart Bonus Round at a cost of 100x your stake. Moreover, the Buy Feature increases the RTP to 98%. Note, the Buy Option is not available to UK casino gamblers.
Our Two Cents
Personally, we're not fans of the Buy Option. At least this one. We ran a few tests with the free slots version to see how things pan out. At the maximum wager of £20, we activated it at a cost of £2,000.
Upon the conclusion of our free spins, we only won £440. The second time around we were a bit luckier and won £1140 with 58x multipliers. However, we decided to give it another go. We managed a 46x multiplier and won £770.
Therefore, we've come to the conclusion that the Buy Option is a tad too risky even with dummy money. The bottom line here is, you're better off with the base game and the re-spins.
Verdict
The original Money Train is still popular with real cash slots players. With a jackpot of up to 50,000x, Re-spins and Free Spins with big multipliers. It has all the toppings of an epic slot.
Had it not been for the Re-spins, play in the base game would be a slog. Furthermore, it's hard to trigger the Free Spins. The volatility can play havoc with your bankroll if you play recklessly. By this, we mean when you start to chase your losses. Now, if you don't want to sit out the Free Spins. To get a hang of the game, play the slots for free online.
That is to wait until 3 scatters finally pitch. You can try out the Bonus Buy option. Please use it with discretion because it's expensive. Even though it's speculative at best; as far as the payouts go at least. It does increase the RTP to 98% and it guarantees you those elusive free spins.
To be honest Money Train is a crazy yet very exciting slots. We've seen screenshots of up o 3,000x your stake. And, we heard a few players cry in their beer. It does top the original as far as its special features and jackpot go. In the same vein, we also recommend Dead or Alive 2.