Midway Madness i-Slot by the popular Rival Powered software is an online casino game that takes a player back to their childhood memories of those trips to the amusement park. This game is full of fun, and winning the jackpot in this 5 reel and 20 payline slot will definitely be remembered… To play this slot for real money click on anyone of the casinos in the "Where to play" section above or the button below.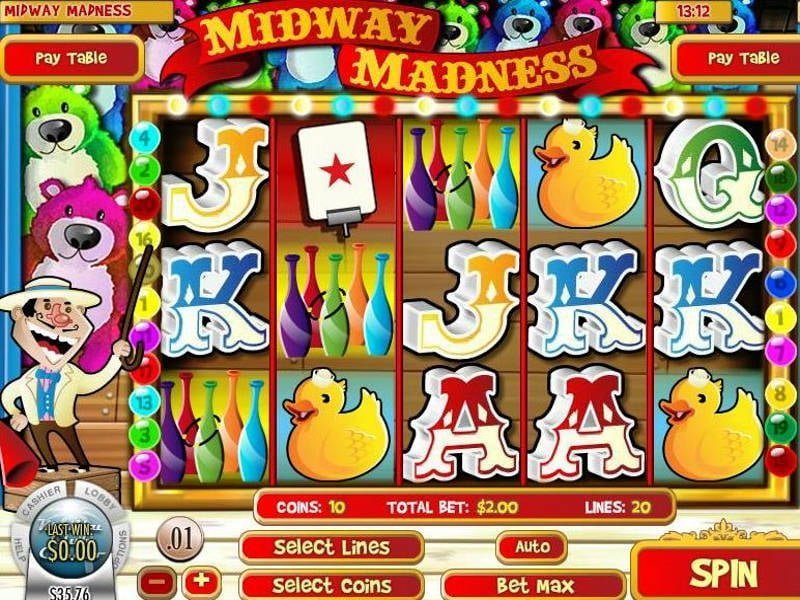 Midway Madness I-Slot Explained
i-Slots are a great advancement to the normal slot specially created by Rival Powered. Only playable online, the 'i' in i-slot stands for interactive, and it's the decisions made by the player and their skills that decide how far they progress. There are also bonus rounds which are really thrilling because of the different mini-games they hold. In the Midway Madness i-Slot there are three bonus rounds, as well as various crazy and vibrant icons.
Symbols & Features
Separated into three different mini-games – rides, games and food – each has their own icons which set them off.
Game One – Rides: The wild clown symbol will finish a winning one when they appear on the 1st, 2nd and 5th reel. This round is set off when three or more Bumper Car symbols appear.
Game Two – Games: Three or more Skeet Ball icons activate the free bonus round.
Game Three – Food: When three or more Popsicles come on screen; the bonus game triggers.
Tickets – As scatters, three or more of them will get a player up to 25 free spins and a 3X multiplier.
Dodgem car – Also a scatter, and three of them sets off the bonus round.
Bonus Round
Bumper Car Bonus Round: Get more coins by using dodgems to ram into other drivers
Skeet Ball Round: Toss balls to earn more coins
Ice Cream Bonus Round: Catch the ice cream the vendor throws in the air on a cone
Other icons are the rockets, duck, basketball hoop and ferris wheel amongst other.