Merlin's Mystical Multipliers is an online slot from Rival Gaming. It's not a mainstream developer of online slots,  yet it's been around for a very long time. As a rule of thumb, we're not big fans of the Rival software. The real money slots studio tends to take "shortcuts" when it comes to the quality of its products.
The playing grid of Merlin's Mystical Multipliers offers a combination of 3 reels, 3 rows, and 3 paylines. This is where the game goes old-school and it's enough to put you off straight away. If you like slots for real money less all the theatrics by all means take it for a few spins.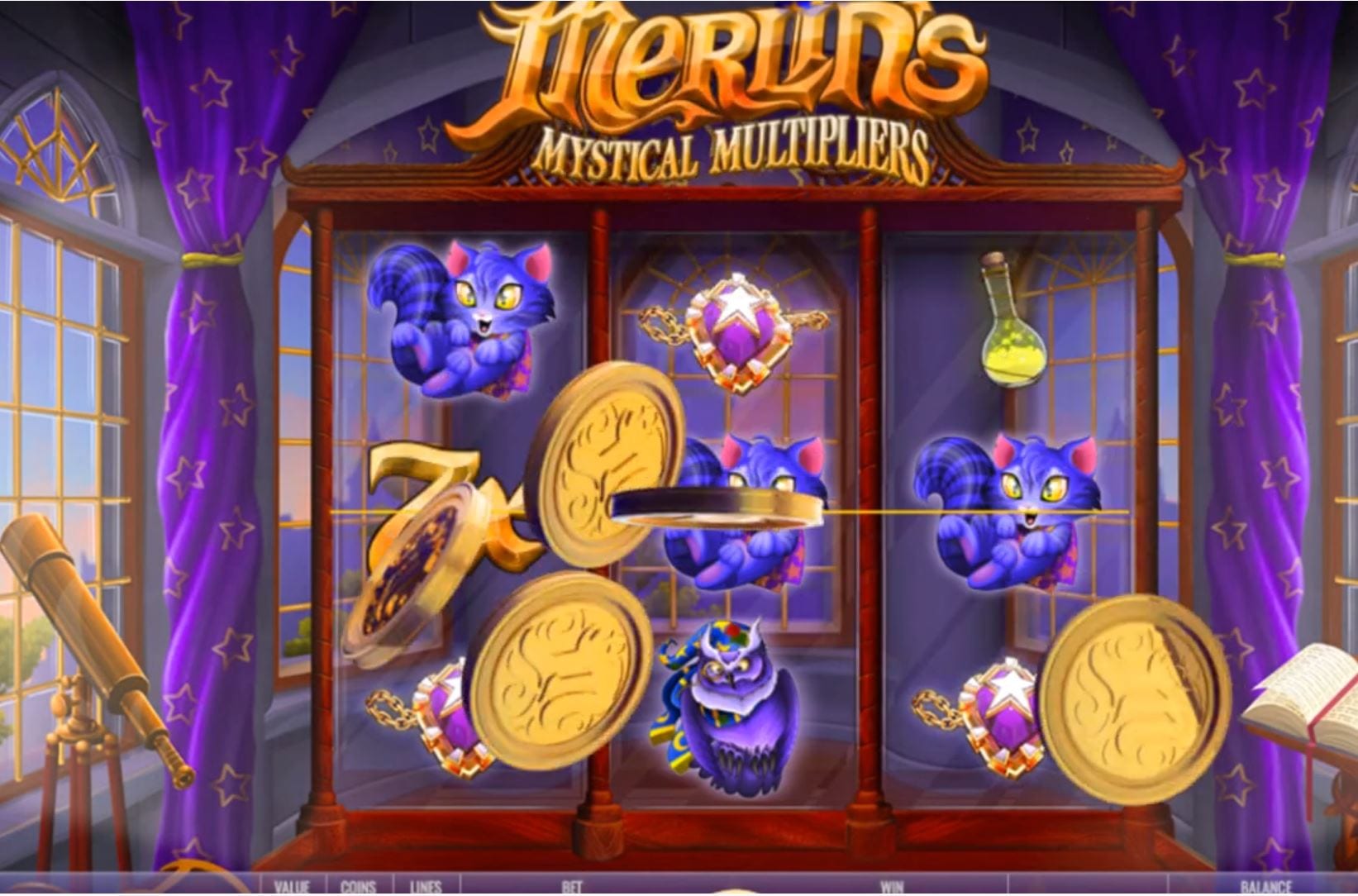 Jackpot & Coin Betting Range
The math model of Merlin's Mystical Multipliers is an interesting one. The volatility level is low, which is something you don't see often. The top payout is in line with that, as it stands at 600x your stake. Not much, but it's in line with our expectations for low-volatility online slots.
Penny pinchers can dive into the action for as low as $0.03. Which is peanuts to be honest. If you want to up the ante you can do so at a max bet per spin of $45. Players who go all out can win a max win of $27,000.
Merlin's Mystical Multipliers is on offer at our best USA online casinos. Once you register an account you become eligible for massive bonuses on deposit. And, you can participate in daily promotions.
RTP & Symbols
The RTP of Merlin's Mystical Multipliers is a major disappointment since it's only 94.86%. Needless to say, it's way below the industry average of 96%. Seriously, a low variance slot machine with an RTP of below 94.86%. It's not often we're at a loss for words but we are here.
Merlin's Mystical Multipliers is a game about everyone's favorite wizard, Merlin. You'll pay a visit to his tower and it's a colorful trip. The symbols are all thematic as well. It's refreshing to something different aside from the standard card symbols. Instead, there are hats, spell books, owls, cats, jewels, and potions. The production values are good, so all is fine on this side as well.
Bonus Rounds
Multiplier Wilds
There are no free spins or other bonus rounds in Merlin's Mystical Multipliers. Therefore, it only leaves you with the Merlin's Mystical Multiplier Bonus. Moreover, the special feature drops a nice win multiplier now and then.
It works like this. There are special Multiplier Wilds that can pop up anywhere on the reels. They substitute the other symbols in winning combos as well. When they do; they also act as win multipliers of 7x for that win. Now, if you get three Multiplier Wilds on a payline, you'll win the jackpot of 600x.
Verdict
As we said in our opening paragraph we're not fans of the Rival software. Suppose you can now see why we say so. If we take a final look at Merlin's Mystical Multipliers. The simple 3×3 formula won't win any new slot players over. Unless you're a die-hard fan of course.
Merlin's Mystical Multipliers Rival gets one or two things right. The visuals are good, the symbols are thematic and it's a low-variance slot machine. That's a nice combination for casual slot players. More importantly, the Multiplier Wilds pops up now and again. They can inject your bankroll with a 7x multiplier win – nice! That's as far as this Rival slot road goes for us.
Despite Rival's "best effort", Merlin's Mystical Multipliers comes up short by a not too distant country mile. The small jackpot makes sense as it targets the low roller. However, the lack of bonus rounds is disappointing; not to mention the shoddy RTP of 94.86%! Pardon the exclamation mark.
As slots experts, it boggles our feeble minds that a software provider rolls out a cruddy game like this. Do we recommend Merlin's Mystical Multipliers slot? No, we don't unless you want to see your bankroll go up in flames. Furthermore, we think Rival follows a carrot and stick approach with the 7x multiplier win. Not to mention the fact that it only has a single bonus round and no Free Spins feature. Enough said, Casinowhizz out.
We suggest you rather play Betsoft's Take Santa's Shop slot. It's also a low variance slot with an RTP of 96.08%. Plenty of moving parts including a Bonus Buy, Free Spins, Ornament Bomb Counter, and Wilds.