Max Quest: Mission Amazon is Betsoft's newest 3D slot release for 2020. Considering the theme, and the graphical prowess; Betsoft comes up with an absolute stunner!
The slots for real money belongs to the Max Quest series. The first slot release in the series is Max Quest: Wrath of Ra which was an absolute gem.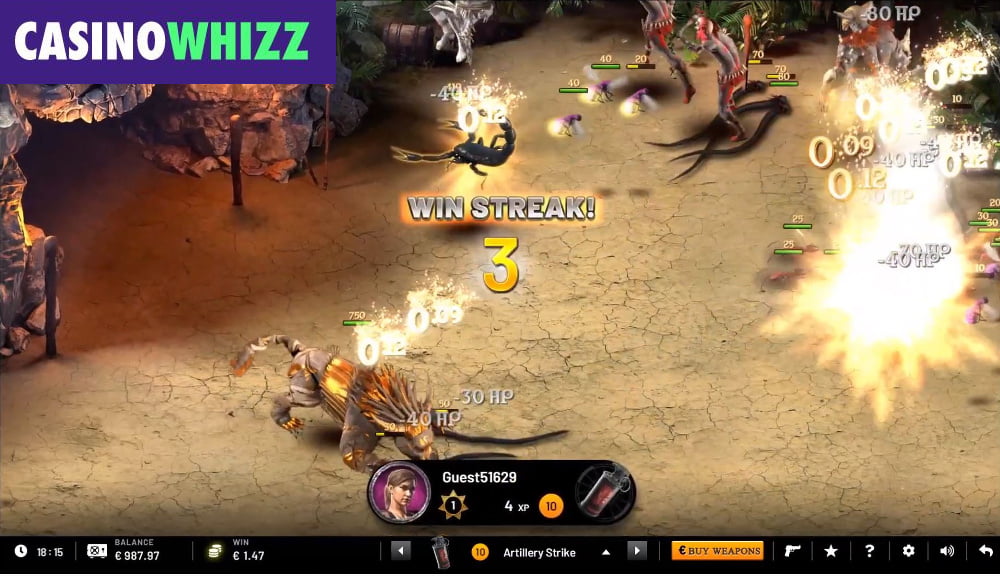 Coin Betting Range & Jackpot
The world's leading developer of RPG-style video slots is back with a team of explorers and soldiers. The betting range is an interesting one as well. Players can play the game from $0.01 to $0.50. Moreover, there are several rooms and you can decide which room you want to play in.
The room you'll play in depends on how much money you're willing to pay for a bullet. You're not playing PUBG but for a slot game that branches out in real-time tactics, play is amazing. At least in principle. Players can now play Max Quest: Mission Amazon at our greatest online casinos in the USA. New depositors instantly qualify for a deposit bonus code.
Max Quest is the leader of the search party in pursuit of hidden treasures. Whether it's searching for lost tombs among the sand-swept dunes in Egypt or in the jungles of the Amazon. RPG-style slot machines like the Max Quest series play exactly like video games.
Therefore, it's safe to say that the days of the classic slots are over. The online slot ushers in a new generation of casino games. Heck, Max Quest: Mission Amazon even makes the Megaways slots look pale in comparison. It innovates like never before! Players have to complete missions and fight against their enemies to survive.
Max Quest: Mission Amazon is an interactive slot that offers a payout for every mission and enemy you defeat. More importantly, the jackpot on display is 6,000x your stake. Just like the previous Max Quest release. The more missions you complete the stronger your enemies become. Therefore, you must continually upgrade your kit and weapons.
RTP & Symbols
Now, the RTP or average return of Max Quest: Mission Amazon is 97.50%. For lack of a better word, it's absolutely, nuts! The symbols that appear in the game are the different types of monsters. Followed by our hero Max Quest and his team.
Max Quest – Mission: Amazon Bonus Rounds
Play begins in the lobby and you must choose a room you wish to play in. The coin betting range of $0.01 to $0.50 resembles the cost of a bullet. Furthermore, your Avatar within the game displays your health, XP level, and enemy kills.
Now, once you're inside the room; you'll see the enemies and the various in-game features. To kill an enemy you must tap on the target. What happens if there is no target? The bullet will ricochet of an object until it hits or kills an enemy. You can also lock onto a specific enemy and rapid-fire is available too.
Weapons
Bear in mind that Max Quest is a highly interactive slot machine. As you fire your weapon you can purchase crates with random weapons. It can be special weapons, kit, or extra ammo. As you kill your enemies, you can snatch their weapons as well. If you find a special weapon their bullets won't cost you a cent. However, they don't contain many bullets which means selective shooting is in order.
The weapons you pick up from enemies, or the ones that you can purchase in-game vary in firepower. You can shoot one or several enemies. The most important weapons are mine launchers, flamethrowers, lasers, plasma guns, and artillery. Players will start with a pistol and a shotgun. As you work your way up the levels the more powerful the guns become.
The only way to level up within the game is to kill enemies. The more kills you have, the more XP experience points you'll get and the higher your standing on the leaderboard.
Quests & Rewards
As you play, you'll receive side quests which you must complete for the extra kit, weapons, and ammo. Furthermore, there are 5 missions or quests. Each quest has three different objects you must collect. For example, Betelgeuse's Passion requires a Golden Idol. Then a Jewel Encrusted Goblet of Wisdom. Lastly, the Heart of the Betelgeuse Ruby. You'll receive an instant cash prize for every side quest you complete.
The enemies you defeat also carry gems. As you kill them they'll drop diamonds, rubies, emeralds, or sapphires – pick them up. You'll win a cash prize depending on the gem you pick up.
Enemies
The playing ground or rooms have an assortment of enemies. You can kill them one by one or you can kill them in clusters. To kill an enemy you have Auto-Fire and Auto-Lock features at your disposal. Interestingly, players can play together to shoot a boss enemy. Bear in mind, they'll have to divide the rewards though.
There are 12 standard or weaker enemies that include ants and skull bashers. The boss enemies are the Spider Queen, Primal King, and the Stone Guardian.
Verdict
Betsoft Gaming's Max Quest: Mission Amazon is full of innovative streaks since it plays and looks like a video game. Play starts off in a room teeming with enemies which you must shoot. The more kills you have the more XP you'll get. You'll also improve your position on the leaderboard. Each level brings its own degree of difficulty and plays host to a boss and lessor monsters.
We suggest you read the game instructions in the paytable before you play it. It sounds complicated since it brings a different playing experience to the table. Once you got the hang of the game it's unadulterated fun all the way. Players can join forces to take down enemies but they'll have to share the rewards equally.
The bigger the kill; the bigger the reward. Finally, the jackpot of 6,000x and the RTP of 97.50% takes online slot to play to new heights. Max Quest: Mission Amazon definitely merits a few spins or shots. With its consistently engaging gameplay. It stands out as the most thrilling slot release of 2020. Gravitas!