Krazy Klimber is a Yggdrasil Gaming slot with 5 reels, 3 rows, and 20 paylines. Yggdrasil's partner studio Reflex Gaming designed Krazy Klimber. Yggdrasil designed some of the best slots for real money, we've played so far. So, let's take a look at what's on offer here.
If you like slot games with a King Kong theme you'll love this one. Perhaps we're getting a tad ahead of ourselves. Moreover, there are two math models to choose from as well. Each with its own RTPs, volatilities, and max wins. Sound exciting? It sure is. More importantly, Reflex Gaming tops up the package with a Climb and the Free Spins features.
The coin betting range of the Krazy Klimber online slot is wide. The minimum bet per spin starts at $0.20 per spin and the max bet is $100. Once you've read our in-depth slot review of Krazy Klimber. You can play the real money slot at our best iOS mobile casinos online.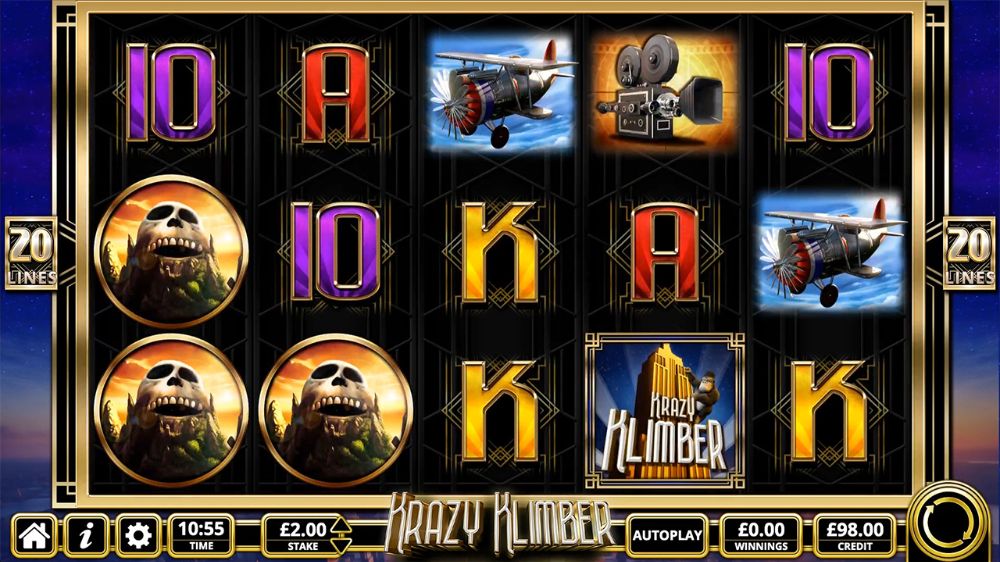 RTP & Symbols
There are two math models that you can choose from. The first one has an RTP of 96.06% with a low volatility. The jackpot on offer is 1,128x your stake. You can also go for the alternative with medium volatility and a bigger jackpot of 3,902x. Note, the RTP of this version comes in at a grim 94.09%. Needless to say, it's similar to that of life-changing progressive jackpot slots.
Thematically the Krazy Klimber is all about King Kong scaling a tall building. Just like in the movies, there's no hiding his inspiration. The symbols on the reels compliment the theme.  Let's start with the low-value symbols. They are the card ranks from Ten to Ace. By way of payouts they don't offer much.
The high-value symbols bring a bit more punch to the paytable. You'll see cameras, planes, skulls, and Kong Wilds. Now, the Kong Wilds substitute adjacent symbols when they form a winning combo. The symbol payouts are decent. Finally, the visual fidelity of Krazy Klimber is not as sharp. To be honest the online slot looks more like a decade-old slot.
You won't find Yggdrasil's slot machines in the libraries of our best online casinos in the USA. Instead, you'll find RealTime Gaming's newest release Spring Wilds.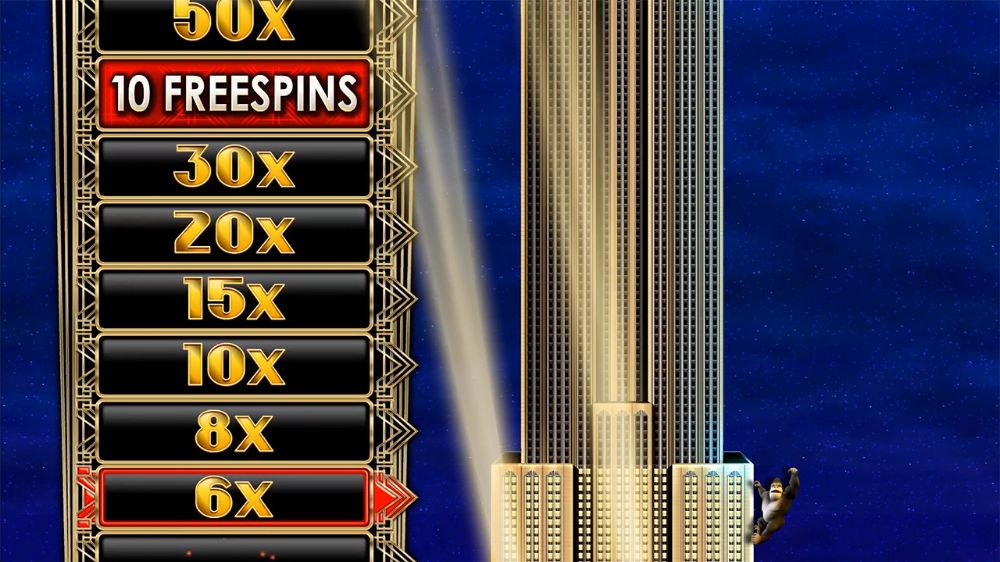 Bonus Rounds
Climb
To get to the Climb Feature, you need to find 3 Bonus symbols on reels 1, 3, and 5. Then, you'll get to a small minigame with the main character climbing a skyscraper. He can get to various prizes and net you those rewards as well. The win multipliers range from 10x to 1,000x. However, you can snag up to 20 free spins via the bonus round.
Free Spins
When you trigger the Free Spins Feature; you'll snag 10 or 20 free spins as well as a small coin win. Each free spin can have up to 3 Super Wilds. These are Wilds that cover entire reels for the big wins.
Krazy Klimber Tips & Strategy
Our stay with Krazy Klimber was brief for obvious reasons. We played the slot with a real money bankroll of $100 at an average bet of $0.20. On that note, we picked the version with the higher RTP. The max win might be lower but the math model performs a bit better overall, or so we thought.
Slots with below-par visuals usually perform in the payout department. Alas in our case things did not pan out as we envisioned. Even though we received a few $0.80+ wins in the base game. The hit frequency spoiled the party for us. More to the point, no big wins of 5x to 10x our stake. Perhaps we expected too much. Everything is not that bad though. We did trigger the Climb Feature once for a cash prize of $3.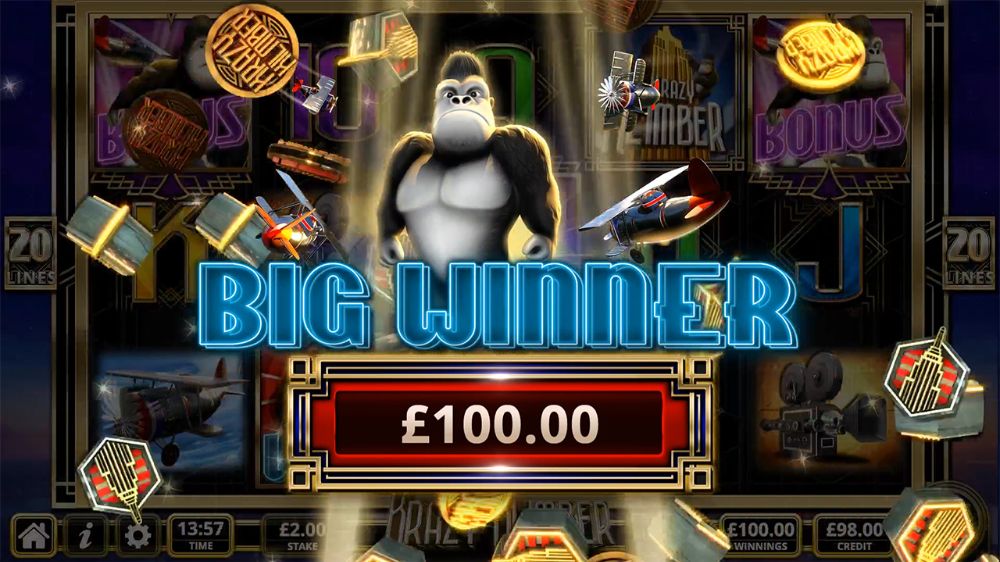 Verdict
Reflex Gaming's Krazy Klimber doesn't tap into the goodies that makes the regular slots swing. The overall game mechanic is underwhelming, and, let's not forget about the copy and paste graphical display.
However, it does give you a choice between two RTPs, jackpot sizes, and volatility. As expert slots reviewers we further knock the slot's payout potential. If you're chasing the jackpot of 1,257x with the 96.10% RTP. Guess what? You'll have to make at least 1.5 billion spins to win it! For such a low payout potential it's not very encouraging, now is it?
The bonus rounds are thematic and okay, to a degree at least. To that end, you can drop a few coins on Crazy Klimber. However, the game's inconsistent volatility makes it more of a slog than fun. Rather play iSoftBet's, Royale With Cheese Megaways. Not only is it a Megaways slot. It brims with captivating bonuses, a 50,000x jackpot, and an RTP of 96%. In hindsight, the slot offers you a max of 117,649 ways to win.