Keno is an extremely easy game to play and the odds are ever in your favour. Basically, a combination of lottery and bingo, all you need to do is pick a few lucky numbers to win.
Why Should You Play Keno?
Keno has come a long way since it originated in Ancient China over 2,000 year ago, and since becoming available online, it's grown in popularity with players out there. Played on a digital card consisting of 80 numbers, you can choose up to 15. Once you begin playing, the game will randomly select certain numbers. If your number has won, it'll be highlighted in yellow; numbers drawn which you didn't pick will be crossed with a red X. Considered a game of chance, the best way to ensure a win is by selecting numbers across the board.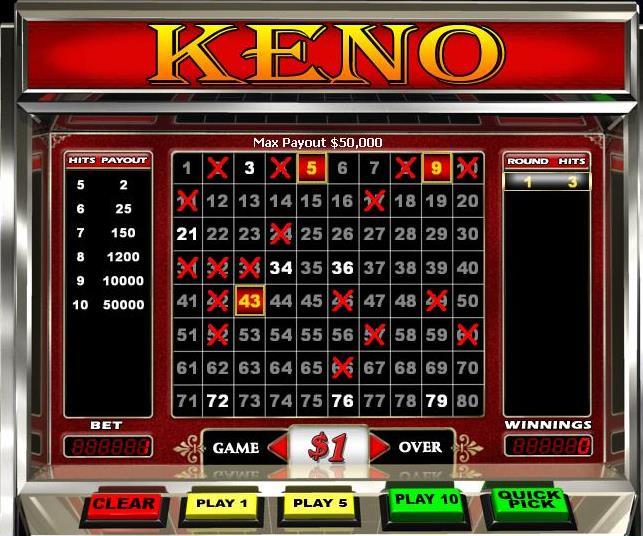 Keno Playing Options
If you're a novice, then first Play for Fun to get a feel for the game before you shift to Play for Money and wager a bet. To start playing keno:
Use the arrows next to the various denominations and select to play for 1c, 25c, $1, $5 or $10

Hover your mouse over the number you want and click to select it

Click Quick Pick to automatically have random numbers chosen for you

To remove the entire selection, click Clear

Press Play 1, Play 5, or Play 10 to play 1, 5, or 10 games in succession using the same numbers
The Keno Interface Explained
Quick deposit – Quickly transfer money into your account.
Cashier – Make a Deposit, Withdraw, claim a Coupon or check your history at My Account.
Menu – Displays Player Options (such as changing the Sound and adjusting the game to Full Screen, etc.); use Screen Capture to take an image of the game display to email support with any queries you may have.
Help – Live Chat allows you to speak directly to customer support, and in the Help tab you can read more about how to play the game.
The maximum payout for keno is $50, 000; all other payouts can be viewed on the paytable in the game. Wins are dependent on how much you increase your bet per game.
Game Options
At any stage of the game you can quickly make a deposit by clicking on the Cashier tab. In the Menu tab, two pop ups will appear: Player Option and Screen Capture. In Player Option you can adjust the Sound, choose to have the Dealer Voices on, and even change the Card Speed. Take a screenshot with Screen Capture to record your win, or if you want to email the image to a support agent with any questions you may have.
| | |
| --- | --- |
| Maximum payout | $50, 000 |
| Number of consecutive games | 1, 5 or 10 |
| Screenshot capture | Yes |
| Help tab | Yes |
| Quick pick | Yes |