aways from Games Inc has 8-512 win ways, 3 reels, and 3 rows. Games Inc is a UK-based studio that develops slot games for online casinos situated within the United Kingdom. Simply put, we review them and of course, we love playing new online slots for real money. For what it's Games Inc and Relax Gaming are now slots partners in crime.
Make no mistake, we've seen our fair share of software slots providers to date. What amazes us is not only the sheer number of free slots in circulation but also the quality. However, there's one trend we're seeing a lot lately and that's the rise of the Megaways slots machines. Prior to Joker Megaways, we brought you Megaways Jack and Majestic Megaways. You're more than welcome to take a peek at them again. You can play Joker Megaways from £$0.10 to £$100 per spin at our instant withdraw UK online casinos. The volatility is so sharp brace yourself for a lot of grinding.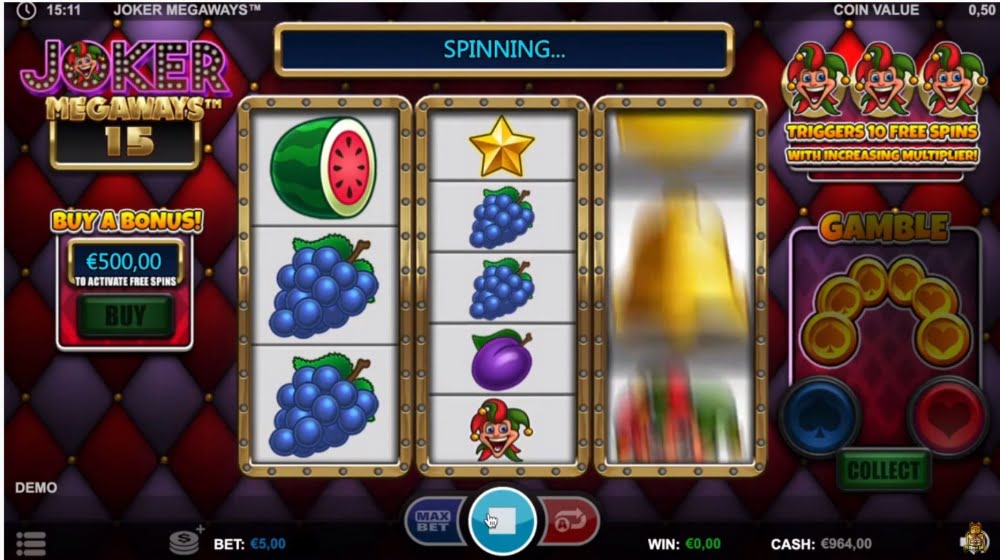 Jackpot
If you are a regular visitor to Casinowhizz.com. You'll notice that it's also the first time we take a slot game from the company onboard. Although Joker Megaways is another 'Megaways' slots. There are a few subtle differences between the previous Megaways slots and Joker Megaways. For example, Joker Megaways has a maximum earning potential of 10,000x (£$1000,000) your stake. It's significantly less than that of the other Megaways slots, and it has a Vegas-style fruity theme.
Despite its simple reel structure. The visuals are eye-popping. The gameplay is all about symbol upgrades. There's a Free Spins feature with progressive multipliers of up to 12x which makes the game pop! More importantly, it also has a Buy Option. Short, and sweet. Just the way we like it! Before we continue we noticed the following. The number of symbols on the reels increases from 2-8 after each spin. But, the Megaways mechanic lacks oomph. The best you can do is when you maxed out the reels with symbols is 512 ways to win. Compared to the previous Megaways behemoths, Joker Megaways comes up a tad short here.
RTP & Symbols
Joker Megaways has an RTP (theoretical return) of 96.56%. The RTP sounds reasonably good to us, but what about the Hit Ratio? Well, it can be anything from 13% – 25%. Even though it has a free spins feature with progressive multipliers. The 512 max win ways have us concerned.
Technically speaking, what it gives with the one hand it takes with another. Another thing we've picked up about Joker Megaways. And unlike the other Megaways slots it does not have a Cascading System. When you see the symbols on the reels you'll think you're in a fruit shop of sorts. There are lemons, cherries, grapes, watermelons, joker (scatter), bells, and stars. You at least 3 symbols of the same kind to score a payout. And, when 3 stars pitch you'll win 5x your stake.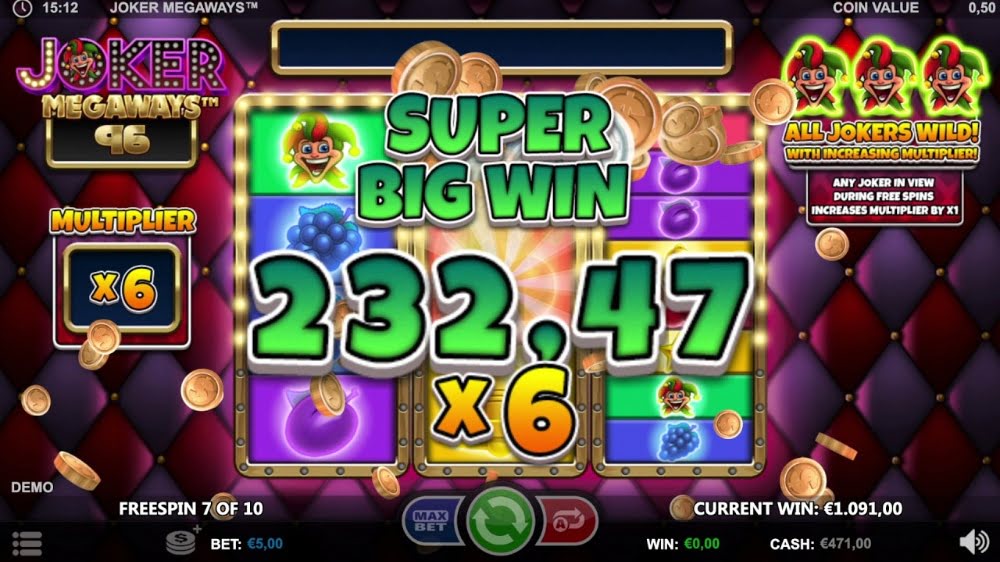 Bonus Rounds
Gamble Feature
Joker Megaways does not offer much in the main game. There is a Gamble Feature if you want to double your wins. The maximum cash prize you can win with the feature is 500x your stake.
Free Spins
The Free Spins feature is the bank of Joker Megaways. Before you can trigger it you need a few keys to unlock its vault. In this case, 3 Joker scatters suffice which triggers 10 free spins. The most important symbol during the Free Spins is the Joker because it serves as the Wild. The Joker Wild does the usual substitution duties when it forms a winning combination. Now, the Free Spins feature starts with a progressive multiplier of 1x. Every time the Joker pops up on reels 1, 2 and 3 the multiplier increases by 1+. The top multiplier in the free spins is 12x.
Buy Option
If you want to skip the base game and dive right into the Free Spins. Click on the Buy Options, but it comes at a cost of 100x your stake. On your next spin, three jokes appear on the reels which is enough to trigger the Free Spins.
Verdict
Sometimes you get a tune in your head that just won't go away. No matter what you do you can't seem to get rid of it. Game Inc's, Joker Megaways is just such a game, albeit without the tune bit though. Let's start with the not so hot first. It only has 512 win ways. Plus, there's no Cascading Mechanic which takes the shine off the game a bit.
If it had a Tumble Reels feature it would have been one glorious online slots. Even though it lacks the said feature, payouts are still very good thanks to our little friend the Joker. The place you really want to be is the Free Spins. You can trigger it by using the Buy Option which will set you back 100x your stake. Or, you can wait for 3 Joker scatters to appear.
The good news about the free spins feature. You can build up your multipliers up to 12x, and you'll receive a payout on every 2-3 spins. If you hit paydirt you'll walk away with the top cash prize of 10,000x your stake. So, it's not only the Joker that will have a smile on his face but you too. Once you find your groove, Joker Megaways strikes the perfect balance between creativity and its Megaways elements.