Yggdrasil's Incinerator slots hit the virtual gaming scene on 21 January 2016. The game has a sci fi theme where space junk is fired up into space. When the vendor first rolled out the game it stated the following:
"Welcome to the world of junk and space debris, where you control the biggest incinerator in the known universe! With Incinerator you will always be close to your next super big win thanks to the wild pattern feature that occurs after three consecutive drops."
One thing about Yggdrasil it doesn't do well with low variance slots. Incinerator continues in the same spirit. It features 20 paylines that pays from left to right and 5 reels. Instead of spinning reels they drop down from above. When the symbols appear in a winning combination they explode and more symbols cascade from above creating additional wins. It's pretty similar to NetEnt's Gonzo's Quest. The wild pattern comes into play when you have three successive wins. If you hit more of them in row it can be one heck of a ride.
I must warn you the average return to player (RTP) payout percentage is 94.5%. With a payout ratio this low it pays out on average every 6 to 7 spins. When you hit 5 blue wheels at the max. bet per spin you'll receive a jackpot payout of 200 coins. It's a tad low to my liking. Incinerator lacks the usual free spins and scatters. You mission in the game is to turn trash into treasure.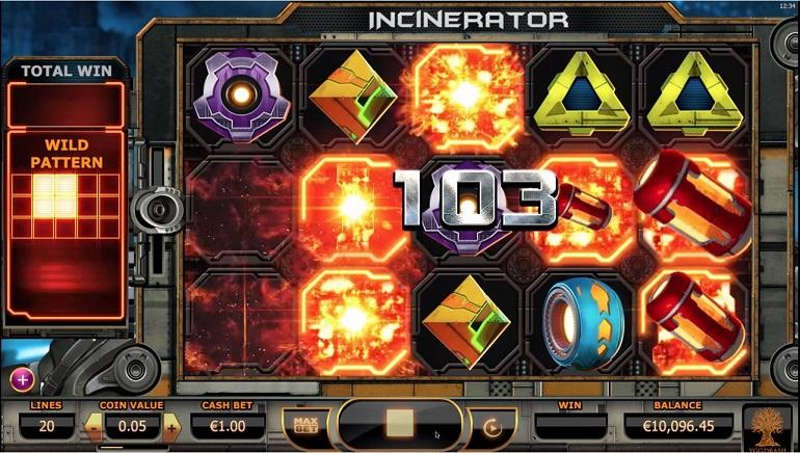 Game Play
The coin value is huge. It starts off with 0.01 up to 10.00. You have loads of betting options at your disposal. Bets can be placed from £$0.20 up to£$200. Just a heads up. The game is tight, if you're a low roller you might want to keep your bets per spin down to a minimum.
Bonus Modes
There are no bonus games in Incinerator which makes it less appealing. It does not offer the customary free spins with multipliers or scatters. Most slot games with a cascading reel feature comes with a multiplier-not this one. The meter to the left side of you screen indicates a winning pattern. The extra wilds enjoy centre stage here. If you hit three cascades in a row they're turned into wilds.
The buck doesn't stop here. It's repeated when you hit three more wins. With each cascade win the wild offering improves. The slots really takes off when you hit 6 wilds which pays out a hefty chunk of cash. That said, because it's a high variance game it's pie in the sky. You might also want to keep a close eye on the reels-they spin at a blistering pace. All the action occurs during the base game which is rather unusual.
Verdict
Let's do the math quickly. Incinerator offers no free spins, no scatters just cascading wilds. If you manage loads of cascading wilds the game will go nuclear on you in terms of wins. But I won't hold my breath if I were you.