Once in a while a video slots comes along and knocks the living daylights out of its competitors. Immortal Romance is a 3D slot from Microgaming. With 243 paylines, 5 reels and a massive non-progressive jackpot of 3,645,000 coins it's going to be very difficult to trump.
As if this is not enough the house edge of the slots is 4% and it features 4-tiered bonus (free spins) games. The game is further amplified by a soundtrack that's not only eerie but scary too. The graphics are sublime and the game play is simply flawless. It can be played for free or for real cash on all mobile phones and computer desktops.
Immortal Romance has a vampire theme to it albeit one with a "dark take of love and intrigue". What are the key features to look out for? The first one is the 'Wild Desire' which is randomly triggered but the star of the game is its 'Camber of Spins' feature. It's triggered when you hit 3 or more Lion Door Knocker icons. What makes this feature tops is that it comprises of 4 levels each with its own character: Amber, Michael, Troy and Sarah. The good news is that the free spins can be re-triggered.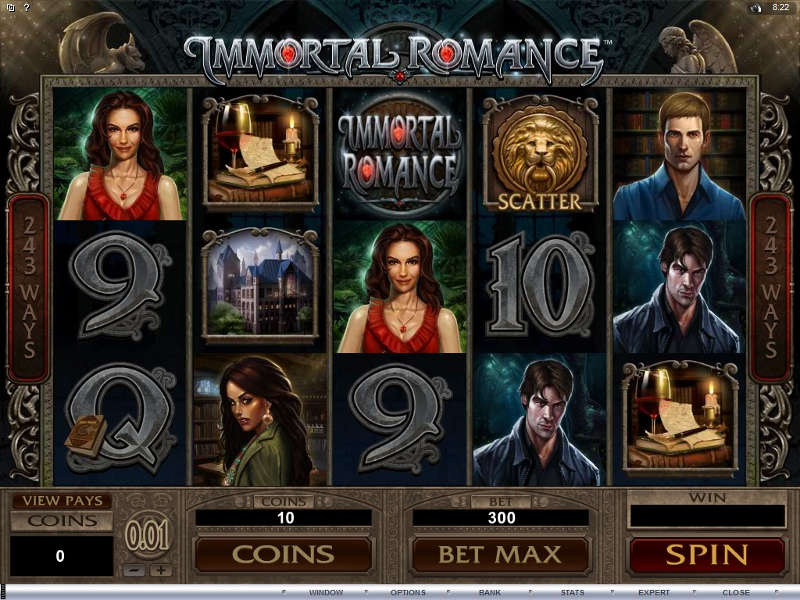 Game Play
Before you get embroiled in the game's supernatural love theme get your betting options sorted first. The coin range is 0.01 up to 0.2. Bets can be made from £$0.3 up to £$6.
Bonus Games
Wild Desire: This is a random bonus feature and a rare treat when it does pop up. You'll receive a re-spin where you can win up to 5 but 1 or 2 is the norm, so don't expect more.
The Chamber of Spins: As the name implies this chamber or screen is unlocked when 3 or more golden lion scatter icons appear any where on the reels. It features 4 characters. As the game unfolds each characters' secrets and payouts are revealed.
Amber Free Spins: This is the first story line that's unlocked. It introduces Sarah's best friend, the witch. It offers 10 free spins coupled with a multiplier of 5 times. I must say that she's quite a feisty little character and speaks her mind even if it means going up against the head honcho Michael…
Troy Free Spins: Let's just dub him the playboy or pretty boy of the game. By way of vampires he's only 200 years young and on a mission. He's trying to figure out how Michael his 'master' fell in love with the beautiful Sarah, a human. When this feature is triggered you'll receive 20 free spins as well as random multipliers.
Michael Free Spins: He's the boss and kingpin of the game and only 800 years old. He's so old that he completely forgot what it was to have been human once until he meets and falls in love with Sarah. His unconditional love for Sarah will land you 20 free spins. What I like about this bonus game is that the icons on the reels tumble down resulting in bigger payouts.
Sarah Free Spins: She's the dame responsible for all the fuss and will stop at nothing to leave her mark in the scientific world. The question is will her burning desire for success have dire consequences for her? Nevertheless, she's an on the go girl that lives in the spur of the moment and her actions awards you 25 free spins. The spins have wild vines attached to them that replicate across the reels offering you huge wins. Suffice it to say in this slots she's the bell of the ball and not Michael as much as he likes to think that he is. The key on the third reel is the Wild Vine symbol. It randomly turns the symbols into wilds. If you hit between 2 and 5 scatters you can win up to 4 extra free spins making it 29 in total.
Verdict
Immortal Romance is a spellbinding slots that's entwined with so many twists and turns that it will leave you gasping for air. The game's mechanics, payouts and characterization are well-balanced and not forced making it a spectacular game to play. The standout features of the game is the Michael and Sarah free spins games and then there's the huge jackpot of 3,645,000 coins.