Hyper Wins is an RTG slot that brings out some nostalgia in full force. Realtime Gaming is a company that produces 3×3 slots and this is one of them.
Moreover, it's colorful, juicy, and there are 27 ways to win in total. That's nice for an old-school slot, something you don't see very often.
You can cash in on Free Spins, Hyperwin, Hyper Prize, and Lucky Features. If you want to increase your odds at winning playing slots. Please have a look at our online slot tips by the experts.
The volatility is high, with a 5,000x jackpot. You can win it on any spin. The betting range starts at $0.20 and the max bet is $10 per spin.
Nothing big for high rollers. More importantly, Hyper Wins is available at the best USA casinos online.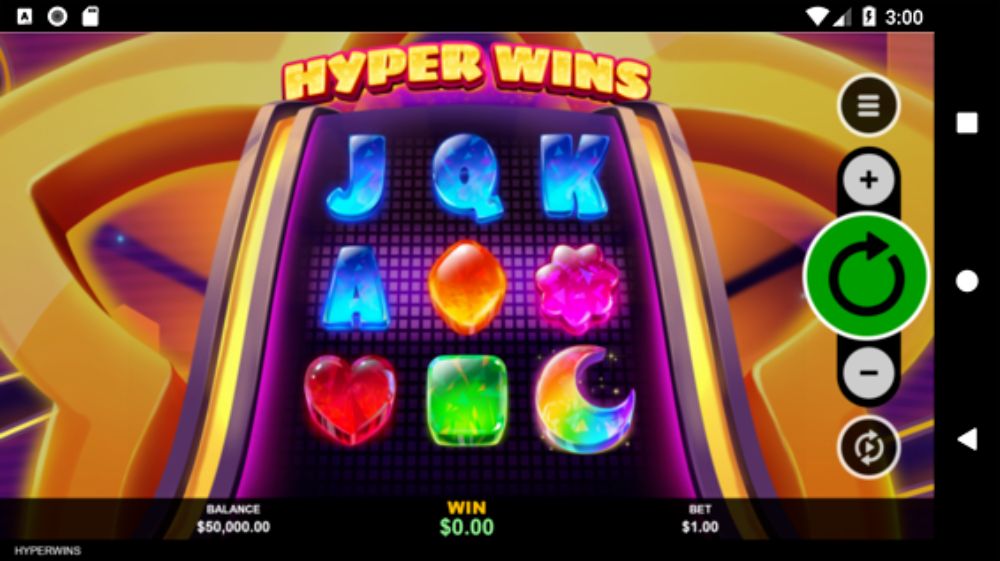 RTP & Symbols
There's no official word on what the RTP or payback rate of Hyper Wins is. RTG slots tend to be around 96%.
There's no reason to believe that this number is off by much.
Hyper Wins doesn't have a particular theme, but it's bright, colorful, and classic. The symbols are all shapes and card symbols, for the better or worse.
The production values are good, though, and we appreciate the animations included. Even the spin animation itself is nice to look at. So, the base gameplay is enjoyable thanks to that.
The low pays show card ranks from Jacks to Aces and they are all blue and jelly-like. Then, there are four high pays that feature shapes, with green ones being worth the most.
If you fill the screen with this symbol. You'll win 20,000x your line bet.
Note, don't confuse it with the overall bet! Furthermore, Rainbow Moon Wilds can land anywhere and they sub adjacent symbols.
Bonus Rounds Hyper Wins Slot
Free Spins
If you find enough Bonus Stars on the field, you'll get some free spins. All wins except the Hyper Prize wins double during free spins. Moreover, extra Wilds appear on the reels.
And how many free spins will you get? That depends on the number of scatters that appear!
For 3, 4, 5, 6, 7, 8, and 9 Bonus Stars, you'll get up to 200 free spins!
Hyperwin
If you get 3 matching symbols on the middle row, you'll trigger the Hyperwin Feature.
This will transform all the matching symbols into Rainbow Moon Wilds. This can lead to more and better wins!
Hyper Prize
Whenever you find at least 4 Bonus Stars, you'll go through the Hyper Prize minigame. Here, you'll get to pick from 9 locations for an instant win.
The top prize there is 1,000x your bet, which is big. Then, you'll proceed to free spins.
Lucky Feature
At random, the Lucky Feature can treat you to either Free Spins or Hyper Prize trigger. The number of free spins and picks is random.
Hyper Wins Tips & Strategy
Hyper Wins did surpass our expectations. It's not easy to surprise players in a 3×3 slot, but Hyper Wins achieved just that.
The graphics, animations, and bonus rounds are seriously cool. We triggered the Lucky Feature for some free spins.
The stakes we played the slots for real money for was $1. We'll be back for more for sure, once we get that nostalgic itch again.
Verdict
Hyper Wins is a fun Realtime Gaming slot that combines a nostalgic niche with modern bonus rounds. That makes for a great package that has something for everyone.
If you like 3×3 slots, you need to give it a shot as possible. It's not often that you can win as many as 200 free spins. That's exactly what you can do here!
The volatility can be high at times. Luckily, the number of ways to win ensures regular payouts.
For another excellent US-friendly video slot, check out Triple Juicy Drops from Betsoft. This 5×5 treat banks on the Cascades, Prize Wheels, Wilds and Free Spins.
That works tremendously in practice and there are jackpots too.
The variance is high and the jackpot is 20,534x. You can play Triple Juicy Drops for stakes between $0.30 and $22. The other nice bit about Triple Juicy Drops is that it's quite easy to trigger the free spins feature.