Hell's Kitchen from NetEnt is a branded slot with 5 reels and 20 paylines. Yes, the theme of the online slot is based on the famous chef, Gordon Ramsey. The chef is not only famous for his cooking skills. But, for his quirky sense of humour and colourful language.
Does Net Entertainment incorporate all the elements of the Television show into the slot? Let's just say NetEnt shoots from the hip and it injects it with a rather intimate feel and vibrant visuals. Slot players for real money can place their bets from $0.40 up to $400.
Players can play the slot at our greatest casinos online in Europe. Moreover, it's a low variance game with plenty of winning spins up for grabs in the base game. NetEnt packs it with specials that include Ramsey's Wilds and a Team Challenge Free Spins feature.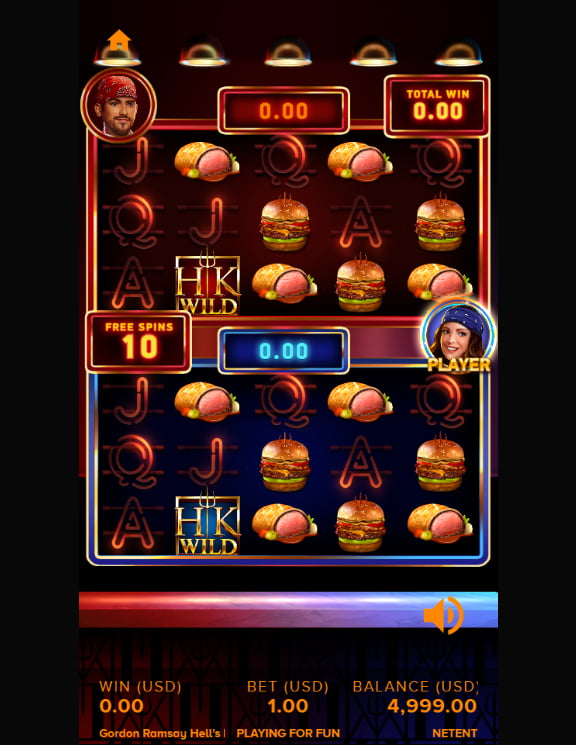 RTP & Symbols
Even though the volatility of Hell's Kitchen is low. The RTP or average return to player percentage is 96.07%. As you can see it barely tops the industry's standard. To receive a payout; you need 3 or more matching symbols anywhere on the reels.
The low-value card suits of Jack to Ace look wicked while the high-value symbols will make you salivate. They appear in the form of sticky toffee pudding, hamburger, Beef Wellington, cocktails, and the HK Wild. Land 5 premium symbols and you'll pocket a win 10x your stake. A full screen of Wilds offers a payout of 200x.
Sadly, hell's Kitchen is not available to players from the United States. The first season of the TV series was a success in the States. You can still play slot machines like Stacked at our instant withdrawal casinos USA online.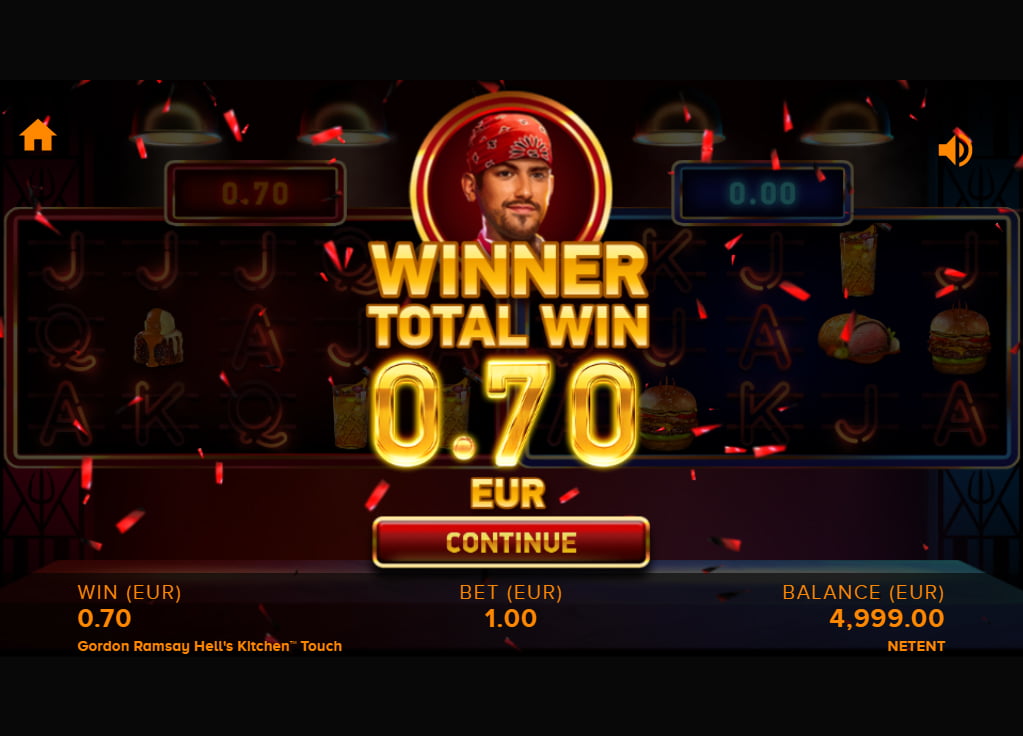 Bonus Rounds
Ramsey's Wilds
Hell's Kitchen dishes up an aperitif in the form of the Ramsey's Wilds. If you're lucky you can catch 7 of them on the reels. Furthermore, Gordon Ramsey's motormouth provides a lot of entertainment too. For example, the game's engine throws knives onto the reels while Ramsey fires away with his quirky comments.
Team Challenge Free Spins
Obviously, the Free Spins feature is where you want to be because this is where you'll win the jackpot. However, before you can dig into the main course. You need 3 or more scatters which rewards 10 or 15 free spins. In addition, they appear only on reels 1, 2, 4, and 5.
The game's engine divides the Free Spins feature into two separate 5×3 reels. The first represents the Blue Team and the other the Red Team. Note, the free spins will commence once you picked your team. Each free spins feature benefits from 2x to 3x Multipliers and Wilds. More importantly, the value of the multipliers combines too. Upon conclusion of the free spins bonus, each game round doles out player wins.
The winning team receives the Gordon Bonus Game. In case, there's a tie; the two teams will share the rewards equally.
Gordon's Bonus Game
The Gordon't Bonus game is a pick-me game of sorts. A new screen opens up showcasing 15 different menus. As you click on the menus they reward you with cash prizes of up to 5x. Moreover, they boost payouts with multipliers from 2x to 3x, or X symbols. The bonus ends once you picked three X symbols.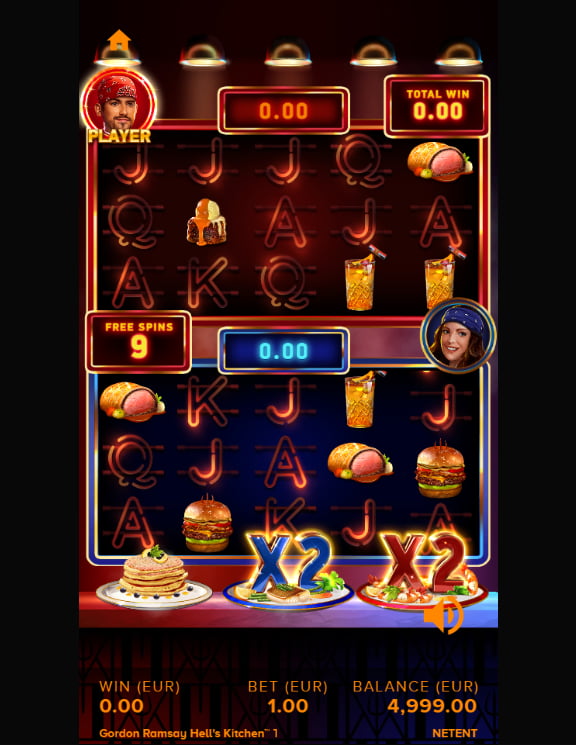 Hell's Kitchen Tips & Strategy
Prior to reviewing the slots of Hell's Kitchen, Rome: The Golden Age was our last NetEnt slot. To be perfectly honest the NetEnt slots aren't as popular as they used to be. They seldom pay, and they tend to "fizzle" after a few sessions. As such it's a case of go in hard and get out fast! We went into the game with this mindset.
The casino budget we used for the occasion is $50. The game's engine, HD art, Gordon's antics, and choice of game rounds pleasantly surprised us. The payouts in the base range from a few cents up to $1.20. Nothing to rave about. However, we triggered the free spins feature after 15 spins. We also picked the Blue Team because we like the multiplier wins. Upon conclusion of the free spins, we won $8, and it was a tie.
Even though we didn't win any money we had a great time.
Verdict
Hell's Kitchen is a cracking slot, here's why. Instead of just cramming it with the usual visual treats and audio track, NetEnt delivers a complete package. The volatility is low which enables players to get into the features easily. And, it allows them to enjoy the visual arrangement as well as Ramsey's funny comments.
The TV show is by no means a creative cooking contest because it's reality TV, duh. The slots though is an entertaining romp since there's a lot going on beneath its hood. You can cash in on Ramsey's Wilds although finding the max 7 is not easy.
The Free Spins feature spices things up with its Multiplier wins. We also like that players have a choice between two free spins options. Naturally, there's a lot of add ons going on without deviating from the game's theme. It's definitely a case of what you see is what you get. As you spin the reels make sure you're immune to Ramsey's temper. He'll yell and curse at you because how dare you to speak to the chef!
Is it another cow-towing slot that tries to appeal to the mainstream slots media? Certainly not, while we're not fans of the TV show. We enjoyed the game because it brings something fresh to the table and it offers mindless entertainment.
If you're into slots with a culinary theme we recommend Betsoft's Sum Dim Prize. It has an Asian theme, an RTP of above 97%, and a jackpot of 250x; it's a culinary delight!