Golden Horns from Betsoft Gaming hits the slot shelves on the 14th of January 2021. As we leave behind 2020 a year that had more lows than highs we look forward to 2021. According to the Chinese Zodiac, 2021 is the Year of the Ox in Chinese culture. Generally speaking, the Ox resembles diligence, persistence, and honesty. Golden Horns video slot has 3 reels and 1 payline.
"Ride the wild Ox to massive multiplier wins." Betsoft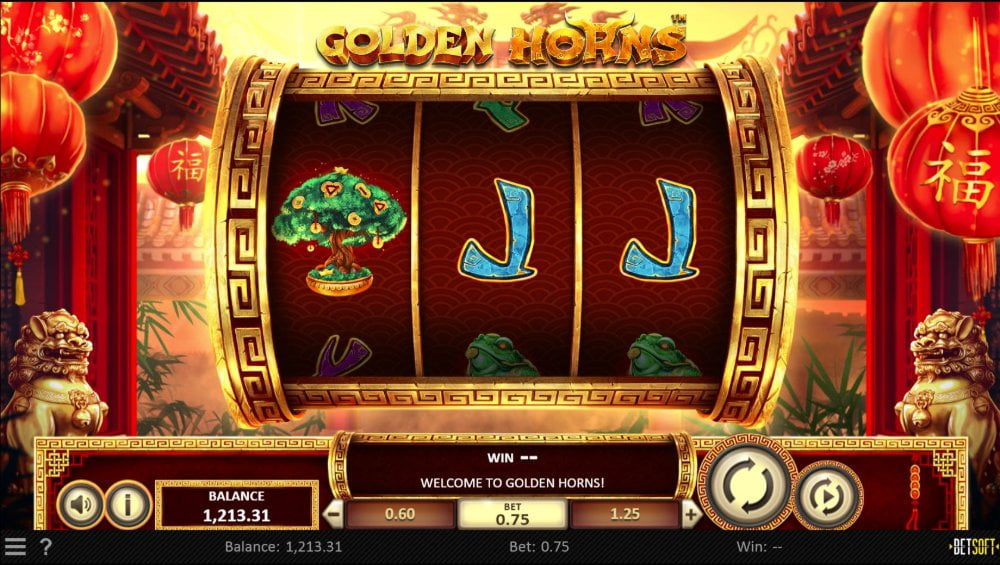 We're not fans of the 1 payline/3 reel format as it significantly reduces your winning chances. Therefore, you can expect a brutal Hit Rate, of around 10%. We talk more about it further down in this slot review.
Moreover, the real money slots offers a jackpot of 25,344x your stake on a single spin. The coin betting range is $0.02 to $4.50 per spin playable at our best USA casinos online. Despite the low maximum bet of $4.50 per spin. Golden Horns slot machine is expressly for high rollers!
During our initial testing phase, Betsoft's newest addition to the Red Dragon line did not impress us. However, we did receive a few "big" wins of 40x to 50x our stake. Before we arm you with the necessary tips and strategy on how to win some money playing Golden Horns. Let's get the technical details of the real money slot out the way first.
The game pivots around the Golden Horns Multipliers that can reach a mammoth 88x! Yeap, that's the game's only special feature! More importantly, you'll win the jackpot of 25,000x when 3x wild ox pitch. If you're into RPG-style slot machines from Betsoft check out Max Quest: Mission Amazon.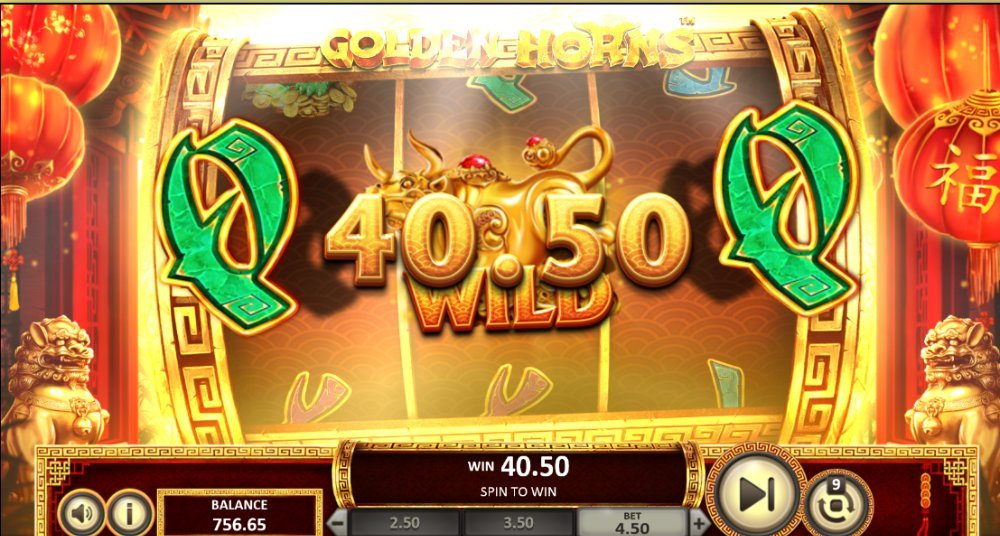 RTP & Symbols
Golden Horns has an average return to the player percentage or RTP of 96.26%. It doesn't entirely convince us though. Based on our initial playing experience we believe a more accurate reflection of the RTP is 93%. Anyhow, we're not going to quibble over the semantics with Betsoft.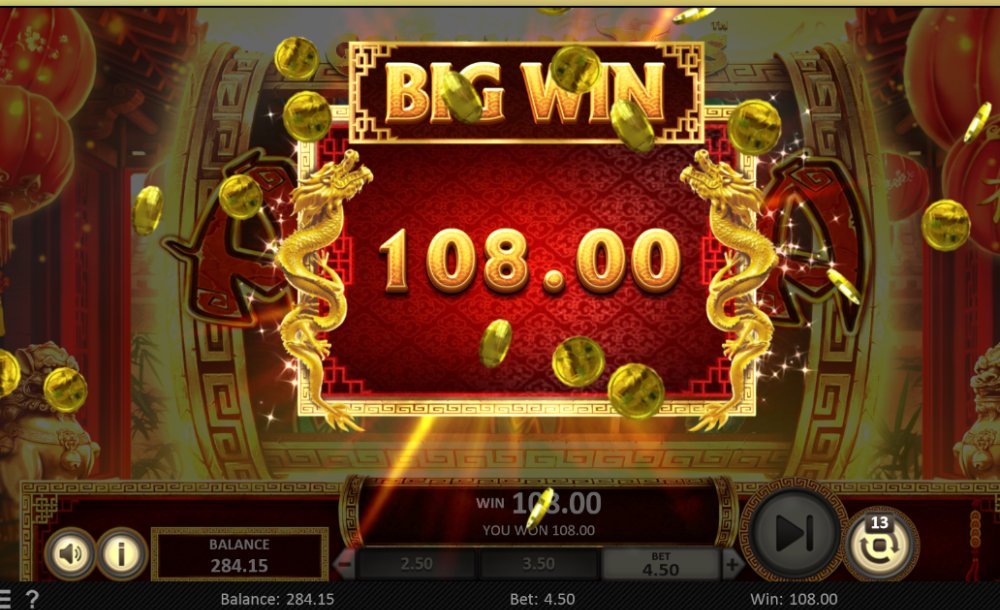 Guardian Lions and gleaming lanterns line the reels on your path to "boundless wealth". But, it's the Wild Ox that offers all the glory. A temple with red balloons serves as the backdrop for the reels. The symbols that appear on them are low-value card suites from J to Ace.
The high-value symbols are the frog, fish, and the Bonzai tree of sorts. You'll notice that the main symbols are awash with coins. The premium symbol is the Golden Wild Ox. When 3 of them pop onto the reels, you'll pocket a win of 288x your stake. In addition, the Wild Ox can apply a random multiplier of 2x to 88x.

Pokie players can play Queen of Wonderland Megaways at our top online casinos in Australia.
Bonus Rounds
Betsoft's Golden Horns has only one special feature and it's the 'Charge of the Wild Ox'. We take discuss it in more detail in the next section.
Charge of the Wild Ox
To be honest there's really nothing special about the feature. All you need is 3x wild ox to pitch on a payline, et voila. On the condition, you play the slots for real money at the maximum wager of $4.50. You'll win the jackpot of 25,344x.
However, the jury is still out on it. As Betsoft claims it applies a random multiplier of between to 2x to 88x. Therefore, even if you get the maximum 3x ox wilds it still doesn't mean you'll win the jackpot. At least that's the way we see it. It's kind of a misnomer really, but let's just leave it at that.
Golden Horns Real Money Slots Tips & Strategy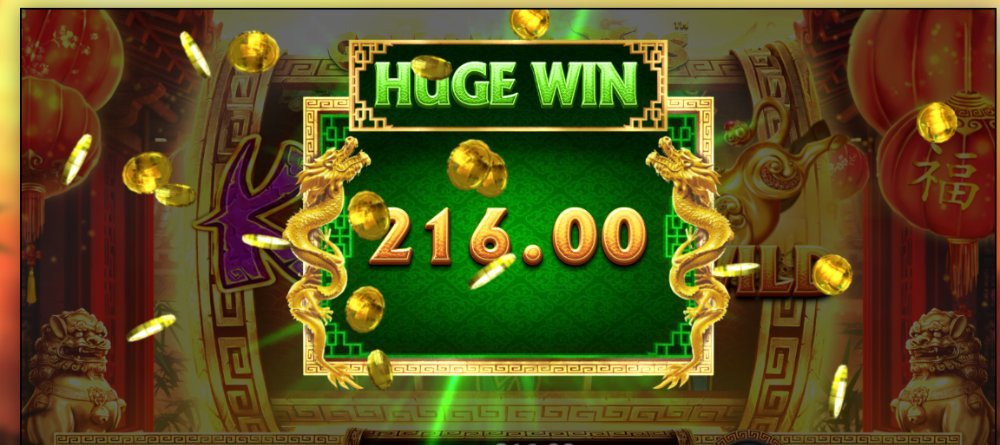 As a rule of thumb, we're cautious of playing slot machines with only 1 payline and 3 reels. Since winning spins are very sparse. We had our reservations about the mechanic. Hence the reason we played the free slots version instead. During our initial test run of 600 spins, the largest payout we received was $216. It sounds a lot but it's not as we played the slot game at the max bet of $4.50. Our start-up bankroll was $1,200.
We snagged a King and two ox wilds for a top multiplier value of 6x. To complicate matters we received that payout on our 450th spin! It's not very encouraging, to say the least. The bottom line is the game requires a lot of grinding. At one stage we experienced 15-20 non-winning spins in a row! Therefore, the slot machine's hit rate is less than 10% which is brutal. As a result, it clocks a 10'er on the Casinowhizz slots scale.
By the time we reached our 600th spin our bankroll was no more. The negative expectation of the Golden Horns is severe as it seldom offers a decent win.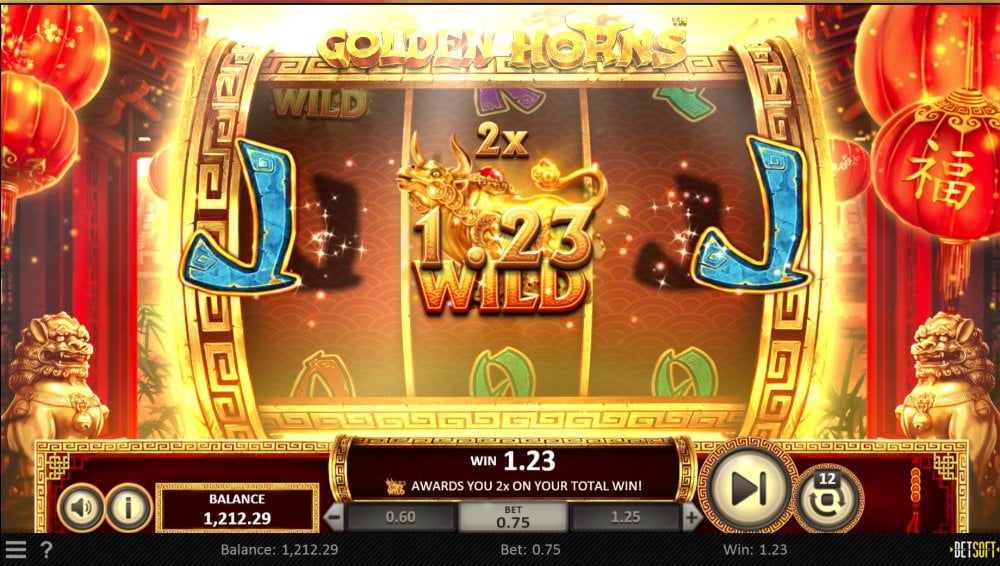 Verdict
Betsoft did not cover itself in glory with Golden Horns. Especially if we compare it against its previous releases like The Hive and Mystic Hive. It's a pointless grind which it seldom rewards. Moreover, it compounds matters with the simple reel mechanic and lack of special features.
We barely recommend Golden Horns. We seldom play a Betsoft slot we did not enjoy. At least in the sense of real money because it will slay any bankroll quickly. How so? Despite advertising an RTP of 96.26%.
The Hit Frequency of the game concerns us. Expect a ton of dry spins in between wins and small ones at that! As we leave this slot review behind Betsoft could have done a better job. Maybe it could have added a Free Spins feature with progressive win multipliers, more paylines, and a better hit rate.
Despite the reasonable game art. The impression we get is that the developers played Call of Duty Black Ops: Cold War during its production phase.