Ghost Glyph is an online real money slots from Quickspin with a 7×7 reel structure.
The jackpot is lower than what your typical grid slots. It's just 2,260x your stake, which is perfect for low and medium online slots players. You need at least 5 matching symbols to score a payout. Initially, it sounds like a lot, but it's not. Since the cascades help a lot.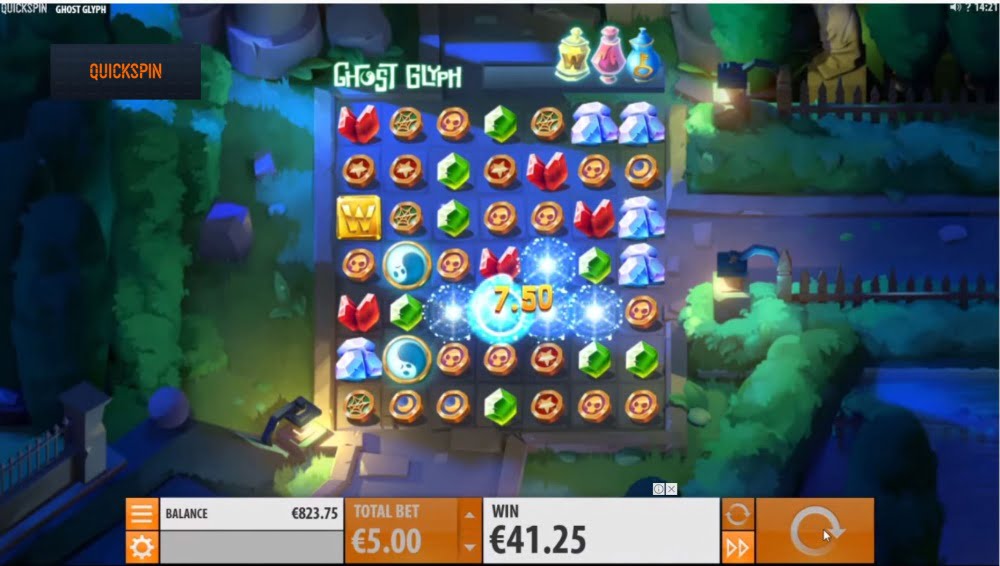 RTP & Symbols
The coin betting range is ideal for low and high rollers. Bets per spin start with £0.20 to £100. It's important to note that Ghost Glyph employs a Tumbles or Avalanche feature. This means that winning combinations disappear from reels and new symbols replace the old ones. As a result, you can get chains wins on a single spin.
You can now play Ghost Glyph at our fast cash out UK online casinos. They offer you generous welcome deals with large deposit bonuses. Superb customer service, and a large variety of banking methods that includes Neteller and Skrill.
The RTP of Ghost Glyph is 96.18%. It's not that hot. Then again if we look at the Hit Ratio of 33%. You won't even 'miss' the RTP. Because you'll receive a winning spin on every 3 to 4 spins.
Ghost Glyph is all about ghosts and haunted places. The symbols such as various amulets, gems, Wilds, and Ghost Glyphs, compliments the theme.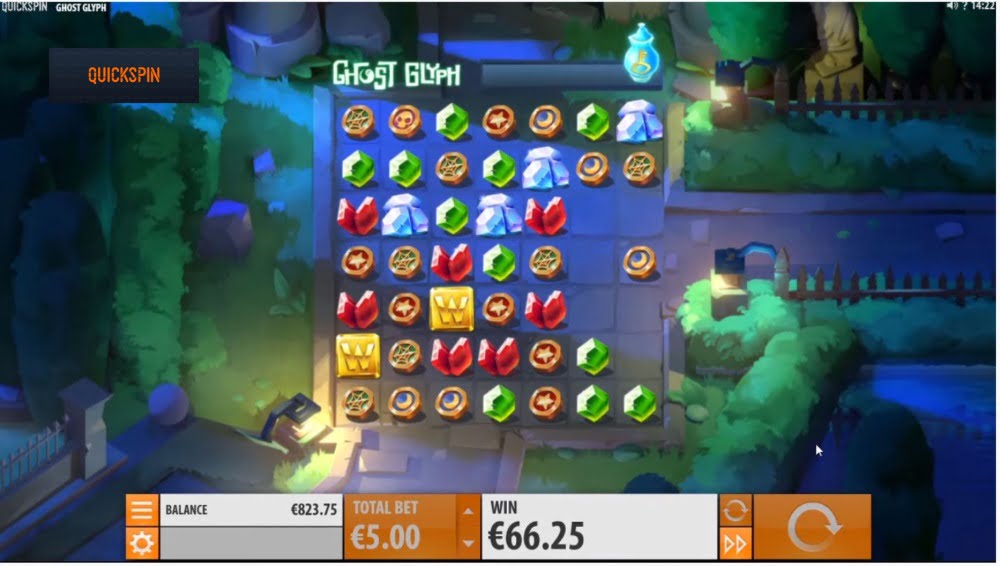 Bonus Rounds
Ghost Glyphs and Ghost Urns
The Ghost Glyphs appear during the Cascades. Moreover, they act as Wilds that substitute the other symbols in clusters. Now, when the Ghost Glyphs act as Wilds. They fly away and trigger one of the slot's five Ghost Urns.
The effects of the urns vary. However, they improve your odds of triggering the Free Spins Feature. While the Yellow Ghost Urn throws up to 10 Wilds onto the reels.
The Green Ghost Urn transforms the low-pay symbols into matching ones. The Red Ghost Urn removes one type of low-value symbols from the reels. And, the Blue Ghost Urn activates the Free Spins.
If you're from Australia. Please visit our trustworthy Australian casinos online. Once you sign up they offer you a variety of best pokies to play, table games, and live casinos. New depositors instantly qualify for a deposit bonus.
Free Spins
If you manage to trigger all the Ghost Urns including the Blue Ghost Urn. You'll initiate the Free Spins feature for 8 free spins.
The free spins have a Paranormality Meter that you can fill via Tumbles. But, more importantly, it unlocks Massive Wilds that pops up in various positions. Furthermore, they cover more than one position.
When you fill the Paranormality Meter a few times. You'll snag the bigger Massive Wilds and payouts. Therefore, make sure that you get as many Tumbles as possible!
Verdict
In short, Ghost Glyph follows its own unique recipe. We tip our slots hat to Quickspin with its top-notch production values and innovative streaks.
Play pivots around the Tumbles and Ghost Glyphs. You can also string along chain wins in the free spins feature.
The best part about Ghost Glyph is its Free Spins feature that awards you 8 freebies. And, let's not forget the Massive Wilds which we label as the proverbial paycheck.
The payout potential of Ghost Glyph is 2,260x. It's not spectacular but not too shabby either. With its high hit ratio and medium volatility. It's almost the perfect slots for real money for casual players.
Have a look at Northern Sky from Quickspin. It offers you 10 free spins and a jackpot of 3,111x your stake.