Free Reelin' Joker is a Play'n GO slot with an old-school theme. Many studios are happy to pitch new slot versions of a classic to their slot audience. Free Reelin' Joker has its own take on things even though it's a simple affair.
Our initial impression of Free Reelin' Joker was 'bare bones', or so to speak. Basically, the slots for real money only has a 1 payline on the three reels. What you see is what you get. Moreover, the online slot only has a single bonus round namely Free Reelin' Joker.
The volatility is medium and we'd rate it a 4/10 on Whizz's slot's scale. The truth is it won't dent your bankroll. But, monotony sets in pretty quick. Be that as it may. Free Reelin' Joker offers a jackpot of 1,000x your stake. So, it matches the slot's volatility.
Now, to win the jackpot, guess how many spins you must make. A whopping 736,000 spins! Luckily, you can also win the jackpot on any random spin.
Casual players can chug away at $0.20 per spin. If your bankroll has plenty of gas in the tank the max bet is $100. Once you read our slot review of Free Reelin' Joker. You can pop over to our trustworthy casinos online in Europe for the best deals in cyber town.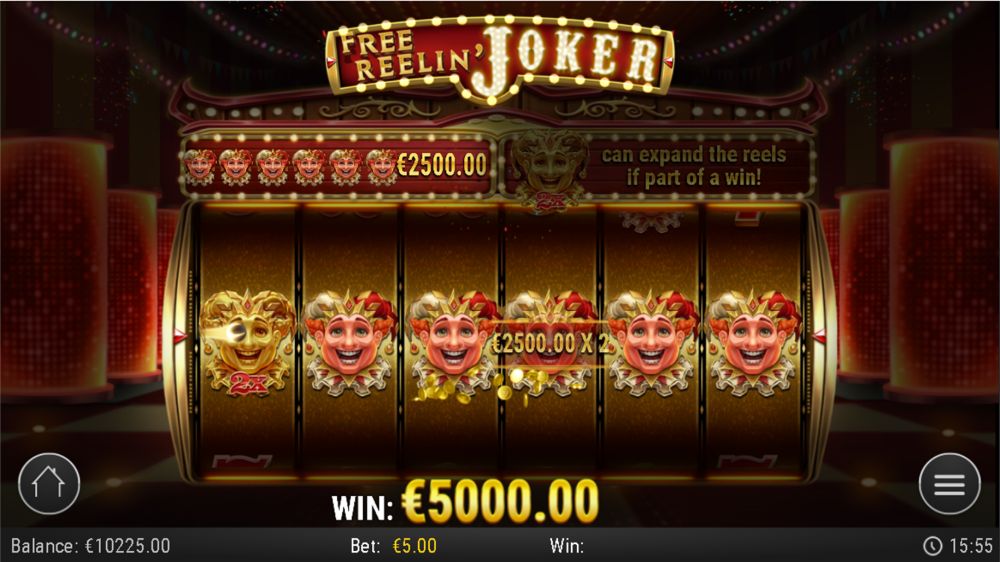 RTP & Symbols
The RTP of Free Reelin' Joker is 96.17%. Just keep in mind that some UK and EU casinos online will offer you a different RTP. Before you play the slot for money online. Consult its paytable first because word on the street is some casino offer an RTP as low as 84.21%. Needless to say, it will tear you a new you.
The symbols are nothing new under the sun. You'll get plums, lemons, cherries, sevens, and the two wilds. Some symbols combine a smaller payout. The top win is 15x, but significantly bigger once you trigger the bonus round.
The production values are stellar, which makes it an enjoyable outing. Also, there are two types of Wilds that can land. Classic Joker Wilds only sub for adjacent symbols. Golden Joker Wilds, meanwhile, double as 2x win multipliers. Note, only one Golden Joker Wild pops up.
Players from the United States can't play Free Reelin Joker slot. If you want to play slots for real money, visit our legal USA casinos online. They offer you cracking titles like Lava Gold and Spring Wilds. Their visuals are grand and they have bonuses aplenty!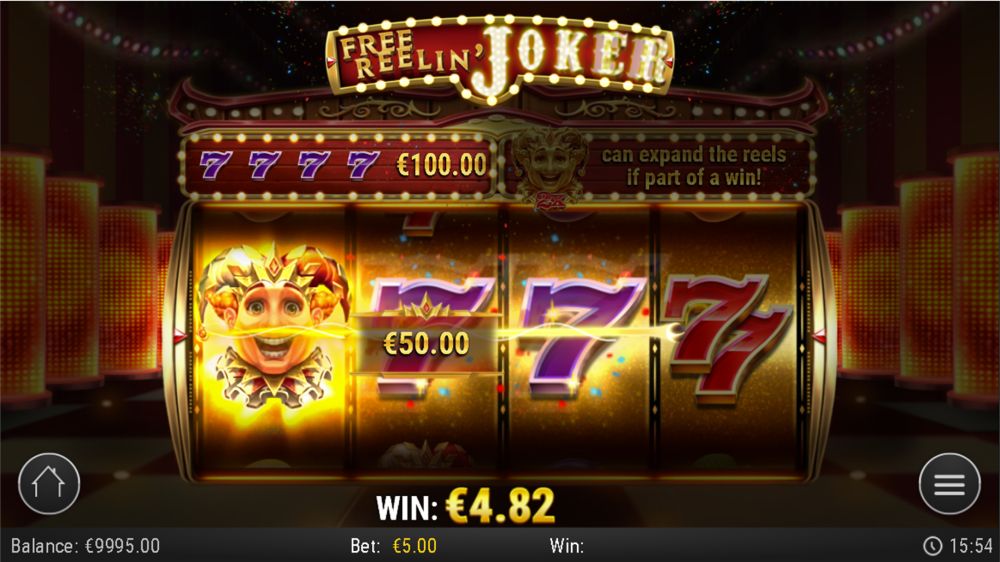 Bonus Rounds Free Reelin' Joker
Free Reelin' Fun
Play'n GO decided to keep the bonus rounds clean and simple. To that end, there's only one feature for us to speak about. Whenever you get a Joker Wild or a Golden Joker Wild in a win. An extra reel comes into play. You must have matching symbols to snag a payout even if it's just a wild.
The extra reel will spin and it can improve your winning combination. If it does, you'll get another reel. You can then add one more for a max total of 6 reels. At that point, you'll receive a payout and you'll return to the base game.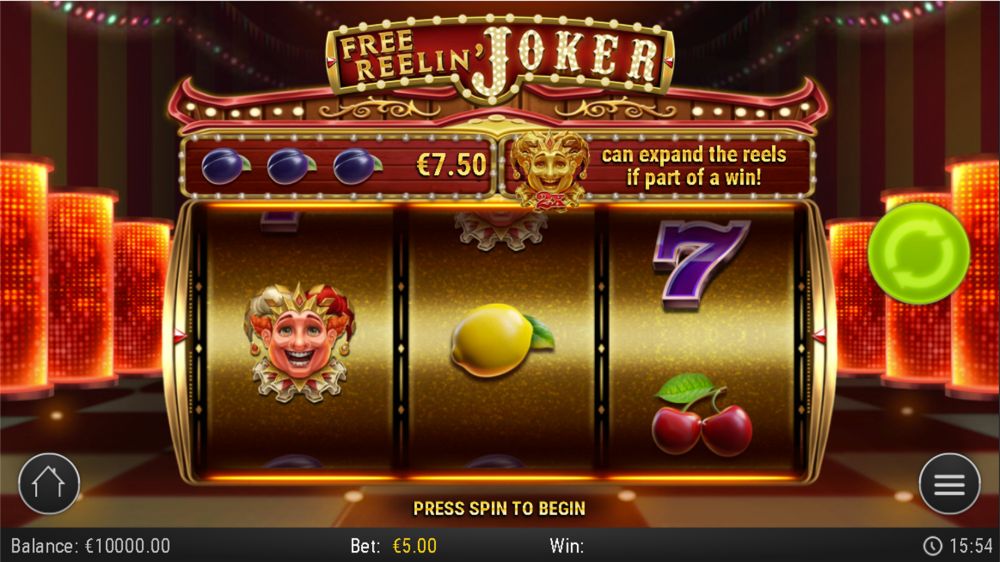 Free Reelin' Joker Tips & Strategy
We always test the slots we review and we didn't make an exception for Free Reelin' Joker either. Since the volatility is medium, it won't dent your budget. We played Free Reelin' Joker for 50 spins at an average stake of $1. Note, if the casinos don't offer you an RTP of at least 96.17%, take a wide berth.
On the whole, Free Reelin' Joker feels and plays like a traditional old-school slot. The biggest win we received was $35 when we trigger the bonus round for a bunch of Joker Wilds. That was the highlight and our biggest win by far. We'd like to point out that the game started to 'fizzle' out after 45 spins. At least that's the impression we got. One bonus round is not enough to warrant more than 150 spins. From there on end the slot becomes too risky.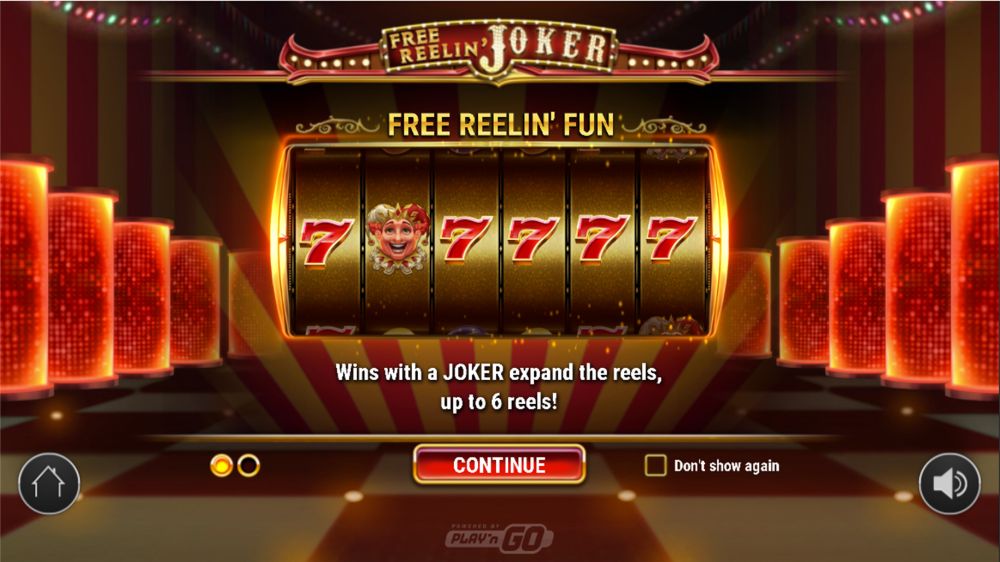 Verdict
Free Reelin' Joker is an old-school Play'n GO slot that will interest only a handful of players. If you like slots with a single payline, though, you need to check it out. The designers did just enough to make the gameplay loop enjoyable for a while. That counts, as it's not easy to come up with a lot for such a simple slot.
The conservative math model gives it a few brownie points. By no means will the jackpot of 1,000x make you rich. Since the slot has an old-school charm it warrants a few spins. There are better fruity slots out there. We highly recommend Microgaming's, Juicy Joker Mega Moolah. At least you're playing for a life-changing jackpot of $1 million. Check it out for a bit of high octane fun!