Emerald King: Rainbow Road slot from Pragmatic Play returns with more volatile action. The reel structure employs a simple engine of 20 paylines, 3 rows, and 5 reels. The theme is about the leprechaun king and his riches. Don't let the simple design of the real money slot fool you because it teems with plenty of cracking features.
Moreover, it offers a humungous jackpot of 20,000x your stake. Throw in the coin betting range of CAD$0.20 to CAD$240 the max cash prize is CAD$4.8 million! Pertaining to the slots' bonuses, play starts with the Eliminator Bonus. Essentially it's a pick me game but it has a few catches of its own.
Then there is the Mini Slots Bonus and the Rainbow Road feature. We give you all the information about Emerald King: Rainbow Road in this slot review. To maximize your earning potential, the Casinowhizz team give you expert tips and strategy. Players can now play the slot at our secure online casinos in Canada.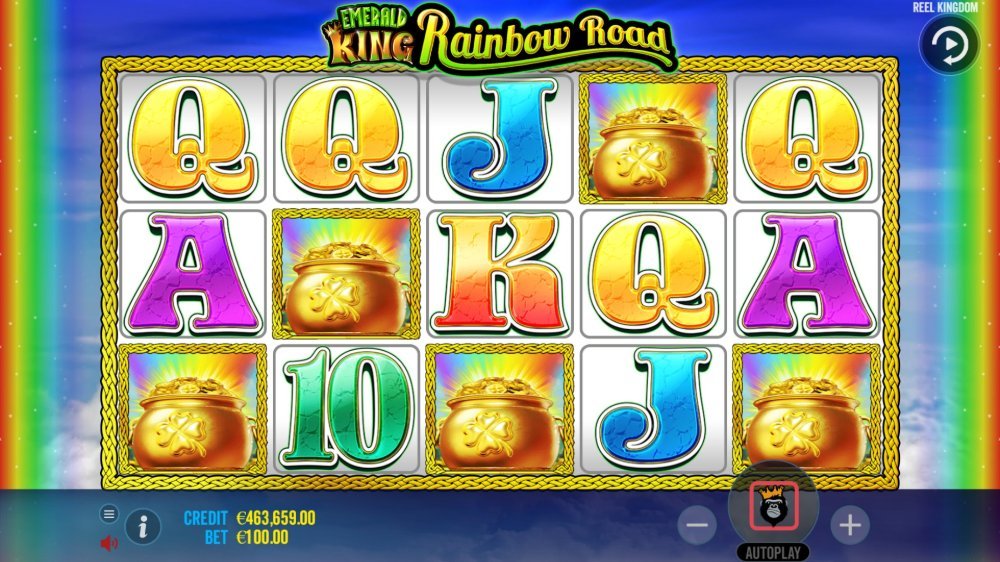 RTP & Symbols
Emerald King: Rainbow Road has an RTP of 96.71%. Given how volatile the online slot is it's phenomenal. But, it also clocks a 10'er on the Casinowhizz slots scale. Understandably so because the top cash prize is 20,000x is up for grabs. This is one emerald king that won't part ways with his riches anytime soon. Pragmatic Play did not include the hit rate. During our free slots play online and for real money it's around 15%.
The slot machine practically shoots from the hip. Despite its simple design it packs a mean punch. Now, the symbols on the reels enhances the theme. There's the standard low-value cards from 10 to Ace. The game's logo, 4 leaf clove (Wild), and two scatters.
The first scatter is the leprechaun and the other is the pot of gold. When both of them pitch on reels 3, 4 and 5; you'll initiate a bonus. Furthermore, the game's logo is the premium symbol. When 5 of them pitch you'll snag a cash prize of 25x.
Casino gamblers from America can check out our top USA casinos online for the best deals. Once you sign up you qualify for a casino bonus code of up to 500%! You can use the bonus to play slot machines like Frog Fortunes or The Hive.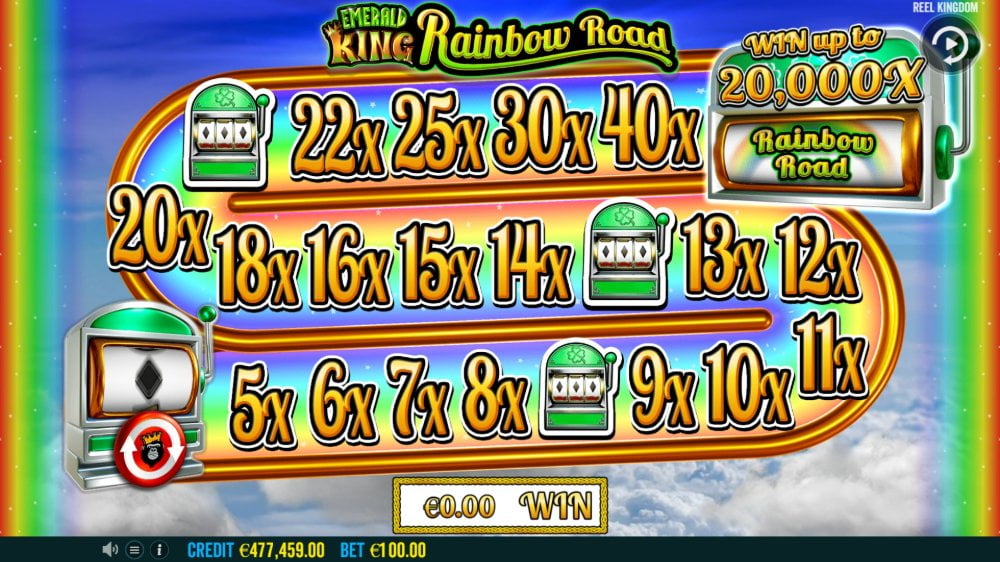 Bonus Rounds
All the elements that appear in an Irish theme slots – you'll find them here. Play starts with a Pick Me bonus, but it has a few exciting features of its own; so buckle up.
Rainbow Road
When the leprechaun scatter drops on reels 3, 4, and 5, you'll trigger the Rainbow Road bonus. Note, the Rainbow Road has 22 points, players can win cash prizes. Or, they can catch a spin on the Mini Slots Bonus for an extra 6 points. You can 'Collect' the points you earned on the trail for a cash prize.
If you're lucky enough to reach the final leg on the map. You can win anything from 50x to 20,000x, how's that for any exciting slot! Interestingly, the in-play bonus rounds is similar to Rainbow Riches'.
Scatter Eliminator Bonus
The Scatter Eliminator bonus round is all about landing scatters. The more scatters; the bigger the payouts. You'll trigger the Scatter Eliminator feature when 3, 4 or 5 scatters pop up onto the reels. It's a mesmerizing pick me game with its own twists and turns. Basically, you pick pots of gold to get rid of them.
The goal here is to land as many scatters as possible. Herewith the scatter pays:
3x scatters award a cash prize of 5x to 20x.
4x scatters pay 10x to 40x.
5 scatters offer a payout of 50x to 200x.
More importantly, players can initiate the Rainbow Road feature as well.
Emerald King Mini Slots Bonus
When all the reels become green in the base game you'll activate the Emerald King Mini Bonus. Players can catch plenty of extra spins and 1 to 15 mini reels with various colours. Consequently, there are 7 symbols and blank reels with different colours of yellow, blue, and red.
Herwith the payouts for the coloured reels:
Three coloured reels of any colour 7 pays 1x.
When 3x blue 7s pitch you'll snag a payout of 5x.
3x yellow 7s offers a cash prize of 10x.
While 3x red 7s pay 15x.
The reels continue to spin until you hit a blank reel, or non-payer. The mechanic of the game removes the blank reel. The Mini Slots bonus ends when there are no more features.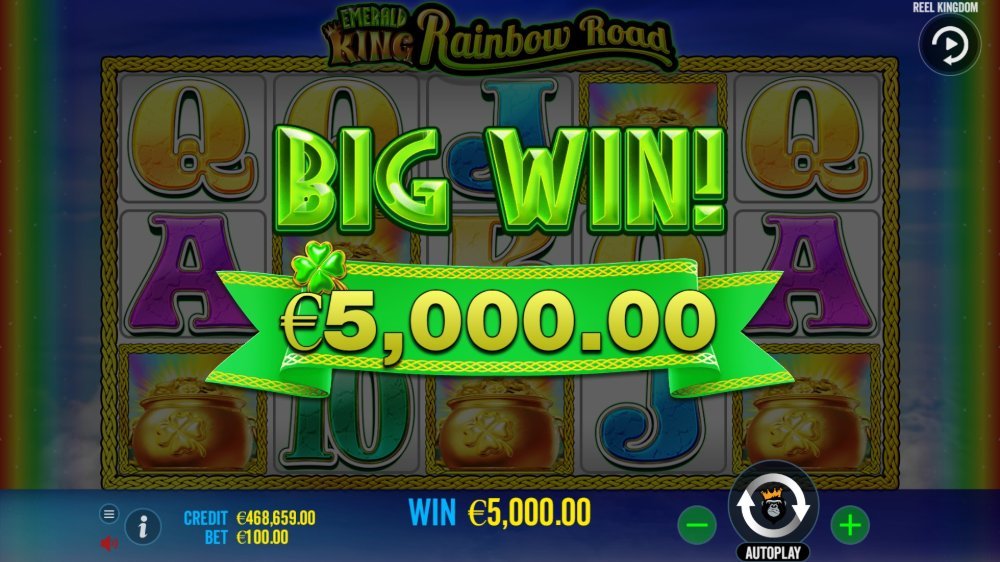 Tips & Strategy
During our test run of Emerald King Rainbow Road we noted that it's an extremely volatile slot. To unlock its special features you need a bankroll of at least CAD$1,000. At times we received up to 10 non-winning spins. Needless to say, it can chew up any casino budget fast!
The strategy we used was a 10 spin interval via the Auto Play Function. Therefore, 10 spins equaled a session to us, we played it for a maximum of 200 spins or 20 sessions. The reason why we used the 10 spin cycle instead of the 25 spin cycle; the game's volatility scared us. Volatility wise it's on the same level as Pragmatic Play's previous release, Madame Destinity Megaways.
The payouts we received during our testing phase at an average bet of CAD$4 were good. Unfortunately, winning spins don't occur often. So, play essentially becomes a grind. We like the trail with its 22 points and we scored a few wins of 10x here. Sadly, we failed to reach the end of the trail and it's super difficult to trigger a bonus round. The bottom line is 200 spins did not cut it for us since our bankroll wasn't big enough.
You can maximize your odds at winning if you go for a bonus. However, have a look at the bonus terms; if the WR is too steep. Rather play with your own money. Before you play teh slots for real money; study the Help Screen. And, play it in the free slots mode like you'll play it with real cash. Also, keep noted as you play.
Verdict
The Emerald King: Rainbow Road is an entertaining game and we recommend it. It's not for the fainthearted because it's a relentless grind from start to finish. The top cash prize of 20,000x is huge which makes it the perfect slots for high rollers.
Pragmatic Play adds its own spin to it, but it lacks that visual flair. Then again it wasn't the developer's intention to wow us with its looks. Instead, it does so with its special features and overall mechanic. The bonus game worth triggering is the Rainbow Road feature. Since it plays host to the game's jackpot.
The online slots bursts with plenty of charm. Pragmatic Play honours the Leprechaun slots franchise with aplomb. Just a pity the game can get expensive quickly! Otherwise, we recommend it because the excitement of that first big win is hard to beat.