East Coast vs West Coast is a Nolimit City slot with so much style it's jaw-dropping to say the least. The online slot comes with 5 reels, 3 rows and 243 ways to win by default. Interestingly, it increases as you trigger the game's bonus rounds. If you get lucky, you can have up to 84,375 ways to win!
The theme is about the golden age of hip hop, the 1990s. Sigh, those were the times. The visuals ooze style and there's graffiti all around. The background is cartoony and the audio is fancy, so fair play to the designers. If you're looking for a slot that has an actual identity, you've just found it! East Coast vs West Coast has Wilds and Scatters for its special symbols. Nolimit City sweetens the pot with Enhancers, Re-spins and Free Spins.
The betting range starts at €0.20 and goes up all the way to €100. Suffice to say there's enough in it for the high rollers looking for some bling. With all the hip hop style oozing off the reels. High roller casino VIP can win as much as 30,618x. Yeap, Nolimit City doesn't muck around with East Coast vs West Coast. Therefore, the game takes grinding to a new level, but the earning potential is massive. Moreover, it comes with a respectable hit frequency of 30%. So, payouts aplenty!
You'll find East Coast vs West Coast slot in the virtual lobbies of our instant withdraw casinos online in Europe. To help you get the most out of your slots play for real money. Casino sites offer you a bonus on deposit. That's how Nolimit City rolls and it's a 10 on our scale; the swings are wild and so is the action!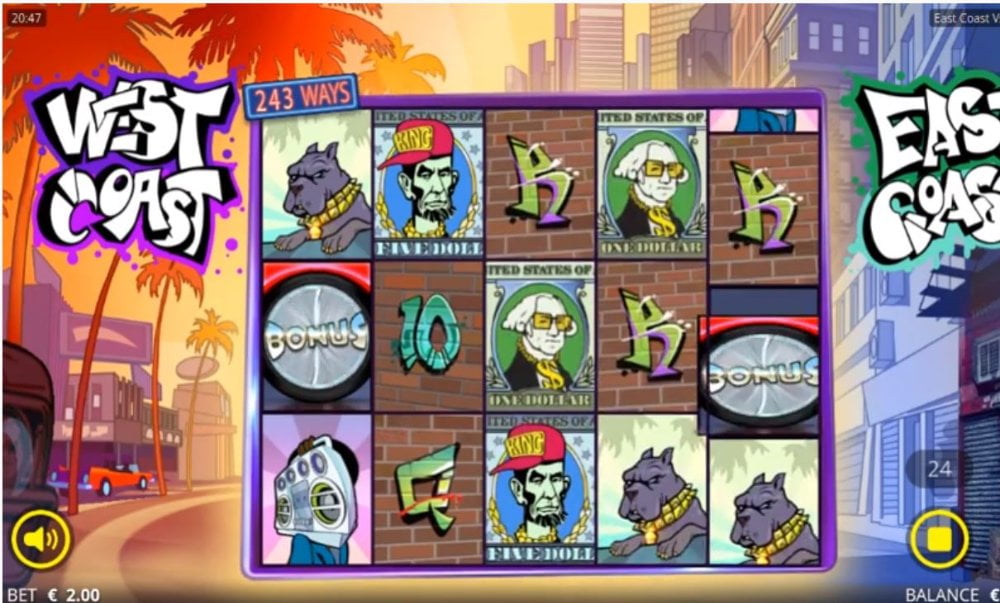 RTP & Symbols
The payback rate or RTP of East Coast vs West Coast is 96.04%. Operators can reduce it as they see fit. You can check the slot's paytable if you're unsure, the info is a click away.
The payouts work as you'd expect when it comes to slots with 243 ways to win. You need to get 3+ matching symbols on adjacent reels. East Coast vs West Coast uses Nolimit City's xWays system; it makes grid expansion possible in the bonus rounds.
The symbols are all stylish and that starts even with the low pays. The card ranks look like graffiti, so nothing boring there. The high pays are even better. You get three American presidents looking cool on banknotes. With dog kings and audio systems East Coast vs West Coast oozes creativity. And, the game's audio track just kills it!
Apologies for the brief interruption in this slot review. American casino online players can play RTG's newest release Frog Fortunes. Check out them Cascades and it's addictive in-game special features.
Bonus Rounds
Drive-By Respins and Enhancers
When 2 scatters pitch on the reels you'll trigger one Drive-By Respin. The interesting thing about the bonus round is that it has one random Enhancer. There are five of them:
The xWays symbols transform into 2 or 3 symbols.
xNudge Wilds cover entire reels and offer win multipliers.
Multipliers multiply the symbols which expand across the grid.
Linked Reels is when the game engine syncs to reels.
Infectious xWays symbols infect other symbols and expand them.

Free Spins
Landing 3 or 4 Scatters leads to 8 or 10 free spins, respectively. You can choose from two options as well – it's either East Coast Free Spins or West Coast Free Spins. In East Coast Free Spins, you'll get Infections xWays symbols on every spin.
You can also unlock Enhancer Bars and bonus free spins by landing more Scatters. In West Coast Free Spins, you'll get xWays, xNudge Wilds, Multipliers and Linked Reels during free spins. You can also unlock Enhancer Bars and bonus free spins by getting more Scatters.
If you unlock all Enhancer Bars or get 5 Scatters, you'll trigger Coast to Coast Free Spins. The best part about the free spins feature; you'll snag 2 Enhancers instead of just one on a free spin. Needless to say, it's the key to the unlocking the game's vault.
Bonus Buy
Players that don't want to wait for their Scatters can buy the Free Spins Features outright. For 80x your stake, you can choose between East Coast Free Spins and West Coast Free Spins. For Coast to Coast Free Spins, you'll need to fork out 420x your bet.
East Coast vs West Coast Tips & Strategy
You can learn a lot from a slot if you play it at the lowest wager of €0.20 per spin. And, this we did. We didn't go overboard as the game's volatility spooked us a bit. It's a high variance beast, after all. The kicker is that we received plenty of winnings spins in the base game. The advertised hit rate is correct. Consequently, the most non-winning spins we had in a sessions was 6.
Most payouts were low in the region of half our stake or so. We managed to hit two Drive-By Re-spins during our 150 spins with a payout of more than 10x. We were lucky enough to hit 8 free spins once, but the slot is tight in that regard. The Bonus Buy option is worth considering if you're in a rush!
Verdict
East Coast vs West Coast is a brilliant Nolimit City slot. It has everything from style to substance. With many bonus rounds and great payout potential. Until something better comes along it's one of the best slot releases for the year 2021!
Its extreme volatility might be an issue for some, but hey, we can stomach that! There's no doubt that the slot studio integrates the game into a deeper relationship with the player. The only thing that may work against you, you must align the bonus rounds to maximize their value.
It's one of those slots, the longer you play, the more rewards you accumulate. Moreover, you can't snatch them via the Buy Option either; you sir, must earn them. That's what we love about the game it's interactive like crazy. We guess it will stick to players for a long, long time. The free spins feature can be a banger or it leaves you tripping trying to connect the dots. It tempts players with its unique visual styling, engine, and will make the casino floor buzz!
If the xWays system grabs your attention, make sure to check out Nolimit City's, San Quentin xWays! It has a mammoth jackpot of 150,000x your bet!