Dragon Kingdom: Eyes of Fire is a Pragmatic Play video slot with 3 reels, 3 rows and 5 paylines. As a rule of thumb we're not particularly fond of online slots with just 5 paylines. Because they don't offer that many winning opportunities. But, we know by now never judge a slot by its cover.
In this installment Pragmatic Play ventures into the fiery realm of dragons.  To help you combat the dragons it equips you with the necessary weapons. They come in the form of a Progressive Feature. At best it's an unusual feature but any interesting one nonetheless. If you want to find out more about it join us as we review the slot Dragon Kingdom: Eyes of Fire.
The good news is that you can play for as little as AUD$0.05 per spin up to AUD$25. It's not the widest betting range we've seen yet it's perfect for penny pinchers. More importantly, it's a low variance slots that offers a jackpot of 1,250x your stake. To give you an idea how volatile it is. Dragon Kingdom: Eyes of Fire clocks only a 4/10 on the Whizz's slots scale. So, it's relatively easy on the bankroll.
The best pokie is now live at our top Australian casinos online. Players on the go can pay a quick visit to their mobile casinos. Each pokie loads seamlessly and they're a great fit for smaller screens.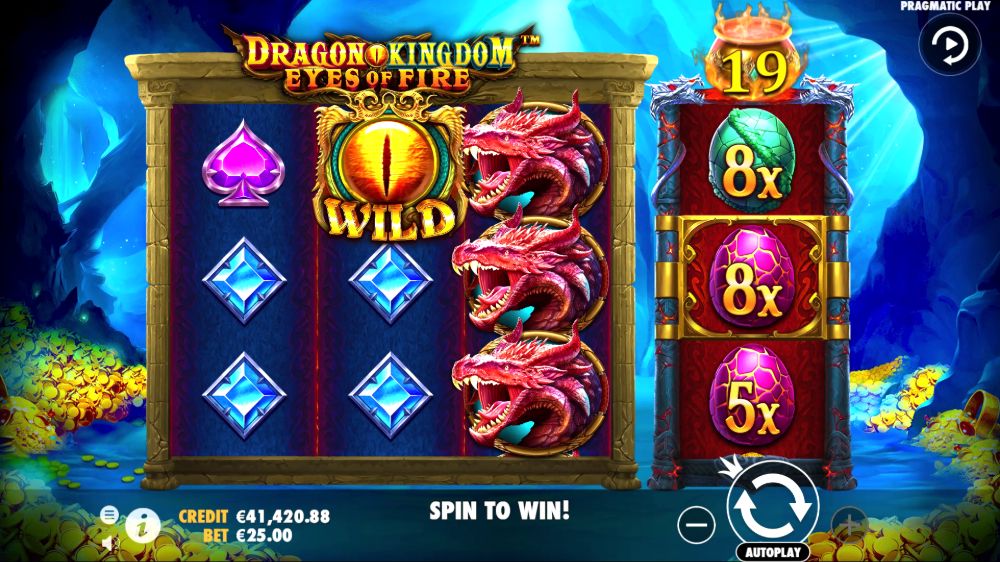 RTP & Symbols
The RTP of Dragon Kingdom: Eyes of Fire is 96.49%. That's the default value, so mileage can vary at different casinos. Make sure to play the best version, it makes no sense otherwise. If unsure, refer to the paytable or the customer support.
For symbols, there are the card suits as low pays. These are worth 1.6x your bet at most. The high-value symbols are better they are the sevens, and the red and blue dragons. With a bit of luck you can pocket 4x your stake for a bunch of them. Furthermore, there are Dragon Eye Wilds which subs adjacent symbols to form winning combos. For a win, you need to 3 matching symbols on any of the 5 paylines.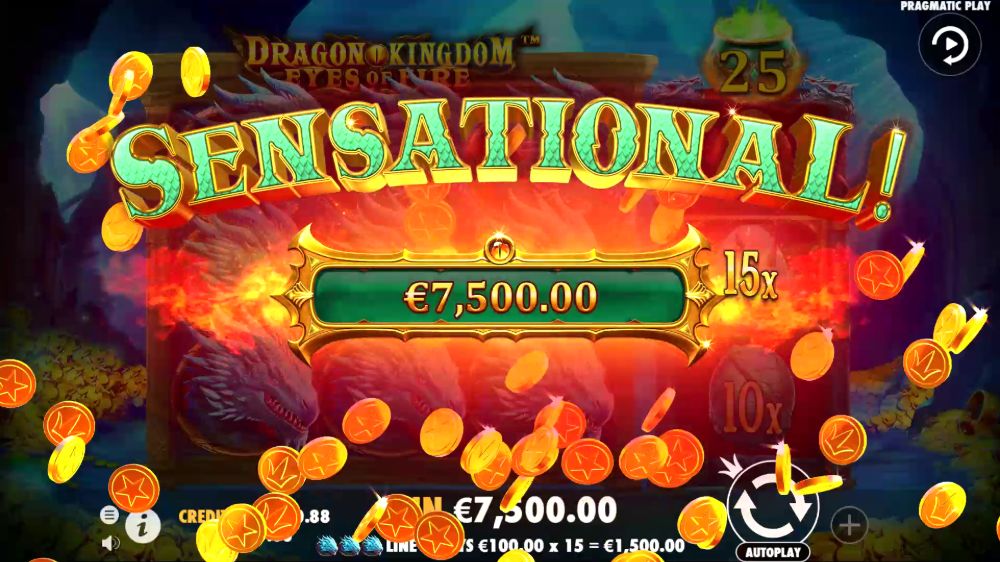 Bonus Rounds
Progressive Feature
The Progressive Feature is all about the slot compensating you for non-winning spins. If you get 4 losing spins in a row; the game engine triggers the fourth reel. That's the reel with no symbols on the right side of the reels. Instead, it has Dragon Eggs with win multipliers which applies to every winning spin. Once the feature ends, it will trigger again after 4 non-winning spins.
The fun part about playing the game is that you can get better win multipliers on more non-winning spins. It sure is a strange bonus round for a pokie.
There are 5 tiers in total. The first gets active after 4 non-winning spins and has win multipliers of 2x, 3x, and 5x. The second gets active after 9 non-winning spins and has win multipliers of 3x, 5x, and 8x. The third tier gets active after 14 non-winning spins and has win multipliers of 5x, 8x, and 10x.
The fourth tier gets active after 19 non-winning spins and has win multipliers of 8x, 10x, and 15x. The final fifth tier gets active after 25 non-winning spins and has win multipliers of 10x, 15x, and 50x.
Dragon Kingdom: Eyes of Fire Tips & Strategy
Since we're avid slot players we don't always buy into the hype of online slot. We played the slot with real money to see if it deserves a thumbs up or not. On this occassion we slayed a few dragons with a bankroll of AUD$200. Our average stake was AUD$1 per spin . In general the payouts in the base game are very low. They hover from a few cents up to 3x to 6x the stake for the big wins. Plus, the hit rate is pretty decent too.
You can expect a winner of every 4th spin. We triggered the first tier and hoped for a few more no-wins. It sounds rather fun putting it that way. When you play slots you hope for winning spins and not for losing ones. After our little foray we ended up with 6 with a 3x multiplier.
We won a grand AUD$1.50 win. We did manage a big win of AUD$27. In terms of the game at least because the pays are small and so is the risk. We didn't cross the third tier either, that's the furthest we got for a win multiplier of 5x.
Dragon Kingdom: Eyes of Fire is an ideal slot to play with a deposit bonus. It offers plenty of extra money and improves your winning chances. Make sure you don't dip out on those comps if you are a returning pokie player.
Verdict
Dragon Kingdom: Eyes of Fire is a strange albeit simple video slot. The progressive feature is a relatively new concept and a strange one at that. We like the concept of triggering the bonus after 4 non-winning spins. And, of course those progressive multipliers that comes with the bonus.
Despite selling a rather novel idea the game's engine doesn't grab us entirely. After 100 spins the only special feature it has became monotonous.
If you're looking for a more robust experience have a look at Dragon's Fire InfiniReels. It runs on the InfiniReels Engine and has a 10,000x+ jackpot. It's 3×3 as well, but it can expand for each win that you get. New reels get added to the right for as long as you keep improving your win!