Dim Sum Prize is a culinary delight with a twist of Asian flair. The slots for real money online has 5 reels and 10 paylines. Betsoft decided to go for something simple yet familiar.
We expected something with way more bite, and it disappoints us to a degree. If only we received a penny for every slot machine with an Asian theme we could have purchased a few Bitcoins already. Nah, just kidding but you get what we're implying.
Be it as it may its previous releases were The Hive and Mystic Hive. Both of them low variance and fantastic slot games in their own right. Suffice it to say, it appears that Betsoft is not going to buck its low variance trend any time soon.
The coin betting range is one of the lowest we've seen. You can take a seat at the table from $0.05 to $10 per spin. Seriously, at $0.05 per spin, it's not necessary to play the free slots version of Dim Sum Prize. For the simple reason, the minimum bet is ridiculously low.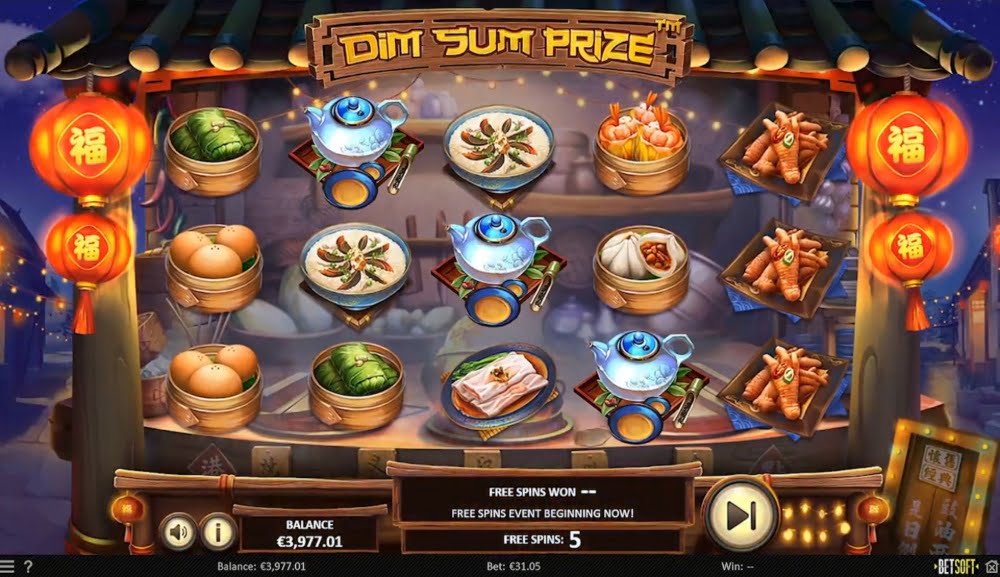 You can now play Dim Sum Prize slots for cash online at our trustworthy American online casinos for players from the United States.
Before we get into the meat and potatoes bit. Let's have a look at the moving parts of Dim Sum Prize slot machine first. It offers a jackpot of 377.6x ($7,552) your bet. So, nothing much as far as its jackpot goes. Which tells us that it targets casual online slot machine players, again.
As we unpack Dim Sum Prize's special features play gravitates around its Free Spins feature. And, the Teatime Wilds that offers re-spins. Moreover, the slot machine throws in 'Bamboo Basket' surprises that awards a Crimson Coupon or a Teamtime Wild.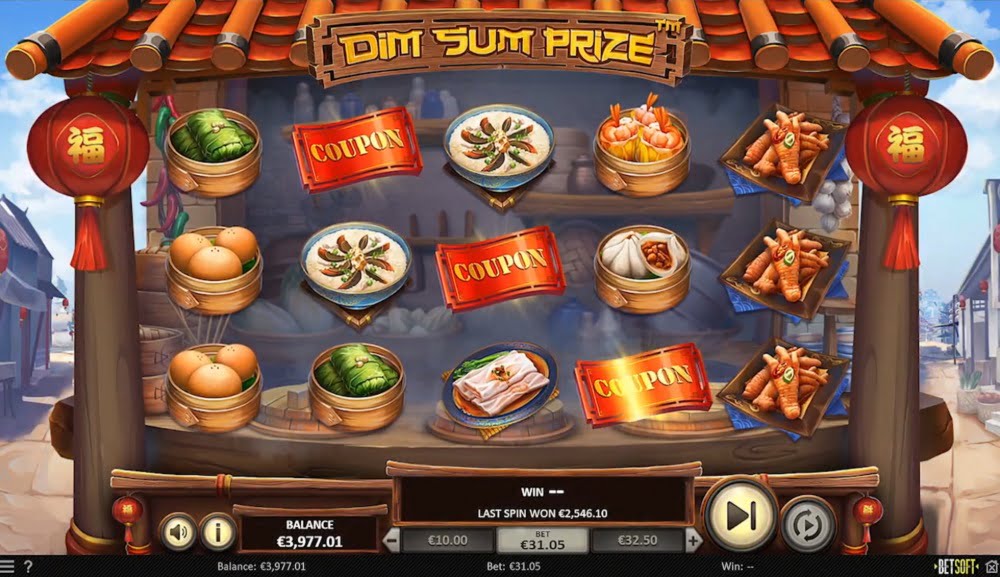 RTP & Symbols
Now, Dim Sum Prize has an RTP of 97.18% which is exceptional. Even though Betsoft did not include the Hit Frequency we believe it to be around 30%, maybe more. We might be wrong here; we played the slots for free and received a payout on every 3 to 4 spins. Therefore, it might not offer good value for money but it won't cut your bankroll to pieces either.
The audio track matches its exquisite Chinese theme, but what about the symbols on the reels? For starters, the symbols jolt it with a great atmosphere. If memory serves us correct it sports the same visual styling as Kung Fu Panda – Po's old man's kitchen.
A Chinese fast food joint serves as the backdrop for the reel set. Interestingly, Betsoft did away with the usual filler; the low-value card symbols. Instead, the low-value symbols are dumplings, cabbage rolls, prawns, and garlic. They offer payouts from 8x to 30x your stake.
The high-value symbols are a bowl of rice, chicken feet, and fillings with asparagus. The premium symbol is the bowl of rice. When 5 of them pitch you'll pocket a cash prize of 250x your stake. That's more than half of the game's jackpot, interesting.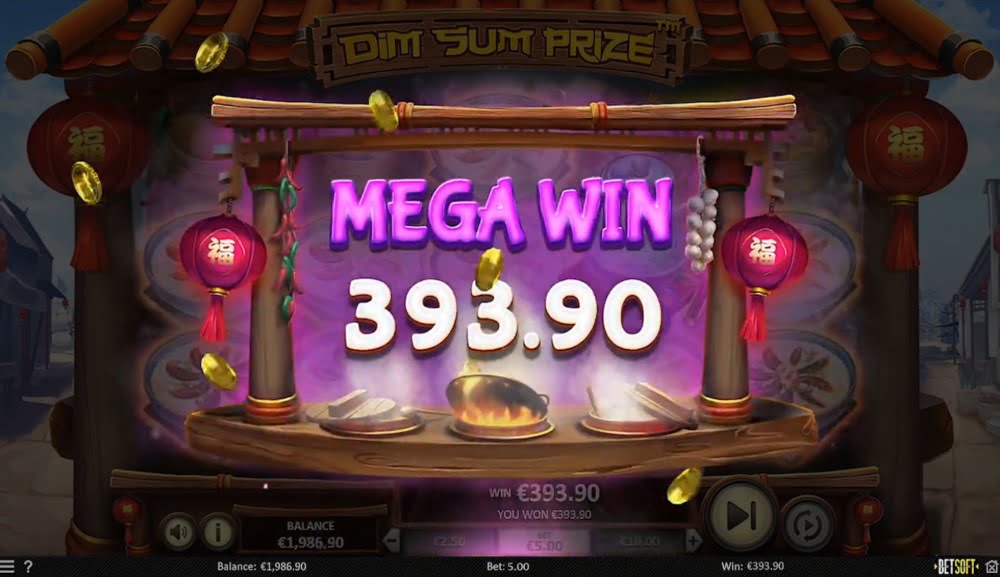 Bonus Rounds
Teatime Wilds
We're glad to see that the base game has a bit more to it than what meets the eye. When the Teatime Wilds appear they offer you 1 free re-spin. According to the Paytable of the slot machine, you can score up to 9 re-spins. It's almost a small free spins feature in its own right, great!
You can also trigger the Free Spins feature when the Crimson Coupons appear during the Re-spins.
Bamboo Basket Surprise
The Bamboo Basket is another important symbol in the Dim Sum Prize slots. When it pops up it can do two things. First, it reveals a Crimson Coupon scatter which triggers the Free Spins. Secondly, it reveals a Teatime Wild that unlocks the re-spins feature.
Crimson Coupon Free Spins
The Crimson Coupon is the scatter symbol and you need three of them to trigger 5 Free Spins. Betsoft spices it up with more than just a bowl of rice and some dumplings.
Every time the Crimson Coupon scatters appear they transform into Teatime Wilds. They're not just ordinary wilds, but they lock on the reels for the duration of the Free Spins. But, more importantly, when the Teatime Wilds pitch. You'll pocket 1 Free Re-spins. Basically, it's another free spin.
If we consider the exceptional RTP of more than 97% and the Hit Ratio. It is possible to initiate the free spins feature within 30 to 40 spins. Sometimes you can unlock it within 10 spins; let's just call it beginner's luck!
Verdict
Sometimes Betsoft can be a hard act to follow. Other than the exceptional RTP of more than 97% and a slew of bonus rounds. We really don't know what it has in mind with Dim Sum Prize.
It most certainly won't make you rich. In addition, the repetitiveness of the features will wear you down after a long session.
The theme itself only appeals to niche slots real money players. And, very casual ones at that. If you're into theme play it for a few spins just to see if it dishes up something different. Sadly, it's not for us since we prefer slot machines with more substance.
If you're a high roller casino VIP, RTG's Cash Bandits 3 will have you salivating in no time. It offers a jaw-dropping jackpot of $2.875 million and up to 390 Free Spins. Now, that's awefully good value for money, don't you think?