Crazy Mix is a Yggdrasil slot with a tropical theme in partnership with TrueLab Games. It's an enticing package with 5 reels, 3 rows, and 15 paylines. You can even get an extra reel via the bonus rounds! In terms of gameplay features, Crazy Mix has Boomerang Re-spins and Free Spins.
The hit frequency is 37.4%, which means is that you'll receive a payout on every 3rd spin. That despite the high volatility the jackpot you'll be playing for is a hefty 25,000x your stake. Once you're ready to play the online slots for real money. The betting range starts with a min wager of $0.15 to $100 at our top online European casinos.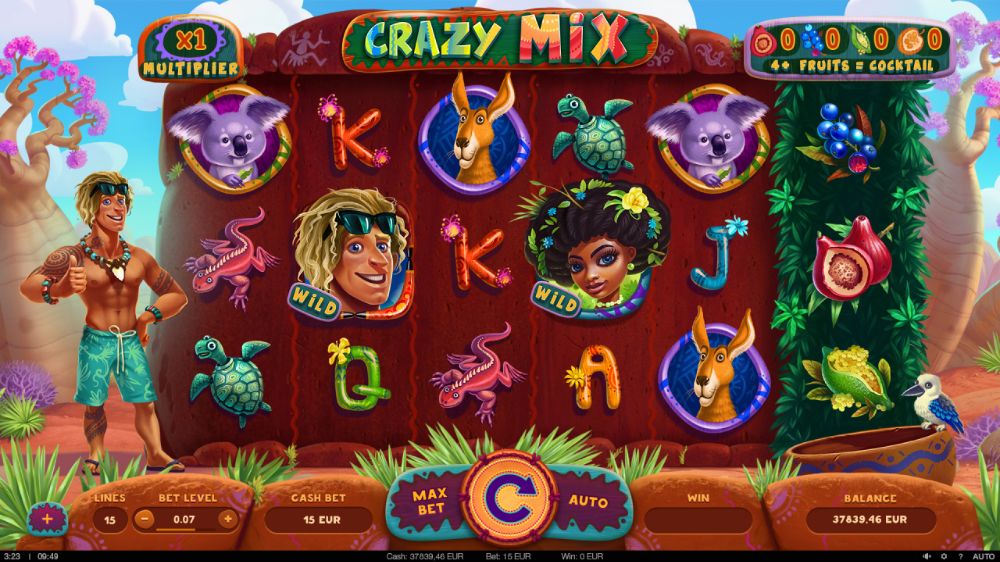 RTP & Symbols
The RTP of Crazy Mix is 96.35% which is way above the average. Furthermore, the RTP does not fluctuate making it an enjoyable online slot to play. TrueLab Games captures the charm and whimsy of Crazy Mix with its clever visuals. You've got a charismatic character next to the reels. Let's call him Chaka and his girlfriend is the voluptuous and beautiful Aneka. They work as Wilds when they appear in winning combos.
For low pays, there are colorful card ranks from Jacks to Aces. For high pays, there are tropical animals like koalas, turtles, etc. It's the Australian deal in terms of fauna and it was a good choice by TrueLab Games. The Wilds can net you the biggest wins, 66x your stake for a full line of 5 symbols.
TrueLab Games doesn't target the online gambling market in the States. If you want to play slot machines online for real money. You'll have to visit our highly secure and legal online casinos in the USA.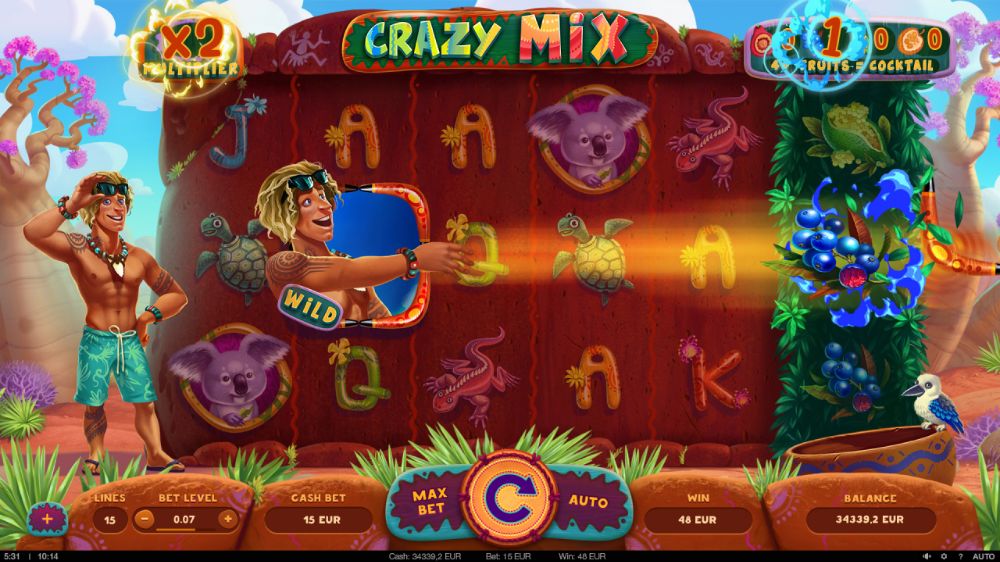 Bonus Rounds
Boomerang Re-spins
Whenever you get the Chaka Wild on the board, you'll trigger the Boomerang Re-spins Feature. Chaka himself will throw a boomerang onto the sixth reel, adding fruit into a cocktail. This also increases the win multiplier for the spin. Suffice to say that you'll also keep getting free respins. These can lead to more wins and more collected fruits.
Free Spins
If you collect 4 or more fruits in a spin, you'll trigger the Free Spins feature. You start with one free spin plus a win multiplier that carried over from the base game. Moreover, you can catch a bonus modifier for every fruit symbol you collect.
For each Red Quandong, you collect there are random Wilds. Keep in mind, each Jackfruit symbol also doles out an extra free spin. Collect a Blue Quandong, you'll get a coin win of 5x win multiplier. When a Finger Lime shows up it jolts the value of the multiplier by +1x. This might not sound like much, but the Free Spins Feature appears quite often. In theory, you'll get one every 100 spins, which is not too bad.
Crazy Mix Tips & Strategy
We played Crazy Mix slots for real money for a few sessions. Note, we didn't go gung ho. Our aim was merely to test the mechanic of the slot at an average bet of $1. During our testing phase, a few things about the slot surfaced.
The math model is pleasant and we triggered the Boomerang Re-spins often. Big wins seldom appear but we did trigger the Free Spins Feature three times. That's on par with the free spins rate and it was good to see the fundamentals check out.
At the same time, we got lucky once during the Free Spins. That was on the middle trigger, where we started the free spins with a solid 10x win multiplier. And, 5 bonus free spins for a total of 6 free spins. Crazy Mix rewarded our effort or shall we say luck with a payout of $61.
However, things went south pretty fast for us from there on end. We made a few more spins before we threw in the towel. Like the corner of a punchdrunk boxer. Due to the slot's sharp volatility, it's important to play smart. Failure to do so will cut your bankroll to pieces.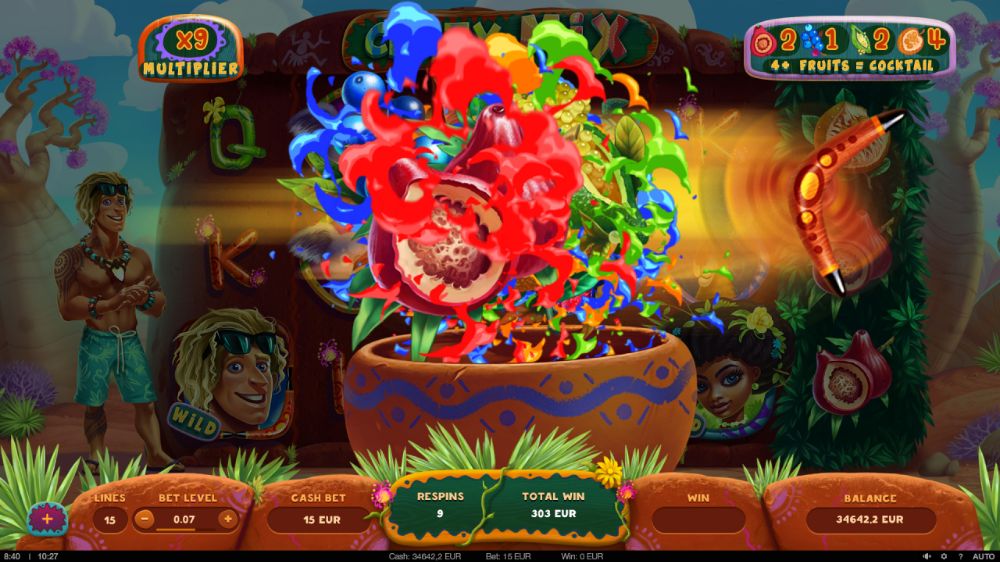 Verdict
Crazy Mix is a polished tropical slot that doesn't buck the trend of mediocrity. The graphical display is superb and the extras in the package enhance the plot of the slot. Perhaps, the biggest drawcard of Crazy Mix is that it gives you the biggest bang for your buck. Yes, you can win as much as 25,000x on a single spin! Even though it's possible, the likelihood of winning it is as remote as finding life on Mars.
However, the soundtrack is good enough to appear in any Hollywood blockbuster animation film. The volatility might be high, but the hit rate won't leave your bankroll gasping for air either. We like the addition of the extra reel during the bonus rounds as well.
Finally, and despite the slot's high volatility, the bonus rounds trigger easily. But, herein lies the rub, they don't always pay it big. In our experience every 3rd or 5th free spin trigger pays. Like any slot, Crazy Mix has a high negative expectancy rate. The longer you play it the more brutal it becomes. It's a case of 'killing your bankroll softly'. All in all, we don't have any sus that it will make a big splash or three.