Cash Noire from NetEnt is a video slot with 5 reels, 4 rows, and 1,024 paylines. It's not the developers' first stab at detective games, but it's undoubtedly its most ambitious one.
The theme is noir with a modern twist, and this combination works remarkably well. Thanks to NetEnt's vision and hard work.
Cash Noire introduces you to a detective called Tom Flint. He's the chap who's going to solve the Green Ace murders. Do you want to know the best part? You're going to help him. Cash Noir offers a jackpot of 5,000x your stake.
"With plenty of visual flair, and low volatility gameplay. NetEnt gives players the opportunity to solve the crime in this immensely satisfying detective slots at their own pace." Casinowhizz.com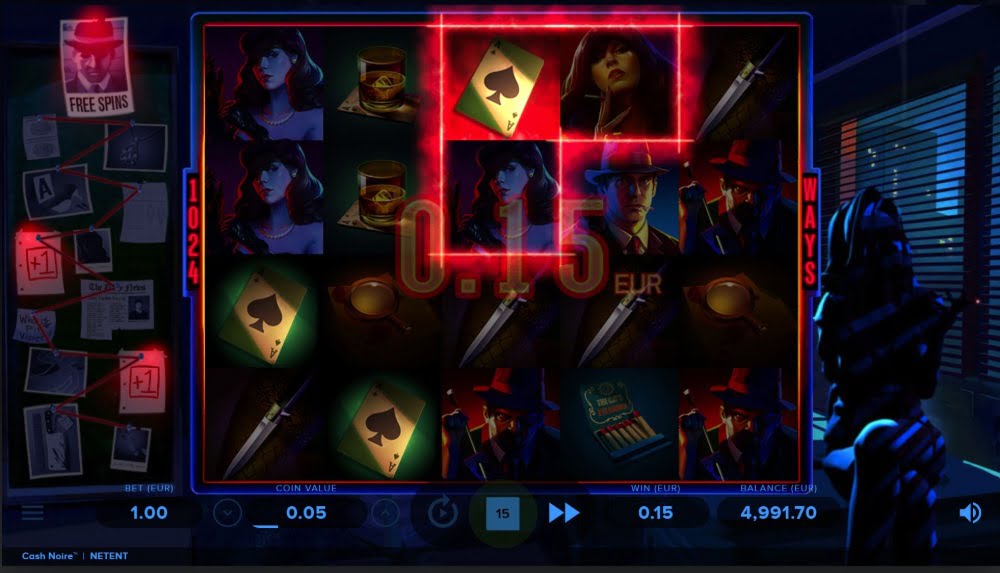 RTP & Symbols
The RTP of Cash Noire is 96.06%, is rather average, and its low volatility all the way baby. Nowadays, most real money slots are high variance, but Cash Noire breaks this mold. It is is one of the least volatile games out there at the moment. Large wins are rare, but that doesn't mean that you can't get lucky.
If we read between the lines and although it does carry a low volatility tag. Essentially, you can decide the volatility at which you're comfortable with.
In other words, if you chase the big payouts you'll have to up your average bet per spin. Bear in mind, that its hit frequency is 21.87%. Thanks to the Avalanche feature you expect regular winning spins.
The game's betting range is excellent and provides good entry levels for everyone. If you play for low stakes you can risk as little as £0.20 per spin.
High rollers on the other hand can bet as much as £200 per spin.
Cash Noire is a detective story through and through. The list includes magnifying glasses, matches, playing cards, whiskey, daggers, and pistols. The production values of Cash Noire are high, and NetEnt nails the theme.
There's no Wild to help you string along a few wins. And, 5 of a kind for the premium symbol only offers a payout of 0.80x your stake. Looking for the best Betsoft slots to play 2020? If so, have a look at our instant cash out USA online casinos for Americans.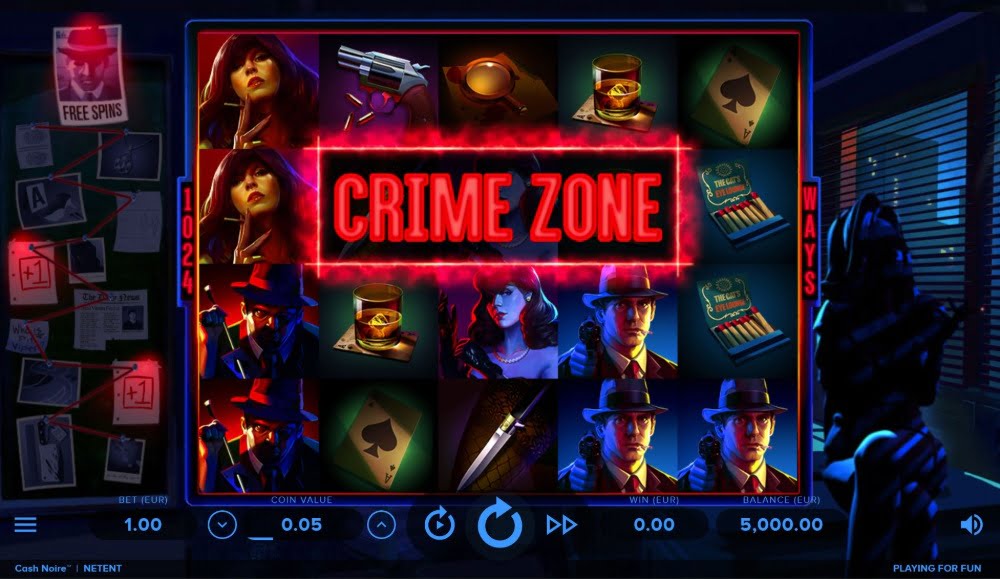 Bonus Rounds
Avalanches Feature
Cash Noire carries a system of Avalanches that automatically removes winning symbols from the reels. Moreover, as it makes space, new symbols drop in from the top to replace them. You can chain together some nice wins until no new combos pitch.
Mystery Symbols and Hotspots
Mystery symbols appear anywhere and they morph into random symbols. These symbols look like bank vaults, and they can land on any spin.
Hotspots, Clue List and Free Spins
There's a particular pattern of Hotspots appearing on each spin. These are important for the game's most exciting features. When the winning symbols land in the Hotspots. They trigger various items from the Clue List.
Once you activate all 13 clues on that Clue List; you're on the verge of solving the crime.
At the same time, you'll trigger the Free Spins feature, and the multiplier value grows by 1+ on every cascade. Besides, you'll score a bunch of free spins and you'll advance through the City Chase Map.
That's pretty slick in our opinion. As you unlock up to seven locations, you'll also notch up various win multipliers. Exciting stuff, don't you agree?
If you light up all the locations on the City Chase Map, you'll solve the case. At this point, the maximum win multiplier is 10x. Plus, you'll receive an extra 3 free spins on top of the base batch.
The only snag is that you'll have to sweat it a bit if you want to trigger the Free Spins. So much so, and according to the math model. It can take as much as 238 base game spins. Cash Noir does not offer a Bonus Buy feature, either. Therefore, you will have to grind out the free spins.

Verdict
Cash Noire is an excellent detective story, and we applaud NetEnt for it. The combination of five reels, four rows, and 1,024 paylines gels perfectly with the game's low volatility. You can stay with the story for a long time without worrying about your bankroll.
Even though the wins are generally low. You can score a lucky streak and hit the game's surprisingly high jackpot of 5,000x your stake. The special features of Cash Noire add a lot of bite to the theme. NetEnt practically reinvents the detective theme where it allows players to 'solve' the case first-hand. The best part is it pulls you into its virtual sleuthing from the first spin without holding your hand. If you're into the theme, try out RTG's Cash Bandits 3. With its explosive cartoonlike game art and special features; it's one heck of a slot machine.