We always have fun when we play the newest slot machine releases from RealTime Gaming. We're also happy to see that the online casino slot provider upped the ante a bit.
We're seeing more real money slot releases from them than ever before. With that in mind let's jump right into it. Is Cash Bandits Museum Heist slot better than Cash Bandits 1 to 3?
The visuals look pretty slick and the RTP is in the region of 95% perhaps lower. So, from that point of view, it's not exactly very appealing.
However, with a top cash prize of 5,000x the stake it gives high rollers reason enough to grin. The theme of the online slot tees off again where its predecessors left off.
Our feisty bandits are meaner and more hilarious than ever before. Or, are they? That's exactly what we're going to find out in this slot review.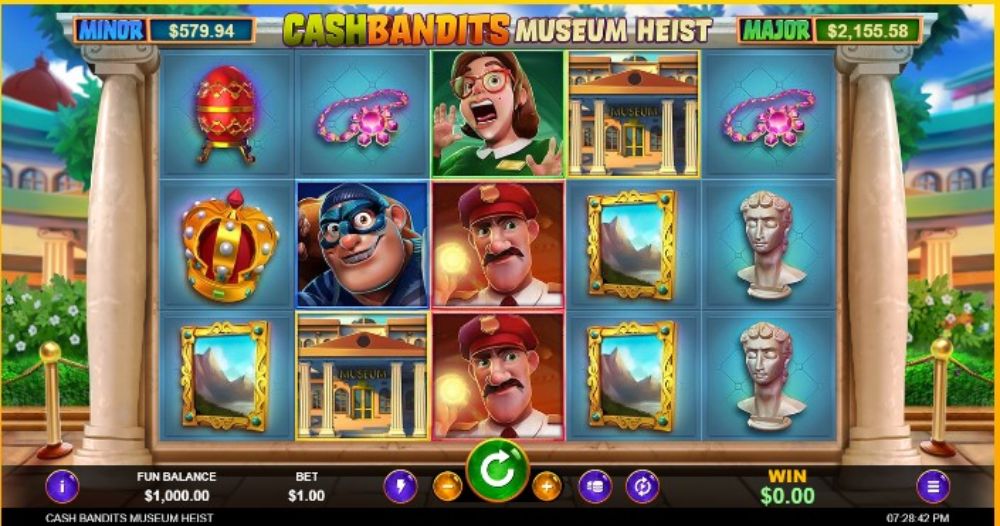 Features and Gameplay
At a glance, the game art of Cash Bandits Museum Heist looks mint. It's quite clear that RTG put in a bit of elbow grease with it. However, we see that they've toned down a bit on the features.
Moreover, the slot has 5 reels, 3 rows, and 25 paylines, and the volatility is brutal. Therefore, it's a grind from the very first spin. The minimum bet per spin is 25 cents up to $25.
The first bonus round is Pick Your Masterpiece. US players can trigger it on any random spin in the base game. Eight red banners will pop onto your screen.
You must click on them for multiplier wins and of course, free spins! The difference from the previous Cash Bandits Museum Heist releases is that they are huge.
When they pitch, they practically cover the entire reel set. In the same vein, the payouts can be spectacular.
Graphics and Sound
We give the visual arrangement and audio track of the slot a 7/10. They work in unison which means it's an entertaining romp from start to finish. But, we also have to be honest with our review of Cash Bandits Museum Heist.
The soundtrack can become irritating if you play for long sessions. Flick off the sound switch if it is the case.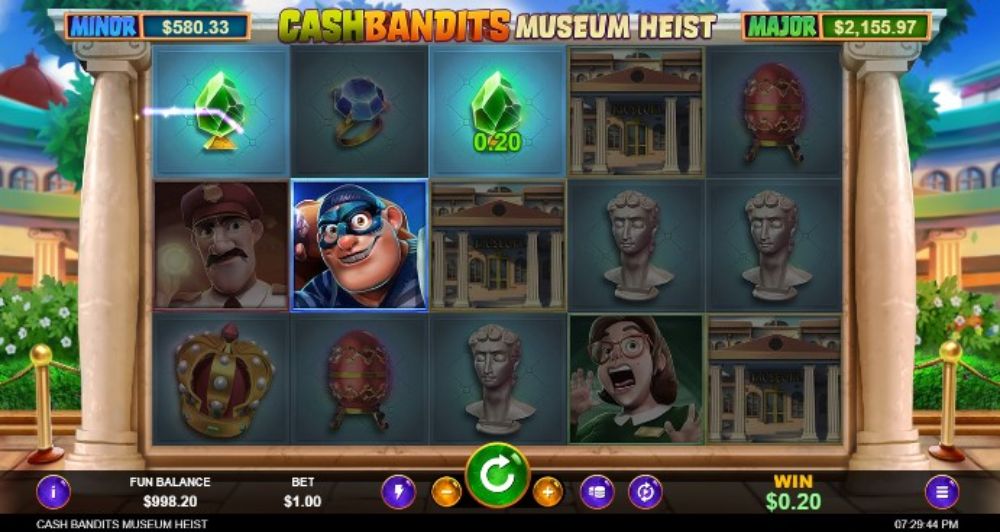 Payouts, Bonuses, and Jackpots
Payout wise we managed a few big wins. Keep in mind, it's a volatile slot that's why we played it for the max bet in demo mode. Remember, when you play slots that are high variance try and play for the max bet or for high stakes.
Don't play the game for more than 30 spins with a budget of $750. If you manage a big within your allotted 30 spins, withdraw your casino winnings fast.
That's online slot strategy 101 because if you continue to play you risk losing it all. As luck would have it, we bagged $174 on our very first free spin.
Upon conclusion of our free spins, we won $498, that's roughly $100 for every free spin. Come to think of it that's not bad. Yet, we expected bigger wins from the expanding symbols.
How Do I Trigger the Free Spins Feature of Cash Bandits Museum Heist?
You need three 'Cash Bandit Heist' Bonus symbols on the reels. A new screen with 8 red flags gives you 8 picks. You'll be playing for free spins and multiplier wins.
Every time you strike an 'X' it's a dud. At the top left corner of your screen, you'll see an alarm. When you strike an X it goes off. You don't want that!
Pros and Cons of the Game
Let's kick off with the pros of the Cash Bandits Museum Heist slot first. It offers a jackpot of $125,000 on a single spin. It's a volatile slot that will rope in the high rollers.
Furthermore, you can play the slot online for real money for small or for high stakes. Finally, it's the sequel to Cash Bandits 1, 2, and 3. The con is that it's not for penny pinchers.
In other words, casual players will find the going tough. The jackpot is significantly smaller than the other Cash Bandit slot games.
Finally, the maximum wager is only $25. The smaller the max bet the smaller the initial jackpot.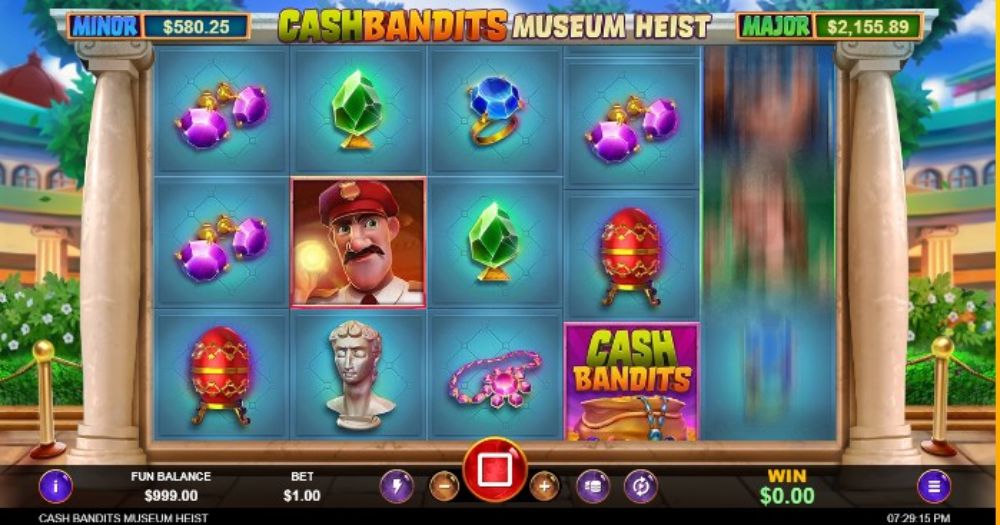 Final Verdict – Is It Worth Playing Cash Bandits Museum Heist or Not?
Despite a potent formula, RealTime Gaming botched Cash Bandits Museum Heist. The impression we got was that they "piggybacked" on the successes of the previous Cash Heist releases.
They could have done so much more given that the previous games were a hit with players.
Since it's on the heels of Cash Bandits 3 which has a jackpot of $1.25 million. They could have added more bonuses, multipliers, and a bigger jackpot.
Cash Bandits 3 slot is tons better! You can win as many as 390 free spins with a top multiplier of 23x.
With a bog-standard free spins feature and a "rather forgettable" game engine. Cash Bandits Museum Heist is unmemorable at best. Admittedly, there are things we do admire since we're big fans of the Cash Bandit series slots.
Unfortunately, the hokey charm on display and the payouts, in general, make it a forgettable slot. It's one of those choked-up slots RTG won't be able to cash in on.
Rather play Triple Cash or Crash slot for real money at MYB Casino. It's one of our favorite online casinos that accept players from the USA. They even welcome you with a bonus of 300% up to $2,000 + 20 FS.